Syria Update
31 January to 06 February, 2019
The Syria Update is divided into two sections.  The first section provides an in-depth analysis of key issues and dynamics related to wartime and post-conflict Syria.   The second section provides a comprehensive whole of Syria review, detailing events and incidents, and analysis of their respective significance.
The following is a brief synopsis of the in-depth analysis section this week:
On February 3, a group of political representatives and civil society leaders from across northwestern Syria met in Idleb city and announced the formation of the 'General Conference of the Syrian Revolution,' to be held by the end of February; the ultimate objective of the General Conference is to create a unified civil administration throughout northwestern Syria, potentially by merging the Hay'at Tahrir Al-Sham-linked Salvation Government and the Syrian Interim Government. This is not as far fetched as it perhaps might appear; indeed, the 'rehabilitation' of Hay'at Tahrir Al-Sham has long been posited as a potential trajectory in northwestern Syria. However, there are numerous challenges that could prevent such a merger. On the local level, Hay'at Tahrir Al-Sham is deeply unpopular in several communities and with many Syrian Interim Government-linked groups. On the international level, it is unclear if Hay'at Tahrir Al-Sham is capable of ever rehabilitating itself in the eyes of western Governments. Internally, the decision to attempt to moderate may cause significant fractures within Hay'at Tahrir Al-Sham, and between Hay'at Tahrir Al-Sham and other extremist groups such as Hurrass Eldeen. Therefore, while a merger or the creation of a new governance body is possible, and indeed may be necessary in order to prevent a large scale Government of Syria offensive, it will certainly be extremely difficult to negotiate.
The following is a brief synopsis of the Whole of Syria Review:
Northwestern Syria Negotiations
In Depth Analysis
On February 3, a group of political representatives and civil society leaders from across northwestern Syria met in Idleb city and subsequently announced the convention of the 'General Conference of the Syrian Revolution,' which is expected to be held by the end of February.  According to both participants and local media, the ultimate objective of the General Conference is to create a unified civil administration throughout northwestern Syria. According to local media, the General Conference will create a new northwestern Syria shura council, which will be authorized to unify the various opposition civil administrations; this unification will be accomplished by means of either the existing Salvation Government or Syrian Interim Government bodies, a merger of the two, or the creation an entirely new governance structure.  While media sources have stated that the General Conference will also attempt to merge Hay'at Tahrir Al-Sham and the remaining National Liberation Front groups in northwestern Syria, local sources have noted that there were no military representatives at the General Conference; however, local sources did note that Hay'at Tahrir Al-Sham and Faylaq Al-Sham (the largest component of the National Liberation Front) have held several smaller meetings regarding a potential merger. Indeed, at the introductory meeting of the General Conference, representatives known to be affiliated with Faylaq Al-Sham proposed a unified military body alongside the unified civilian body; this proposal was reportedly well received. Local sources also noted that the General Conference was jointly approved by Hay'at Tahrir al-Sham and Faylaq Al-Sham, despite the fact that armed group representatives did not attend; additionally, unconfirmed reports indicate that the Government of Turkey has also encouraged the initiative.
Speculation that the Salvation Government would eventually attempt to merge with the Syrian Interim Government is not new.  The Salvation Government is an effective governance body, largely staffed by competent technocrats, self-funded, and with administrative control over nearly every community in northwestern Syria (with the notable exceptions of Ma'aret An-Numan and Ariha).  A merger of the Salvation Government and the Syrian Interim Government would, in a sense, grant different forms of legitimacy to each governance body, and both do admittedly provide much-needed services. Perhaps most crucially, a merger of the two entities, or the formation of a new governance body, would at least temporarily mitigate one of the most critical threats facing northwestern Syria: the prospect of a major Russian-supported Government of Syria offensive, theoretically justified by the consolidated presence of the Salvation Government and Hay'at Tahrir Al-Sham.
Yet discussion with respect to unification will not necessarily result in unification, and there remain three major challenges facing the General Conference of the Syrian Revolution.  The first challenge is in terms of local acceptance: many key communities in northwestern Syria, as well as many of the combatants in both the National Liberation Front and the Syrian Interim Government-affiliated National Army, deeply resent Hay'at Tahrir Al-Sham.  Hay'at Tahrir Al-Sham, and its progenitor organization Jabhat Al-Nusra, regularly clashed with many National Army and National Liberation Front-linked groups over the past several years, while many communities and civil society leaders hold Hay'at Tahrir Al-Sham responsible for repeated abuses, assassinations, and impediments to local humanitarian and civil society work as well as co-opting the ultimate political arch of the activist-led Syrian uprising.  
The second challenge is international.  A component of merging the Salvation Government and the Syrian Interim Government, or forming a new governance body, is the provision of local, regional, and international legitimacy to the new governance body, as the Salvation Government and Hay'at Tahrir Al-Sham are identified as terrorist or proscribed organizations by nearly all international actors associated with the Syrian conflict.  Hay'at Tahrir Al-Sham has attempted to re-brand in the past, most notably when Jabhat Al-Nusra renounced Al-Qaeda and reformed as Jabhat Fath Al-Sham in July 2016; while the renunciation of Al-Qaeda may have sought to placate local armed opposition groups rather than western governments, it certainly failed to change the assessments of international actors. Similarly, even a merger with the Syrian Interim Government is unlikely to convince the international community that Hay'at Tahrir Al-Sham has fundamentally changed its character; indeed, it may instead call into question the perceived legitimacy of the Syrian Interim Government instead.
The third challenge is related to the potential for internal fragmentation in Hay'at Tahrir Al-Sham.  Hay'at Tahrir Al-Sham's aforementioned attempt to 'legitimize' itself by renouncing Al-Qaeda led to a series of defections of key leaders, several of whom eventually formed Hurrass Eldeen in 2018, which remains Al-Qaeda affiliated.  While Hay'at Tahrir Al-Sham has traditionally worked quite closely with Hurrass Eldeen, tensions between the two groups have begun to manifest themselves publicly. For example, two religious leaders in Hurrass Eldeen issued a statement rejecting any proposals to join a joint military body with Faylaq Sham leaders, rejected reputed Hay'at Tahrir Al-Sham proposals to negotiate with the Government of Syria over the status of the M5 highway, and called on Hay'at Tahrir Al-Sham combatants to "reject the new inclination" of Hay'at Tahrir Al-Sham; both of these leaders, Abu Hamam Al-Shami and Sami Araydi, were former leaders in Jabhat Al-Nusra.  Additionally, on February 2, a high judge in Hay'at Tahrir Al-Sham, Abu Yaqzan Al-Masri announced his resignation; another prominent Hay'at Tahrir Al-Sham commander, Abu Malik Al-Telli, is also believed to have resigned.  Both are expected to affiliate themselves, and combatants loyal to them, with Hurrass Eldeen.
The degree to which Hay'at Tahrir Al-Sham and the Salvation Government will be will be able to pursue unification will be dictated by some combination of local legitimacy, international acceptance, and internal unity.  Indeed, the internal tensions within Hay'at Tahrir Al-Sham as it attempts to 'moderate' itself are likely to become one of the largest obstacles in any unification efforts with the Syrian Interim Government. That said, the deciding factor in the attempts to unify the two governance bodies likely ultimately lies with the Government of Turkey.  Should the Government of Turkey accept the initiative, give requisite support to the different armed and political groups involved, and provide political cover and buy in from the Governments of Russia and Iran, a unification certainly is within the realm of possibility.
Whole of Syria Review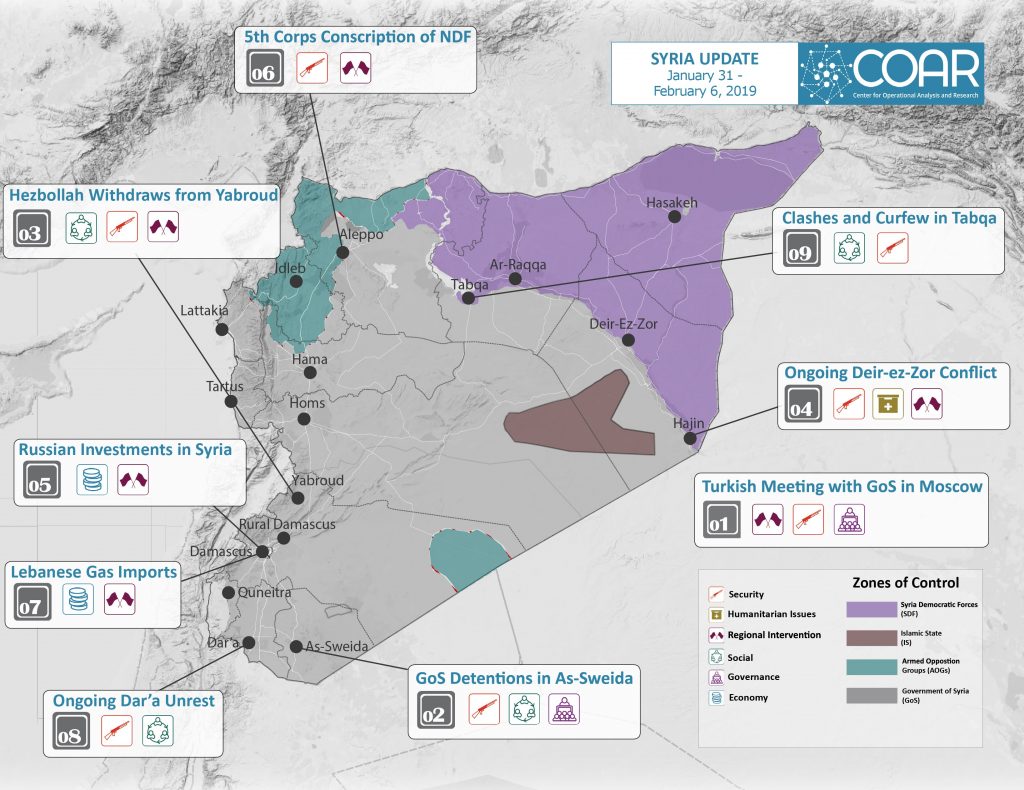 1. Turkish Meeting with GoS in Moscow
Moscow, Russia:  On February 5, media sources stated that representatives of the Government of Turkey and Syria convened a meeting in Russia, upon the invitation of Government of Russia.  The meeting reportedly concerned the prospect of implementing both the 1998 Adana Agreement and a Turkish safe zone in northern Syria stretching from Quamishli city to Ain Al Arab. The meeting came after a statement made by President Recep Tayyip Erdogan's on February 3, in which he announced that Turkish intelligence is communicating directly with Government of Syria intelligence forces regarding the establishment of the aforementioned safe zone. Erdogan's statement was followed by a statement by the Turkish Presidential office spokesperson, Ibrahim Qalon, in which he affirmed the direct Turkish-Syrian communication.  Concurrently, media sources have also indicated that Ahmad Jarba, a prominent Syrian tribal leader in northeastern Syria, has been negotiating with Massoud Barzani, the head of the Iraqi Kurdistan Democratic party, U.S. representatives, the SDF, and the Government of Turkey on the prospect of establishing an Arab tribal force to be deployed in the theoretical Turkish safe zone along the Turkish-Syrian border. The creation of this force would reportedly be a part of a broader agreement that will also entail the deployment Syrian Peshmerga forces that have been trained in Iraq. Both forces would reportedly be positioned in their respective ethnic areas within the safe zone area.
Analysis: The fact that the 1998 Adana agreement is being seriously considered as a negotiating framework is of extreme importance to the ultimate trajectory of northeastern Syria.  The 1998 Adana agreement required that the Government of Syria pledge to prohibit the activities of the PKK in Syria; by citing the Adana agreement as a political framework for the Governments of Syria and Turkey, Russia has indicated a willingness to support the Turkish position with respect to the YPG/PYD, the primary military and political groups within the Kurdish Self Administration.  Additionally, the apparent involvement of Ahmed Jarba and Masoud Barzani indicates that some form of a Turkish-Russian brokered agreement, likely one which marginalizes the Kurdish Self Administration, may be forthcoming; Jarba has continuously advocated for a northeastern Syria tribal force, and Barzani has also reportedly agreed to use Iraqi Peshmerga forces to help secure a northeastern Syria 'safe zone,' and both are known to be aligned with the Government of Turkey.  Therefore, the negotiating position of the Kurdish Self Administration continues to diminish vis-a-vis ongoing discussions with the Government of Syria on the ultimate status of the Kurdish Self Administration as a governance body.
2. GoS Detentions in As-Sweida
As-Sweida Governorate, Southern Syria: On January 31, the Government of Syria continued to detain numerous individuals throughout As-Sweida governorate for the purposes of conscription. However, according to local and media sources, prior to their referral to the relevant military division that requested their military service, many individuals are reportedly being detained in Sednaya prison for a minimum of 15 days under the pretext of collaboration with ISIS or Government of Israel. Additionally, Druze conscripts are reportedly being forced to serve in military divisions in locations far from As-Sweida, despite the alleged promises made by the Government of Syria to enroll them in the First Division, based in southern Syria. Druze conscripts are also reportedly not given temporary leave without first securing guarantees from a Druze Government of Syria commander in their unit, in order to ensure that they will return to service. Most importantly, Druze locals in As-Sweida are reportedly requesting that the Shouyoukh Al-Karama, a prominent local Druze militia, intervene against the Government of Syria in order to release individuals from detention.
Analysis: Disputes and tensions between the Government of Syria and the Druze community, specifically related to local armed factions and religious leaders, are likely to continue to escalate in the foreseeable future as the Government of Syria seeks to impose control and sovereignty and ensure the Druze community's adherence to local conscription practices. Despite the fact that the major disputes between both parties pertain to the Druze community rejection of conscription, these tensions more generally indicate the way in which the Government of Syria will seek to realign its relationship with the Druze minority.  Historically, the Druze in Syria have maintained a degree of autonomy, while religious figures and notables wield significant influence. Throughout the conflict, the margin of Druze autonomy has increased significantly to the extent that it currently threatens the presence and sovereignty of Government of Syria institutions and military forces. Thus, the Government of Syria will likely take more aggressive measures to ensure its control on the Druze community, which in turn will fuel a strong reaction, especially given that the Druze armed and religious leadership so far have managed to maintain a high degree of unity and cooperation.
3. Hezbollah Withdraws from Yabroud
Yabroud, Rural Damascus Governorate, Syria: On January 31, media sources reported that Hezbollah had withdrew its forces from Al-Qa'a neighborhood in Yabroud, in western Qalamoun. Other sources also reported that former residents of the neighborhood were notified that they could return to their houses in the city, from which they had been previously displaced upon Hezbollah's taking control of the area in 2014. The specific reasons behind Hezbollah's withdrawal remain unclear; however, other media sources have also indicated that Hezbollah has in fact repositioned its forces in the eastern Qalamoun, but have not withdrawn entirely.
Analysis: While the specific causes of the withdrawal or repositioning are difficult to discern, media sources have maintained two competing explanations: one is that Hezbollah seeks to reposition forces to support a major armed offensive inside Syria; second, that Hezbollah is taking precautionary measures in anticipation of a major conflict with Israel.  There are several reasons to support the argument that military movements are a preemptive response to potential Israeli escalation, most important being the recent establishment of the Lebanese Government, which has mirrored the political representation in the Lebanese Parliament and is thus a major victory for Hezbollah and its political allies. Against this backdrop, Israeli media has regarded the formation of the Lebanese Government as a reflection of growing Iranian influence in the region. Indeed, Israeli Prime Minister, Netanyahu stated on February 3 that "[Hezbollah] actually control[s] the government of Lebanon. It means that Iran controls the government of Lebanon." Additionally, the general commander of Hezbollah, Hassan Nasrallah, recently reiterated in an interview on January 31 that the party remains ready to respond militarily to any Israeli threat to Lebanon and Syria; therefore, a confrontation in one country could potential lead to conflict in both countries.  Consequently, the prospect of a confrontation in either or both Syria and southern Lebanon is becoming increasingly likely.
4. Ongoing Deir-ez-Zor Conflict
Hajin, Deir-ez-Zor Governorate, Syria: Throughout the reporting period, clashes between SDF and ISIS have continued in the vicinity of Hajin, in southern rural Deir-ez-Zor governorate, specifically in the vicinity of Ash-Shajilah village.  However there has been a reported decrease in clashes due to ongoing negotiations between ISIS and the SDF. ISIS has reportedly agreed to release SDF prisoners in exchange for evacuating the area, but the SDF has remained adamant that ISIS forces must entirely surrender.  Reportedly, the status of the remaining ISIS combatants in the vicinity of Hajin is of critical importance to the U.S.-led coalition, considering that many of these remaining combatants are foreigners; indeed, the U.S. State Department is encouraging other nations to "repatriate and prosecute" foreign ISIS fighters captured in Syria.  On January 30, UNHCR spokesperson Andrej Mahecic stated that a total of 2,000 civilians remain in ISIS controlled areas in the vicinity of Hajin.  So long as the negotiations between ISIS and the SDF continue to stall, the humanitarian situation for civilians in Hajin will continue to deteriorate, despite the SDF reportedly sending seven convoys of relief aid upon a ceasefire agreement with ISIS from January 29 until 31. Notably, the head of the Russian Center of Syrian Reconciliation, General Sergei Solomatin, accused the SDF of blocking a SARC humanitarian aid convoy from accessing the area.  Civilian evacuees from the area are also in need of urgent relief aid; a WHO statement on January 31 indicated that a total of 23,000 civilians have reached Hol Camp over the past two months, and at least 29 children died, mostly from hypothermia, during their evacuation.
Analysis:  The ongoing conflict with ISIS in the vicinity of Hajin is nearly over.  ISIS is now relegated to an extremely small area, and is effectively surrounded by the SDF and the Government of Syria in the vicinity of Ash-Shajilah.  There is even some speculation that Abu Bakr Al-Baghdadi, the self-styled Caliph of ISIS, is also located in Ash-Shajilah. Considering the potential presence of Al-Baghdadi, and the fact that many of the remaining ISIS combatants are foreigners, the U.S.-led coalition will prioritize capturing as many ISIS combatants alive as possible.  Therefore, the negotiations between the SDF and ISIS may continue for some time before eventually ending in ISIS' ultimate capitulation, or their complete destruction.
5. Russian Investments in Syria
Damascus, Syria: On February 2, media sources indicated that two Russian companies are currently negotiating with Sham Holding Company to establish a joint company for investing in the Marota City real estate project, to be implemented in Daraya, Mazzeh and Kafar Souseh. The negotiations have reportedly attracted several other Syrian companies for future joint investments, specifically in terms of the construction of commercial and residential buildings. Relatedly, in a February 1 statement, the Government of Syria Minister of Industry, Mohamad Maan, announced that the Government of Syria and Russia had signed a memorandum of understanding for future investment projects in the industrial sector. According to Maan's statement, the agreement entails both governments' collaboration on the production of cements, industrial machineries, chemical and medical industries, and the rehabilitation of industrial companies in the country. Notably, Maan indicated that investment in the industrial sector will mainly focus on raw materials necessary for reconstruction. This came shortly after the Government of Syria and Iran signed 11 memorandums of understanding on January 29, entailing their collaboration in economic, educational, cultural, infrastructure, and service sectors, as well as investment and real estate. These agreements include long term strategic economic collaboration agreements, most importantly in raw material production industries, real estate investment, and commerce, among other sectors and projects.
Analysis: The Governments of Russia and Iran's contribution to economic rehabilitation and future reconstruction is currently indispensable for the Government of Syria, especially considering the fact that foreign and local investment in Syria will face serious challenges in light of international sanctions imposed on Syria. In fact, many investors in the Marota City project have been listed in the recent EU and US sanctions on Syria, as noted in last weeks' COAR Syria Update.  However, it is also important to note that the Governments of Russia and Iran have clearly concentrated their investment in real estate, such as Marota City, and raw material extraction; neither of these industries generate large numbers of employment opportunities, and may in fact further aggravate inequalities in Syria's economy. That being said, Government of Syria economic capacity and service provision are unlikely to witness a noticeable improvement for the foreseeable future.
6. 5th Corps Conscription of NDF
Aleppo City, Aleppo Governorate, Syria: Throughout the past week, the Government of Syria-affiliated 5th Brigade requested that the Al-Bakir Brigade, based in Aleppo city, hand over all of its Syrian combatants who have yet to complete formal military services. Of note, the Al-Bakir Brigade is mainly comprised of Syrian members of the Baggara tribe, and is known to have close ties with the Hashd Shaabi in Iraq. The brigade reportedly refrained from complying with the 5th Brigade request. Consequently, the 5th Corps detained seven combatants from the Al-Bakir Brigade in Aleppo city. This developments comes amidst continuous rumors that the 5th Brigade, which is known to be a recipient of considerable Government of Russian support, will assume responsibility for curtailing the role of militias throughout the country.
Analysis: Recent rhetoric on the role of the 5th Corps in Syria has been largely focused on its close alignment with the Government of Russia, and its function as a means to curtail Iranian presence and influence within Government of Syria military structures. However, considering the fact that Russian and Iranian policy appear to be generally aligned in Syria, the 5th Corps role is more likely inward-facing, and focused instead on bringing some form of command and control to the myriad pro-Government militias across Syria. As such, the Government of Syria, with the Government of Russia's support, will likely seek to contain the presence and power of local militias.
7. Lebanese Gas Imports
Damascus, Syria: On February 4, Mostafa Haswiyeh, the General Manager of the Sadcob Company for Fuel, the Government of Syria's state fuel company, stated that the availability of gas in Syria will increase; according to his statement, the expected increase in gas availability will be due to an increase in production, as well as imports via agreements with Lebanese private companies. Haswiyeh indicated that the production of gas has increased from 350,000 to 500,000 tons per day; however, to fully cover gas needs in Syria would require an estimated 1,500,000 tons per day. Consequently, the Government of Syria is currently pursuing several measures in order to facilitate imports via sea and land from neighboring countries. Indeed, the Economic Committee of the Syria cabinet has reportedly endorsed the Ministries of Fuel and Economy to allow individual industrial chambers in different Syrian cities to import gas from nearby countries.
Analysis: The Government of Syria will likely seek to alleviate shortages of state provided services by facilitating and ensuring a larger role for the private sector in service provision. Gas shortages in Syria have exponentially increased throughout the past several months.  The gas shortage in particular has revealed many of the challenges the Government of Syria faces from international sanctions, and has also demonstrated the Government of Syria's increasingly limited capacity to respond to local needs. Yet despite the aforementioned measures will partially alleviate these challenges, the impact of sanctions will likely continue to limit the private sector's readiness to engage with the Government of Syria.
8. Ongoing Dar'a Unrest
Dar'a Governorate, Southern Syria: On January 31, an IED attack targeted a Government of Syria 5th Corps checkpoint in Nahteh, located in eastern rural Dar'a governorate. The attack was concurrent with a demonstration against the Government of Syria and the reconciliation process in formerly opposition-held neighborhoods of Dar'a city. Following that, on February 3, several individuals shot at an Air Force Intelligence checkpoint in Da'el; concurrently, several civilians in Da'el reportedly tore down pictures of Bashar Al-Assad. However, despite the rising discontent in southern Syria, local and media sources indicated that at least 3,500 individuals in Nawa voluntarily joined the Syrian military.  Local sources also continued to report significant tensions between different Government of Syria armed groups throughout Dar'a governorate, specifically between the Security Branch forces and the Air Force Intelligence.
Analysis: IEDs, clashes, and tensions are likely to persist in Dar'a governorate in the foreseeable future. This is due to both internal tension and competition among different Government of Syria-affiliated security forces as well as the Syrian Arab Army's limited capacity to maintain security in the area. Against this backdrop, the security situation in Dar'a governorate will likely be among the top priorities of the Government of Syria in the near to medium term.  As such, the Government of Syria will likely launch a security operation in the area to restore security. However, if Government of Syria efforts proved futile, tensions between different Government of Syria security forces will most likely expand into inter-tribal and communal tensions, especially considering the widespread local discontent with the southern Syria reconciliation agreement.
9. Clashes and Curfew in Tabqa
Tabqa, Ar-Raqqa Governorate, Syria: On February 4, media sources reported on a local dispute between two individuals from the Nasser and Waheb tribes in the city. The dispute reportedly escalated into a direct confrontation between members of both tribes, which reportedly resulted in the death of at least one individual from each tribe as well as several injuries. In an attempt to contain these clashes, the SDF-affiliated civilian council of Tabqa city enforced an indefinite curfew and forbade any movement from and to the city. Additionally, the SDF has reportedly closed down all SDF official institutions and set up several checkpoints in the city.
Analysis: SDF and the Kurdish Self Administration mediation and security efforts are unlikely to be effective in local tribal and communal disputes in northeastern Syria, especially in Ar-Raqqa governorate. Ar-Raqqa governorate is predominantly Arab, and many tribes have already voiced their rejection of the SDF presence in the area. In fact, SDF governance structures have deliberately sidelined prominent community notables and traditional interlocutors, which will in turn prove detrimental to the future stability of the area and its general social cohesion. This incident also highlights the fact that while many tribes in northeastern Syria may be united in their opposition to the SDF, they are not a unified force in and of themselves, and have numerous inter-tribal alignments and grievances.
The Wartime and Post-Conflict Syria project (WPCS) is funded by the European Union and implemented through a partnership between the European University Institute (Middle East Directions Programme) and the Center for Operational Analysis and Research (COAR). WPCS will provide operational and strategic analysis to policymakers and programmers concerning prospects, challenges, trends, and policy options with respect to a conflict and post-conflict Syria. WPCS also aims to stimulate new approaches and policy responses to the Syrian conflict through a regular dialogue between researchers, policymakers and donors, and implementers, as well as to build a new network of Syrian researchers that will contribute to research informing international policy and practice related to their country.
The content compiled and presented by COAR is by no means exhaustive and does not reflect COAR's formal position, political or otherwise, on the aforementioned topics. The information, assessments, and analysis provided by COAR are only to inform humanitarian and development programs and policy. While this publication was produced with the financial support of the European Union, its contents are the sole responsibility of COAR Global LTD, and do not necessarily reflect the views of the European Union.