Syria Update
14 March to 20 March, 2019
The Syria Update is divided into two sections.  The first section provides an in-depth analysis of key issues and dynamics related to wartime and post-conflict Syria.   The second section provides a comprehensive whole of Syria review, detailing events and incidents, and analysis of their respective significance.
The following is a brief synopsis of the in-depth analysis section this week:
March 15, 2019, marked the 8th anniversary of the conflict in Syria. Fundamentally, conflict in the country can be categorized into two distinct eras: pre-Russian intervention (March 2011 – September 2015), and post-Russian intervention (October 2015 – present). The pre-Russian intervention period was marked by the growing expectation — at least on behalf of much of the western world — that the Al-Assad regime would eventually collapse. Syria strategy, such as it was, generally centered on this assumption, with military, political, humanitarian, development, and stabilization programing structured mainly around the implications of a post-Al-Assad Syria.   Upon the intervention of Russia however, the Al-Assad regime was stabilized, and a series of military victories have resulted in Al-Assad's control over the vast majority of Syrian territory. Unfortunately, western policy and strategy did not necessarily change to reflect the new realities of the second period in the ongoing conflict. Indeed, though much language concerning 'regime change' may have diminished, the actual implementation of programs and policy remains similar to that of the conflict's earlier stages. In commemoration of the 8th anniversary of the Syrian conflict, COAR has prepared a longer, in-depth analysis section, with a specific examination of the current strategic realities of Syria, and a set of recommendations for institutional donors, UN agencies, and humanitarian and development INGOs.
The following is a brief synopsis of the Whole of Syria Review:
Conflict in Syria: Eight Years In
In Depth Analysis
As noted in a joint statement released by the French, German, British and American envoys to Syria, as well as numerous public demonstrations globally, March 15, 2019, marked the 8th anniversary of the conflict in Syria. Although preceded by smaller demonstrations in Dar'a governorate, the protests in Damascus and Aleppo cities on this date in 2011 have been used to mark the start of the Syrian conflict. The movement rapidly evolved into an armed and political insurgency, and by July 2011, a group of defected Syrian military officers had formed the Free Syrian Army, the first formal armed opposition umbrella group. Shortly after, in August 2011, a group of Syrian political figures and opposition groups formed the Istanbul-based Syrian National Council, which would go on to become the Syrian Interim Government. After the failure of a UN-mediated ceasefire agreement in summer 2012, Syria was engaged in a fully fledged civil conflict in nearly every region of the country.
Syria's conflict timeline can be cut many ways, but in essence, it is defined by two distinct phases: pre-Russian intervention (March 2011 – September 2015), and post-Russian intervention (October 2015 – present). For the western political establishment, the first period was marked by the reasonable belief that the Al-Assad regime was close to collapse. Much of the international political and military response to Syria (not to mention aspects of stabilization, development, and humanitarian programming) were therefore predicated upon accelerating Al-Assad's downfall and ensuring a political transition that avoided the kind of full state collapse observed in other Arab-spring states. Attempts at shaping a stable transition were accomplished broadly through the provision of support and capacity building to armed and political opposition groups, governance structures, and civil society bodies, to include Syrian civil society organizations, initiatives like the 'Free Police' and 'White Helmets', and local councils, as well as national-level bodies such as the Syrian Transitional Council and the Syrian Interim Government. Occurring beyond the state, these initiatives sought — at least conceptually — to avoid empowering the Al-Assad regime and to isolate it both politically and economically.  This strategy was altered, though not fundamentally reversed, by the rise of ISIS and Al-Qaeda in Syria. Indeed, while the fight against ISIS eventually became the primary western military and strategic priority in Syria, this goal was often linked to the necessity of regime change or transition. For example, as late as September 2015, U.S. President Obama stated at the UN that "Assad must go" to ensure the defeat of ISIS, and that "Syria cannot return to the pre-war status quo."
The second, post-Russian intervention period has been marked by continued Russian-supported battlefield successes by the Government of Syria.  Between December 2016 and July 2018, the Government of Syria recaptured every opposition-held community in southern and central Syria. At present, the remaining armed or political opposition is either comprised of internationally proscribed extremist groups (such as Hay'at Tahrir Al-Sham and the Salvation Government), or is almost entirely under the aegis of the Government of Turkey.  ISIS has been almost entirely defeated in Syria, and is now relegated to bands of marginal guerillas in the eastern Syrian desert. The Kurdish Self Administration and the SDF, neither of which represent a component of the opposition, are themselves engaged in long-running negotiations to secure their political re-unification with the Syrian state (though these are necessarily complicated by the continued presence of U.S. and European military forces).
Regrettably, the phase of the conflict in Syria has not witnessed a shift in western strategy that reflects realities on the ground. True, there are now few who use language demanding 'regime change' in Syria. But discourse now centers on permanently 'isolating' Al-Assad with sanctions or restrictive measures, open-ended commitments to combat Iranian influence, ensuring the prospect for a safe return of Syrian refugees, and maintaining the status quo in the northeast.  The methods by which these goals are sought are essentially the same however; they still involve support for sub-state armed groups and funding to opposition or Kurdish governance structures and affiliated civil society groups, and they still involve a basket of humanitarian and development activities implemented by local actors generally in partnership with INGOs and the UN. These programs are often fundamentally similar to those implemented in 2015, and the shift from cross-border humanitarian operations to Damascus-based programming has often been more a function of access than any cohesive strategy.  For that reason, western organizations must adjust their approach to the Syrian conflict based on five key realities:
1. The Al-Assad regime will remain in control of the Government of Syria for the foreseeable future. Over the course of the current conflict, President Al-Assad has quashed significant dissent. Though several small-scale armed insurgent movements in Government of Syria-held areas continue, none pose a threat to the ultimate control of the regime (referring to President Al-Assad and his inner circle) over the Syrian state. The majority of those living in Government of Syria-held areas (i.e. the vast majority of Syrians) do not have the economic, political, or security frameworks necessary to mount any grassroots challenge to the current status quo, even those who were previously supportive of the armed opposition.
2. The Government of Syria has structurally changed: the Government of Syria is now much more decentralized than in the pre-war period. Local elections were held in September 2018, and considerable powers have been divested to Syria's city councils, local councils, and municipalities. Certainly, the vast majority of the individuals elected to these councils were ranking Ba'ath party members, local prominent businessmen, or linked to Government of Syria-affiliated armed groups. However, many are also qualified technocrats that were locally elected, and in many cases they are popular locally. Additionally, in many areas, there is now some level of local accountability and oversight over the distribution of resources, programming, and funding streams.
3. Syria has not entered a period of economic recovery, the economy is worsening.  Sanctions and restrictive measures are a major impediment to Syria's economic functionality, but the largest challenges facing Syria's economy are a result of the country's devastated infrastructure, the destruction and dysfunction of pre-war industry, and the lack of resources amongst the Government of Syria and its allies to engage in any comprehensive rehabilitation.  Shortages of key commodities, especially gas and diesel, are endemic, and are having a major knock-on effects the price and availability of most staple goods. Despite the promise of reconstruction, many parts of the country are almost entirely neglected by both the international response and the Government of Syria.
4.  The majority of Syrian refugees will not willingly return and should not be forced to do so. As noted, the Al-Assad regime will likely remain in power for the foreseeable future, and the Syrian economy shows few signs of recovery. Although conflict conditions may have decreased in much of the country, a safe, dignified, and sustainable return of Syria's refugees is premature. Indeed, despite statements to the contrary, the Government of Syria shows few signs of proactively facilitating the return of refugees. Syrian returnees face a complicated and contradictory bureaucracy, and locals report that many applicants are outright rejected by the Government of Syria's myriad security branches. For those that arrive, anecdotal evidence suggests some returnees have been arrested, detained, or conscripted upon reaching their place of origin.
5. The fate of the areas outside of Government of Syria control are largely in the hands of the international community, namely the U.S., Turkey, and Russia. The future the Kurdish Self Administration and the SDF is now almost entirely dependant on the willingness of the U.S. and its allies to remain physically present in northeastern Syria.  Indeed, the continued presence of the U.S. and its allies in many ways prevents any agreement with the Government of Syria, especially considering that the continued support to the SDF is often presented as an anti-Iran measure.  Similarly, northern Aleppo (Olive Branch and Euphrates Shield areas) is now entirely dominated by Turkey, to the point that every armed group, and most local councils, often answer directly to Turkish representatives as opposed to the Syrian Interim Government. The fate of northwestern Syria is now essentially in the hands of the geopolitical considerations shaping Russian and Turkish interests regarding Hay'at Tahrir Al-Sham and the demilitarized zone agreement. Ultimately, northwestern Syria will likely either be retaken militarily by the Government of Syria, or fall under the kind of Turkish control observed in northern Aleppo.
Recommendations
How should international organizations revise their strategy in light of the above strategic realities? There is of course no easy answer. However, below are four possible frameworks to consider.
1. Fully isolating Syria is the wrong approach, both strategically and morally.  Continuing to isolate Syria politically and economically through sanctions, restrictive measures, and the withholding of reconstruction funding will likely be counterproductive to the strategic aims of western governments and development/humanitarian organizations. Additionally, isolating Syria is tantamount to punishing much of the Syrian population for failing to unseat President Al-Assad. Syria remains in great need of support, and the consequences of Syria becoming an economic wasteland will only likely produce further violence, migration and displacement, and even greater regional instability.
2. Fully legitimizing or normalizing the Al-Assad regime is also likely to be counterproductive.  While it may be tempting to conclude that the Government of Syria is 'the only game in town,' the Al-Assad regime has its own priorities. These priorities run counter to those of both western governments and humanitarian and development programmers, meaning an unconditional return to Damascus in order to facilitate 'access' will likely result in programming informed by regime interests. This is likely to include the selective rehabilitation of some areas over others, delivering services to 'trusted' populations, and ensuring that reconstruction or rehabilitation financially benefits the upper echelons of the Syrian regime.
3. It is possible to work in Syria, and with the Government of Syria, without necessarily benefitting the Al-Assad regime, but this can only be accomplished with a clear understanding of local dynamics. International donors, UN agencies, and humanitarian and development organizations will need to work with the Government of Syria, but they must acknowledge that the regime and the Government of Syria are different. As noted, the Government of Syria's political-economic structure has changed over the past eight years.  Local governance bodies, and local leaders and intermediaries, now have much more authority over Syria's communities than in the past. The Syrian regime has grown increasingly dependant on the Syrian business community to fill local economic and service gaps, and the business community has in turn become more powerful in civic life (this topic is covered in much greater depth in a recent COAR Situation Report, linked here). The Al-Assad regime will remain in power, and will remain the central force dictating Government of Syria policy, but there are considerable opportunities at the local level.
4. Syrian civil society, both in and outside of the country, must become a major focus of the response.  If the current conflict has produced one positive, it is the flourishing Syrian civil society that has formed both within Syria and abroad. Although they played a crucial role in the Syrian uprising, conflict, and response, this not only refers to the 'operational' local organizations that formed in response to local needs and implemented donor or INGO-funded programs. Indeed, these citizen-activist networks are likely to be heavily restricted in a post-conflict Syria. Syrian civil society also extends to the academics, researchers, analysts, key informants, religious groups, journalists, artists, students, and activists living in opposition-held areas, Government-held areas, SDF-held areas, and in neighboring countries and Europe.  Many of these individuals are highly skilled technocrats with deep information networks and a clear understanding of the local dynamics and challenges facing Syrian communities. With the conflict reaching its end, many of these individuals have become increasingly disengaged, are seeking work in other sectors or countries, or are abandoning work on Syria entirely. Any strategy which prioritizes 'localization' must therefore help all forms of Syrian civil society have a voice in Syria's future development.
Whole of Syria Review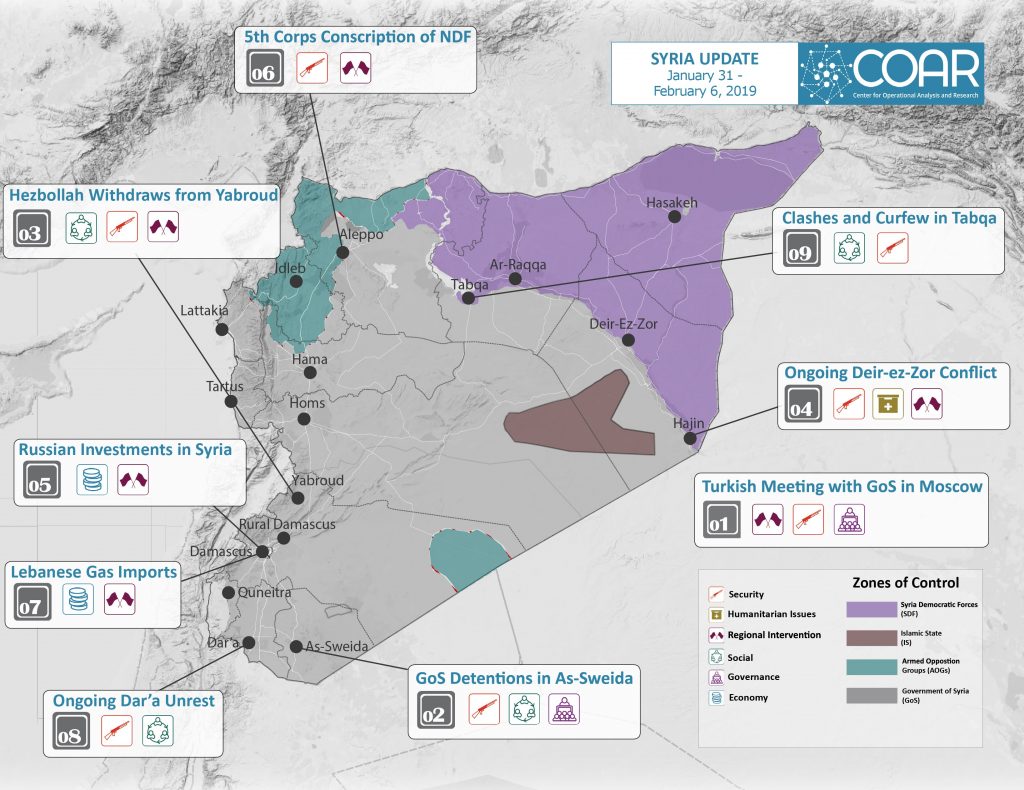 1. Northwestern Syria Update
Northwestern Syria, Syria: According to the Response Coordination Unit, the Government of Syria shelled 89 locations in opposition-held northwestern Syria between March 9 and 15. Six locations subject to Russian airstrikes over this period in Idleb governorate were also identified in this report, to include Idleb city and Khan Sheykhun. The Idleb Civil Defence (also known as the White Helmets) also accused Government of Syria forces of dropping 40 white phosphorus bombs on Tamanaah, in Idleb governorate, on March 15. These reported attacks are subsequent  to heavy Government of Syria and Russia airstrikes on the main Hay'at Tahrir Al-Sham-managed central prison in Idleb city on March 13. Between 100 to 200 prisoners are believed to have escaped, many of whom are reportedly ISIS combatants and captured members of Government of Syria forces. The Russian Defense Ministry stated that it had coordinated with the Government of Turkey in this attack, and that it's primary target had been a Hay'at Tahrir Al-Sham weapons storage facility. Of note, these airstrikes marked the first Russian airstrikes in northwestern Syria since the start of 2019.  On March 14, Turkish Minister of Defense, Hulusi Akar, announced that he had reached an agreement with his Russian counterpart, Sergei Lavrov, to establish a Joint Coordination Center in Idleb. Joint Russian-Turkish military patrols have already been undertaken in order to put a stop to continued heavy bombardment of the demilitarized zone by the Government of Syria, but it is notable that 400 mortar shells struck western rural Hama governorate a day after the conclusion of a Turkish patrol along the demilitarized zone on March 18.
Analysis: As noted in last week's COAR Syria Update, it is likely that continued Government of Syria bombardment of areas within the northwestern disarmament zone is intended to cause mass displacement along the M5 Highway. The M4 and M5 highways in northwestern Syria remain firmly under armed opposition control, despite the fact that both should be open to commercial transit as part of the northwestern Syria demilitarization zone agreement. Attacks in the vicinity of these two key routes are therefore likely intended to facilitate the displacement of much of the population, and the ultimate restoration of Government of Syria control through either military or political means. Recent Russian airstrikes should also be viewed in this light. Notably, Russian airstrikes on Idleb governorate were likely undertaken with some degree of coordination with the Government of Turkey. Indeed, it would be difficult for the Government of Russia to unilaterally launch airstrikes in northwestern Syria without at least informing the Turkish government. This indicates increased coordination between the two powers with regard to the intensification of military pressure on Hay'at Tahrir Al-Sham, likely to compel the group to negotiate access to the M5 highway (in the first instance). Notably, the next round of Astana talks between the three guarantor states is scheduled for early April 2019, when a more comprehensive agreement on northwestern Syria is expected. Until then, Government of Syria shelling and airstrikes are likely to continue, causing significant displacement over the near- to medium-term.
2. ISIS in Baghuz
Baguz, Deir-ez-Zor Governorate, Eastern Syria: On March 16, three suicide attacks at three different SDF-controlled crossings targeted civilians leaving Baguz, the last ISIS-held enclave in Deir-ez-Zor governorate. An SDF spokesperson, Mustafa Bali, stated that six civilians were killed and three SDF fighters were injured. The attackers were reportedly wearing women's clothing, but the perpetrators have yet to be identified. On March 17, spokesperson for the SDF, Kino Gabriel, stated that the SDF continues to clash with ISIS in the area but that "the operation is over, or as good as over, but requires a little more time to be completed practically." Gabriel added that over 60,000 people, mostly civilians, had so far fled from areas in the vicinity of Baguz. Locals leaving the area report that considerable numbers remain in the town as the SDF advanced on several ISIS-held positions under cover of U.S.-led coalition airstrikes on March 17.
Analysis: Having been the target of intense shelling and airstrikes for several months, the number of people that continue to leave Baguz is unexpectedly high. This highlights several issues of humanitarian and international concern. Those fleeing the town have effectively been besieged for several months, and IDPs that have managed to escape have been subsequently redirected to Hole camp, in Al-Hasakeh governorate, where conditions are reportedly deteriorating. Additionally, the status of former local and international ISIS combatants residing at Hole camp remains a major issue, with their release or repatriation posing considerable security, ethical, and political challenges. Several European countries have refused to accept the return of ISIS-affiliated nationals, but their release alongside Syrian ISIS combatants risks prolonging the  group's insurgency. As highlighted by the suicide bombings at the checkpoint this week, differentiating between ISIS combatants and civilians is extremely difficult: women, and children are frequently active ISIS combatants and supporters, and women were often used as suicide bombers. Moreover, there have been numerous unconfirmed reports of 'ISIS civilians' having major tensions with other IDPs in the Hole camp. Vetting those leaving Baghuz will likely remain a major challenge.
3. Dar'a Unrest
Dar'a Governorate, Southern Syria: Local sources reported that demonstrations were held on March in Dar'a, Jasim, and As-Sanamayn to mark the 8th anniversary of the Syrian conflict. Demonstrators variously called for the fall of the regime, the release of prisoners, and expressed solidarity with the population of Idleb. A protest also reportedly took place in Da'el, in the vicinity of the local Air Force Intelligence headquarters, where demonstrators specifically voiced objection to the Iranian military presence in southern Syria and associated security measures. Meanwhile, violent incidents continue to take place in the south. On March 15, an unknown group attacked an Air Force Intelligence unit in Da'el, and on March 17, a prominent Air Force Intelligence commander, Raafat Al-Nahas, was assasinated. Al-Nahas was known for his close relations with Iran and differences with the Head of Military Security in Dar'a, Louay Al-Ali.
Analysis: The anniversary of the Syrian conflict represented an opportunity for the expression of deep-seated grievances found widely across southern Syria. The root causes of this unrest can be summarized as deriving mainly from the following: the firm grip of the Government of Syria's various military divisions over local security; the unwillingness (or inability) of the Government of Syria to resolve the status of prisoners and the disappeared; arbitrary conscription; and the failure to restore public services. Competition between different Government of Syria-linked military and security divisions has further contributed to local instability, with attacks on checkpoints, assassinations, and IEDs proliferating throughout Dar'a governorate. Although further unrest is likely in this context, this is unlikely to threaten the Government of Syria's ultimate control over southern Syria.
4. Lattakia to Host Rukban IDPs
Lattakia City, Lattakia Governorate, Syria: On March 14, media sources reported that an official from the Ministry of Social Affairs and Labor in Lattakia city, Bashar Dandash, stated that the city is ready to host IDPs from Rukban Camp. Relatedly, the Transport Directorate of Lattakia city announced it is ready to send up to 30 buses in order to collect IDPs from the camp and bring them to Lattakia. A Government of Syria-affiliated news outlet has since reported that armed opposition groups in Rukban are demanding that residents pay $300 per person in order to secure their evacuation. Of note, no camp residents are known to have used the Government of Russia-facilitated humanitarian corridors to date. These corridors were opened on February 16, 2019.
Analysis: As evidenced by both permissions for UN convoys and the announcement of Russian-facilitated humanitarian corridors, the Russian and Syrian government's handling of Rukban Camp mirrors their treatment of former opposition-held urban areas. In this context, the Government of Syria is therefore likely to continue to pressure Rukban's IDPs to resolve their status and evacuate, potentially to Lattakia.  Though Lattakia may seem an unusual destination, it is important to note that there are between 50,000-70,000 people residing in the camp; these individuals originate from all over Syria, and many likely do not have any major issues with the Government of Syria. Syrian and Russian-led attempts to unilaterally resolve Rukban's status are complicated by the role of the U.S. military presence at the Al-Tanf base and the surrounding 55 km de-confliction zone, as well as local U.S.-affiliated armed groups.  Of note, the near term future of both Rukban and the Tanf border crossing are also likely to be affected by an imminent end to SDF-ISIS clashes in southern rural Deir-ez-Zor. Specifically, the Government of Syria is likely to identify the dispersal of ISIS combatants and sleeper cells across the eastern Syrian desert as a threat to Rukban residents and the border crossing, providing a pretext for more assertive Government of Syria intervention.
5. National Army Opens Al-Bab Crossing
Al-Bab, Northern Aleppo, Syria: On March 18, media sources reported that the Syrian Interim Government National Army announced the opening of the Abou Zendin crossing, linking Al-Bab to Government of Syria-controlled areas in northeastern Aleppo governorate. The crossing is located west of Al-Bab city, in the vicinity of Shamawiya village. A spokesperson for the National Army, General Yousef Hamoud, has explained the crossing will allow the transit of civilians and commodities from Euphrates Shield areas to Government of Syria-controlled areas in Aleppo governorate. The crossing is therefore likely to divert traffic that had previously travelled via YPG-controlled Menbij city, thereby increasing National Army checkpoint revenues. Hamoud also noted that Abou Zendin crossing will be managed through a joint civilian-military administration, and that its profits are to be distributed to all factions within the army.
Analysis: The gradual restoration of road networks between Euphrates Shield and Government of Syria-controlled areas is indicative of broader Turkish and Russian priorities to re-open Syria's major highways and commercial routes. Indeed, and as noted in the first point of this week's Syria Update, the status of Syria's major road networks is expected to dominate dynamics in northern and northwestern Syria for the foreseeable future. These priorities are beginning to have notable effects on the ground, with the Abou Zendin crossing serving to further delineate de facto borders between zones of control. Moreover, the crossing will also serve to diminish – if not eliminate – the role of the YPG-controlled Tal Refaat and Tayha crossings, which have been of high economic importance to northern Syria's economy.
6. No Nowruz Restrictions in Afrin
Afrin, northern Aleppo, Syria: There were numerous reports that Kurdish civilians in Afrin were to be prevented from celebrating the occasion of Nowruz, the traditional Persian new year celebration. However, local sources report that these claims turned out to be false, and noted that celebrations were freely observed, albeit under close police supervision.  Indeed, on March 17, local councils in Ma'btali, Afrin, Sheikh El-Hadid, Raju, Sharan, Bulbul, and Jandairis issued statements congratulating Kurdish communities on the occasion. Each local council also announced Nowruz to be an official holiday on March 21, although Maa'btli's local council later issued a statement reversing its earlier announcement, reportedly under pressure from the Government of Turkey.
Analysis: Ethnic tensions between Arabs and Kurds will likely remain of concern in Afrin, but it is important to note that these manifest mainly between armed groups, and less often at the community level. This is primarily due to the fact that the most politically active Kurdish civilians fled the area upon the conclusion of the Government of Turkey's Operation Olive Branch, with many of those remaining maintaining fairly harmonious relations with other residents. In fact, local sources indicated that the efforts of local courts to contain ethnic tensions, as well as cases of targeted persecution, have been fairly effective since the early stages of Turkish control in Afrin city. That said, tensions and lack of trust persist across Afrin, especially in the more diverse Afrin city, and are in many cases deliberately highlighted by the media. Local sources explain that local governance structures and small-scale humanitarian actors permitted to operate in the area have yet to address these deeply rooted grievances.
7. Iranian-Iraqi-Syrian Joint Meeting
Damascus, Syria: Chief of Staff of the Islamic Revolutionary Guard Corps (IRGC), Mohammad Beghari, arrived in Damascus on March 17. Beghari participated in a tripartite Iranian-Iraqi-Syrian meeting on March 18, in which future military cooperation between the three governments towards combating ISIS, as well as measures towards securing road networks linking Tehran and Damascus were reportedly discussed. Beghari stated that the "linkage of roads between Syria and Iraq serves the trade affairs and travelers, and is a great importance for Iran". Commander of the Iraqi Army, Othman Al-Ghanimi, echoed these sentiments, asserting the integrity of the Syria-Iraqi border as a primary concern, and further stated the Al-Qaim border crossing will open officially in the near term. Also of note, Beghari stated on March 17 that Iranian forces will remain in Syria for as long as they are required by the Government of Syria, and that foreign forces without the authorization of the Syrian state must leave the country (implicitly referring to the U.S.). During his time Syria, Beghari also visited several Syrian and Iranian military bases, to include the Iranian military base in the vicinity of Damascus airport, Kisweh, as well as military sites in Eastern Ghouta, and Abukamal and Deir-ez-Zor.
Analysis: Syrian-Iraqi-Iranian coordination regarding the restoration of road networks and trade between the three countries is a key driver of their current relationship, particularly in view of the sanctions regimes targeting Iran and Syria. Similar meetings between industry figures and transport officials from the three countries have taken place in Damascus in recent months, producing several economic agreements and memorandums of understandings in this regard. A functioning Tehran-Damascus road network will necessarily enhance the Government of Syria's access to goods and markets, and Tehran's prioritization of the issue will decrease the burden of rehabilitation on the Government of Syria. Meanwhile, assertive Iranian statements on its intention to retain a presence at the request of the Syrian government are likely further increase Israel's hostility. They are also likely to pose a challenge to understandings between the Israeli and the Russian governments regarding Iran's presence in Syria.
8. Confiscated Properties in Eastern Ghouta
Eastern Ghouta, Rural Damascus, Syria: On March 17, media sources reported that the Government of Syria is confiscating property belonging to those formerly affiliated with the armed or political opposition or those related to opposition members. These sources explain homes and stores are being appropriated in accordance with Law 10, or on the basis of allegations of terrorism. The Government of Syria has also been imposing restrictions on civilian mobility in Eastern Ghouta, and has reportedly increased detention and raiding campaigns across the area in recent months.
Analysis: The Government of Syria's reported persecution of former opposition affiliates and assertive security procedures are likely to persist both in Eastern Ghouta and other reconciled areas. Regardless of the legal framework under which these measures are reportedly taken, residents of reconciled areas are heavily scrutinized, and individuals with personal or familial links to the armed or political opposition face acute HLP risks.
9. Clashes and Curfew in Tabqa
Tabqa, Ar-Raqqa Governorate, Syria: On February 4, media sources reported on a local dispute between two individuals from the Nasser and Waheb tribes in the city. The dispute reportedly escalated into a direct confrontation between members of both tribes, which reportedly resulted in the death of at least one individual from each tribe as well as several injuries. In an attempt to contain these clashes, the SDF-affiliated civilian council of Tabqa city enforced an indefinite curfew and forbade any movement from and to the city. Additionally, the SDF has reportedly closed down all SDF official institutions and set up several checkpoints in the city.
Analysis: SDF and the Kurdish Self Administration mediation and security efforts are unlikely to be effective in local tribal and communal disputes in northeastern Syria, especially in Ar-Raqqa governorate. Ar-Raqqa governorate is predominantly Arab, and many tribes have already voiced their rejection of the SDF presence in the area. In fact, SDF governance structures have deliberately sidelined prominent community notables and traditional interlocutors, which will in turn prove detrimental to the future stability of the area and its general social cohesion. This incident also highlights the fact that while many tribes in northeastern Syria may be united in their opposition to the SDF, they are not a unified force in and of themselves, and have numerous inter-tribal alignments and grievances.
The Wartime and Post-Conflict Syria project (WPCS) is funded by the European Union and implemented through a partnership between the European University Institute (Middle East Directions Programme) and the Center for Operational Analysis and Research (COAR). WPCS will provide operational and strategic analysis to policymakers and programmers concerning prospects, challenges, trends, and policy options with respect to a conflict and post-conflict Syria. WPCS also aims to stimulate new approaches and policy responses to the Syrian conflict through a regular dialogue between researchers, policymakers and donors, and implementers, as well as to build a new network of Syrian researchers that will contribute to research informing international policy and practice related to their country.
The content compiled and presented by COAR is by no means exhaustive and does not reflect COAR's formal position, political or otherwise, on the aforementioned topics. The information, assessments, and analysis provided by COAR are only to inform humanitarian and development programs and policy. While this publication was produced with the financial support of the European Union, its contents are the sole responsibility of COAR Global LTD, and do not necessarily reflect the views of the European Union.