Syria Update
28 March to 03 April, 2019
The Syria Update is divided into two sections.  The first section provides an in-depth analysis of key issues and dynamics related to wartime and post-conflict Syria.   The second section provides a comprehensive whole of Syria review, detailing events and incidents, and analysis of their respective significance.
The following is a brief synopsis of the in-depth analysis section this week:
Throughout the reporting period, heavy clashes have taken place between different Government of Syria military units in at least five different governorates. The cause of these conflicts differ across areas and range from localized tensions, to competition over economic resources, to personal disputes. However, the scale and frequency of inter-Government of Syria clashes highlights the major challenges the state faces in commanding the allegiance of its increasingly independent constituent militias and army units. To an extent, these difficulties can be attributed to the way in which these militias were formed, and as a function of the Government of Syria's lack of manpower and financial resources. However, they can also be attributed to recent Government of Russia efforts to restructure and formalize Syrian armed groups and military units. Indeed, by attempting to restructure the Syrian military, the Government of Russia has simultaneously created a highly competitive and conflict-ridden environment which, at least temporarily, will likely drive Government of Syria military units into further internal competition.
The following is a brief synopsis of the Whole of Syria Review:
Internal Government of Syria Conflict
In Depth Analysis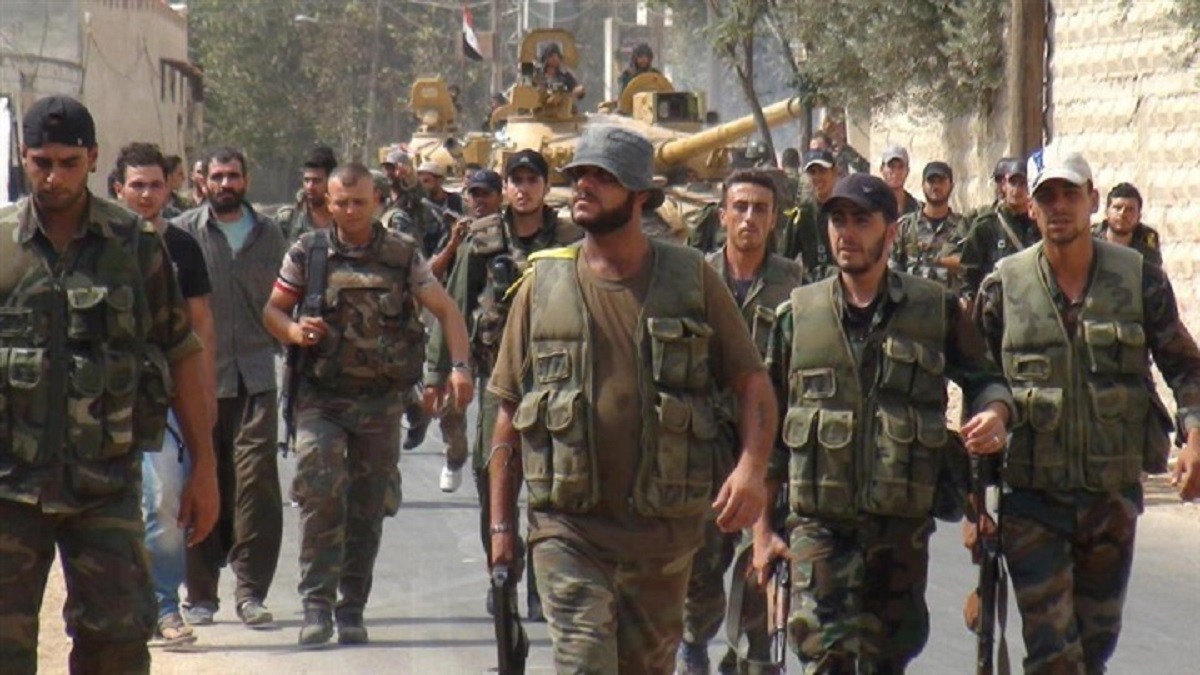 Throughout the past week, several different Government of Syria-affiliated armed groups have clashed with one another in numerous locations across Syria.
These clashes all have diverse, and highly local origins. The clashes in Aleppo city stem largely from disputes over the control of valuable real estate and lucrative checkpoints; the clashes in Hama originate in disputes over looting opportunities and control over key smuggling routes; the clashes in Lattakia are reportedly due to the fact that Bashar Al-Assad (the cousin of the President) was to be detained for killing a member of the Lattakia Criminal Security Branch; the clashes in Dar'a are largely related to tensions between different formerly reconciled combatants and internal competition between security services; and the clashes in Deir-ez-Zor reportedly stemmed from a personal dispute between two different armed group combatants.  Though their causes may be various, the sheer scale of the inter-Government of Syria clashes and the fact that they are now taking place in five governorates highlights a major dynamic which is increasingly defining the future of the Syrian conflict: the Government of Syria now faces extreme difficulty commanding its constituent and affiliated armed groups.
Certainly, a large component of the Government of Syria's significant command and control problems are based in a lack of manpower and funding. The Government of Syria's lack of manpower was a major component of its initial strategy to support the creation of numerous local militias throughout Syria, and to invite foreign militias into the country.  The Government of Syria's inability to fund these militias was a major contributing factor to prominent businessmen creating their own militias, and enabled militias to seek out their own funding streams through checkpoint control, looting, or real estate speculation.  However, as the conflict winds down, incorporating this patchwork system into a coherent national structure is extremely difficult given many militias are reliant on shrinking conflict-related revenue streams, thereby forcing these groups into competition (as in Aleppo or Hama. It is also worth noting that Syria's dire and deteriorating economic conditions have compounded the degree to which pro-Government militias are inclined to compete with one another. A Syrian Arab Army Soldier earns approximately $40 per month, with a Government-aligned militia combatant making on average $140-$200 per month; both sums are certainly insufficient to support a family. The financial drivers of internal conflict have also been compounded in many areas by the incorporation of reconciled armed opposition combatants, who often have their own unique tensions with both their communities or origin, and one another.
The Government of Russia is also of key importance to the current shape of Government of Syria-linked militia and army units, specifically given the role its has assumed in altering existing Syrian political-military structures. Over the past three months (indeed, likely longer), the Government of Russia has clearly embarked on a policy of restructuring the Syrian military.  According to local sources, the clearest manifestation of this policy is in the creation of a new office in the Syrian Arab Army, the Office of Human Resources, which was created at some point over the past three months as part of a merger between the Office of Officer Affairs and the Office of Human Security. Reportedly, the new head of the Office of Human Resources, Amjad Issa, was personally selected by Russian representatives at the Hmeimim Airbase, and has a direct connection to Russian military representatives. Through Issa's office, numerous Syrian military officers have been pushed into retirement, moved to new military brigades, and it has been rumored that numerous military officers have also been detained as part of this reshuffle. Certainly, none of the current inter-Government of Syria clashes can be directly attributed to this restructuring policy, but its emergence highlights the current political environment facing both Syrian Arab Army and pro-Government militia office. Though Russian attempts to restructure and potentially formalize the Syrian military are badly needed, they are also likely to contribute to an environment of paranoia, internal competition, and divided loyalties which will manifest in continued internal conflict for the foreseeable future.
Whole of Syria Review

1. NWS Shoura Council Elections
Northwestern Syria, Syria:  On March 27 and 28, the electoral process to elect a new Shoura Council in northwestern Syria reportedly began. The creation of a Shoura Council is a key outcome of the 'General Conference of the Syrian Revolution', which began in February 2019 and was organized by local activists known for their affiliation to the Salvation Government.  Following the election process, the Shoura Council will become the primary political leadership of opposition-controlled northwestern Syria and will select the composition of a new governance body to potentially replace the Salvation Government. The Shoura Council will be elected by the General Conference High Directorate of Elections, which is comprised of a set of electoral committees representing each administrative area in opposition-controlled northwestern Syria. Electoral committees are comprised of representatives from each community in northwestern Syria, as well as various local notables and technocrats. Notably, northwestern Syria's Salvation Government-affiliated local councils are responsible for selecting these electoral committees, albeit under the nominal supervision of the General Conference High Directorate of Elections. Of note, local sources indicate that various activists and local notables have accused the Salvation Government or Hay'at Tahrir Al-Sham of deliberately marginalizing key 'revolutionary figures' from participating in the electoral committees.
Analysis: The significance of the Shoura Council elections hinges upon the degree to which its members are overwhelmingly hardline Hay'at Tahrir Al-Sham supporters. This will determine the extent to which the body will act as a vehicle for a political restructuring of northwestern Syria in the future. Despite the fact that local sources report that the Salvation Government is heavily involved in the local electoral committee selection process, the election of the General Conference Shoura Council presents an opportunity for the northwest. If the General Conference succeeds in electing a generally representative Shoura Council that is perceived as legitimate and generally 'moderate' (i.e. not overly linked to Hay'at Tahrir Al-Sham hardliners), the new governance body it establishes may be in a position to engage with international actors in the diplomatic domain. This would in turn rehabilitate the image of northwestern Syria's governance bodies, and counter narratives that northwestern Syria is entirely dominated by extremist groups. This is an optimistic interpretation of likely events however, with the most likely outcome of the Shoura Council elections being the election of a Shoura Council which is largely selected by Hay'at Tahrir Al-Sham, and which will more or less restructure northwestern Syria's governance bodies to resemble the Salvation Government.
2. Home Confiscation in Yarmouk
Ash-Shajara subdistrict, Dar'a Governorate, Syria: On March 31, media sources reported that the Syrian Arab Army's 7th Division confiscated numerous civilian homes in Koya, Ash-Shajara subdistrict, in the Yarmouk Basin. 7th Division soldiers reportedly denied returnees access to their homes, citing a threat from ISIS sleeper cells. Returnees to the area have reportedly sought the intervention of Louay Al-Ali, Head of the Military Security Branch in southern Syria, as well as Russian representatives, but their requests have been unmet. Separately, local sources report that Military Intelligence and reconciled combatants acting on behalf of the 7th Division have prevented Hezbollah and the Iranian Revolutionary Guard from entering the Yarmouk basin at the orders of Dar'a's Air Intelligence Branch.
Analysis: Civilians in reconciled areas across Syria must already contend with onerous administrative, legal and judicial processes to secure property, tenure and ownership. However, in addition to the instability surrounding the competing interests of Government of Syria-affiliated militia in southern Syria, returns to the Yarmouk Basin are further complicated by the proximity of the Israeli-controlled Golan Heights. Clearly, efforts to prevent the entry of Iranian and Iranian-affiliated groups to the area are concerned with decreasing the potential for triggering an Israeli response in Syrian territory, and point to a highly securitized local environment. Given these geopolitical dynamics enable additional security-based rationale for the denial and/or dilution of HLP rights, they present a further barrier to returns to communities in the Yarmouk Basin, and will likely limit return numbers and increase protection concerns for existing and near- to medium-term returnees.
3. Release of Reconciled Commander
Talbiseh City, Northern Rural Homs, Syria: On March 30, media sources reported that Russia's  Hmeimim Reconciliation Center has facilitated the release of the former commander of Jaish Al-Tawheed, Manhal 'Al-Salouh' Dahiq.  Dahiq was reportedly detained by Air Force Intelligence on March 23 for unknown reasons, but it is notable that shortly after his reconciliation, Dahiq joined the Military Security Branch in northern Homs and was responsible for reconciling and subsequently recruiting many of his former comrades in Jaish Al-Tawhid to the Military Security Branch. According to local sources, Dahiq was responsible for conducting regular conscription campaigns in northern Homs, and was unpopular in many communities in northern Homs.
Analysis: The detention and swift release of Dahiq further evidences the lack of clear command and control structures within Government of Syria forces and affiliated militias. As noted in the in-depth analysis section, this lack of control is increasingly evident across Government of Syria-controlled areas through the confrontation, competition and tensions between its various divisions. It is likely that such disputes and divergent decision-making streams are the product of efforts by the Government of Russia to assert its influence within the Syrian military; thus, when a commander close to the Government of Russia such as Dahiq is detained, it is incumbent on Russian representatives to secure his release in order to assert their role as guarantors of many reconciled areas. Of note, though Russian representatives may be able to secure the release of aligned commanders and militia leaders, their ability to contain security and military-related conflicts and criminality within reconciled areas remains questionable.
4. New Holding Company in Aleppo
Aleppo City, Syria: On March 31, media sources indicated that the Aleppo City Council issued a directive for the creation of a new – as yet unnamed – holding company in the city. The new holding company is likely to adopt a similar role to that of the Sham Holding Company in the Marota City reconstruction project in Damascus city. As per a statement from the head of Aleppo City Council, Maad Al-Madlaji, the establishment of a holding company intends to attract investment to the city to initiate reconstruction. Al-Madlaji also indicated that the Aleppo City Council will soon start the necessary legal processes for the establishment of the new holding company.
Analysis: Details regarding the ultimate trajectory of Aleppo city's reconstruction have yet to emerge. However, the decision to establish a holding company similar to the Sham Holding Company Damascus indicates that Government of Syria reconstruction efforts are likely to be implemented within similar frameworks i.e. through contracting private Syrian companies commissioned to build housing and infrastructure. As such, the kind of HLP concerns reported frequently in Damascus are likely to also arise in Aleppo. Evacuees from Aleppo are likely to face serious challenges in claiming property ownership and tenure, particularly those evacuated following the Government of Syria offensive on the city in late 2016. It is also worth recalling that holding companies of this kind are likely to benefit business elites closely aligned with the upper echelons of the Assad regime.
5. Lebanese President Visits Moscow
Moscow, Russia: On March 26, and concurrent with the 75th anniversary of diplomatic relations between Beirut and Moscow, Lebanese President Michel Aoun met with Russian President Vladimir Putin in Moscow. Presidents Aoun and Putin reportedly discussed regional issues including the situation in Syria and Iraq, the Golan Heights, Iran, and the return of Syrian refugees from Lebanon. Notably, the Government of Russia insisted that the safe return of Syrian refugees from Lebanon cannot be accomplished without a political solution in Syria. Media sources noted that Aoun asked the Government of Russia to apply pressure to the Government of Syria to accelerate the return process however, Putin reportedly advised Aoun and Lebanese Prime Minister Gebran Bassil to conduct an official visit to Damascus to discuss the issue.
Analysis: Putin's statement regarding the 'safe return' of Syrian refugees from Lebanon is highly noteworthy given it indicates that Russian pressure to trigger refugee returns has been put on hold for the time being. It is likely this position has been taken in an attempt to balance the interests of Russia's regional partners and those of the Government of Syria, which continues to resist refugee returns prior to a political situation for two reasons. First, the Government of Syria will likely use the refugee issue in order to unlock funds for reconstruction given the UN-led Geneva process demands solid infrastructure to support returns. Second, President Bashar Al-Assad likely recognizes that refugee returns will affect the results of the 2021 Syrian elections, and is likely to keep refugees outside of the country until the elections are held. For the time being, the meeting between Putin and Auon is unlikely to produce any concrete outcomes for refugees in neighboring states. Though the Government of Russia has committed to the return of Syrian refugees, the stance expressed to Aoun is one which balances Government of Syria, neighboring country and Western interests without definitively altering the status quo.
6. Fuel Imports to GoS Areas
Damascus City, Syria: On March 30, the Damascus Chamber of Commerce issued a statement to the Syrian industrial sector, noting that fuel is now available for purchase at the price of SYP 475 per liter. On the same date, Samer Debes, Head of the Damascus Chamber of Commerce, stated that the first fuel shipment had arrived in Damascus and that the beginning of the end of the fuel crisis was underway. Shortly afterwards, the Damascus Chamber of Commerce issued a second statement noting that the increased price of fuel includes shipping costs, and that the importing company is responsible for setting the price. Thus, it is subject to change. Notably, as mentioned in a recent COAR Syria Update, on March 4, Syrian Prime Minister, Imad Khamis, issued a decision allowing Syrian businessmen to import fuel and gasoline by land or sea for a period of three months. It is worth noting that prior to the Government of Syria's March 4 decision, the Chamber of Commerce primarily bought fuel from Qaterji Fuel Company, which had extremely high prices and only provided a limited amount.
Analysis: The Government of Syria's decision to allow the Chamber of Commerce to purchase fuel from neighboring countries was likely partially aimed at strengthening the role of the Damascus Chamber of Commerce. Samer Debes, the Head of the Damascus Chamber of Commerce, is known to have close ties with Syrian President Bashar Al-Assad. That said, it is also likely that the decision was also partially aimed at breaking the Qaterji Fuel Company's monopoly over fuel imports. It is highly noteworthy that Debes's statement seems to indicate that the Damascus Chamber of Commerce will import fuel and subsequently sell it to Syrian businesses, which is not in accordance with the March 4 decision. The importance of the Damascus Chamber of Commerce in Syria's economic landscape is therefore only likely to increase, especially considering the country's continued fuel crisis.
7. Meeting between Russians and NDF in Hama
As-Suqaylabiyah and Muhradah, Hama Governorate, Syria: On March 29 and 30, a Russian military delegation visited the predominantely-Christian towns of Muhardah and As-Suqaylabiyah in Hama governorate. During the visit, the delegation met with National Defense Forces (NDF) commanders, namely Simon al-Wakil and Nabil Abdallah. The delegation was accompanied by members of the Russian orthodox church and Suheil Al-Hassan, Commander of the Government of Russia-supported Tiger Forces. Hassan also reportedly convened a separate meeting with al-Wakil and Abdallah, and was seen holding and kissing a picture of the Virgin Mary.
Analysis: It is worth noting that previously the predominantly Christian NDF units in As-Suqaylabiyah and Muhradah were largely supported and funded by the Government of Iran. The Russian delegation's visit to the predominantly Christian towns is therefore extremely significant. The fact that Suheil Al-Hassan and the Russian delegation met with the commanders of the NDF likely indicates that the Government of Russia intends to increasingly develop its influence within Syria's Christian communities and that it seeks to counter Iranian influence over armed groups and minority communities in Syria. Additionally, the Government of Russia is also reportedly attempting to influence popular opinion in both communities by providing monetary support to local Christian charities. Of note, following the clashes between the 4th Armoured division and the 5th Corps  in western rural Hama governorate in February 2019, al-Wakil and Abdalla reportedly visited Hmeimim airbase and were given medals by Russian officials.
8. Iranian Role in Syrian Railways
Lattakia city, Lattakia Governorate, Syria: On March 26, media sources reported that railways linking the port of Lattakia to Nasriyeh, in the Eastern Qalamoun (via Homs city) were used recently to transfer wheat shipments. The General Administration of Railways completed the rehabilitation of the railway in February 2019, but notably repairs on this section of the Syrian rail network were undertaken only after the Government of Iran took control over both the Nasriyeh military airbase and the Lattakia port authority. Indeed, Iranian representatives reportedly oversee transportation along this stretch of the Syrian railway network.
Analysis: An increased Iranian role in Syria's economy and transportation networks is likely to become a major factor in Syria's post-conflict economic landscape. The Government of Iran has been engaging in various joint economic projects in Syria, with land transport considered a major priority. The potential rehabilitation of transport lines within Syria, and the subsequent linkage of transport lines with Iraq and Iran, was in fact raised in tripartite meetings between representatives of the three governments on March 17, 2019. This also aligns with previous statements made by the Government of Syria's Ministry of Transportation announcing a joint Iranian-Syrian plan to extend the Syria railway lines from the ports of Lattakia and Tartous into eastern Syria. Though the rehabilitation of Syrian railway lines is still largely in the inception phase, it remains likely that similar plans may trigger Russian concern over Iran's growing economic influence in Syria.
The Wartime and Post-Conflict Syria project (WPCS) is funded by the European Union and implemented through a partnership between the European University Institute (Middle East Directions Programme) and the Center for Operational Analysis and Research (COAR). WPCS will provide operational and strategic analysis to policymakers and programmers concerning prospects, challenges, trends, and policy options with respect to a conflict and post-conflict Syria. WPCS also aims to stimulate new approaches and policy responses to the Syrian conflict through a regular dialogue between researchers, policymakers and donors, and implementers, as well as to build a new network of Syrian researchers that will contribute to research informing international policy and practice related to their country.
The content compiled and presented by COAR is by no means exhaustive and does not reflect COAR's formal position, political or otherwise, on the aforementioned topics. The information, assessments, and analysis provided by COAR are only to inform humanitarian and development programs and policy. While this publication was produced with the financial support of the European Union, its contents are the sole responsibility of COAR Global LTD, and do not necessarily reflect the views of the European Union.