Syria Update
04 April to 10 April, 2019
The Syria Update is divided into two sections.  The first section provides an in-depth analysis of key issues and dynamics related to wartime and post-conflict Syria.   The second section provides a comprehensive whole of Syria review, detailing events and incidents, and analysis of their respective significance.
The following is a brief synopsis of the in-depth analysis section this week:
On April 3, Head of the National Security Bureau Ali Mamlouk, Minister of Defense Ali Abdullah Ayoub, and Head of Military Intelligence Kifah Moulhem received a Dar'a-based delegation of reconciled militia leaders and notable figures to address mounting instability in southern Syria. The past month has witnessed widespread protests across Dar'a governorate after local authorities restored a statue of former Syrian President Hafez al-Assad in Dar'a city on March 10, compounding a rise in security incidents targeting both reconciled figures and Government of Syria-linked military and security actors. Though the meeting sought to address issues of most concern to the current wave of protests in the south, security conditions are unlikely to improve in the near-term.  Indeed, the meeting was more notable for highlighting the dynamics at play within the Government of Syria's management of the post-reconciliation context, where cleavages between Russian and Iranian-linked elements within the Syrian security establishment are undermining the restoration of stability and state authority in southern Syria.
The following is a brief synopsis of the Whole of Syria Review:
Competition for Syrian State Security Apparatus Compounds Southern Instability
In Depth Analysis
On April 3, Head of the National Security Bureau Ali Mamlouk, Minister of Defense Ali Abdullah Ayoub, and Head of Military Intelligence Kifah Moulhem received a Dar'a-based delegation of reconciled militia leaders and notable figures to address mounting instability in southern Syria. The past month has witnessed widespread protests across Dar'a governorate after local authorities restored a statue of former Syrian President Hafez al-Assad in Dar'a city on March 10, compounding a rise in security incidents targeting both reconciled figures and Government of Syria-linked military and security actors. Though the meeting sought to address issues of most concern to the current wave of protests in the south, security conditions are unlikely to improve in the near-term. Indeed, the meeting was more notable for highlighting the dynamics at play within the Government of Syria's management of the post-reconciliation context, where cleavages within the Syrian security establishment are undermining the restoration of stability and state authority in southern Syria.
In an interview, the Coordinator of the Dar'a Negotiations Committee, Adnan Masalmeh, revealed that the April 3 meeting mainly addressed issues linked to the current civil unrest, noting that the Head of the National Security Bureau, Ali Mamlouk, confirmed his office would undertake to fulfil its commitments as per the southern Syria reconciliation agreement. This would "need time," perhaps as much as three months, but there was reportedly agreement that the Government of Syria should explore the release of detainees, reduce the frequency of detentions, adhere to legal conscription practices, and relax restrictions and the use of force by state and state-affiliated security forces. The return to work of civil servants in Dar'a governorate was also discussed, and Defense Minister Ali Abdullah Ayoub reportedly added that the Syrian Arab Army would study the feasibility of withdrawing from commercial and industrial areas in Dar'a governorate in line with the demands of protestors. It has since emerged that the participants will reconvene at some point in the next two weeks to set out ways to deliver improvements on the ground.
For the time being however, any such improvement appears unlikely. Government of Syria-linked forces have reportedly been fortifying their positions in eastern Dar'a over the past week owing to repeated attacks, anti-Government of Syria sloganeering has been on the rise, and it is unlikely the south's most restive communities consider the Dar'a delegation represents their interests. Indeed, the delegation includes several controversial reconciled militia leaders and notables, to include Sheikh Ahmad Bkeirat, and Mahmoud (Abu Murshid) Al-Bardan and Musab Al-Bardan, both of whom served as Commanders of Jaish Al-Thawra. More importantly however, is that the current anti-Government of Syria protests in Dar'a governorate are taking place in a broader climate of competition and contestation between state security forces in the south (and, as reported in last week's COAR Syria Update, across Syria more broadly). In this context, the demands of protesters are likely to remain of secondary importance until these differences are resolved and/or the Government of Syria wields greater command over the entities acting on its behalf.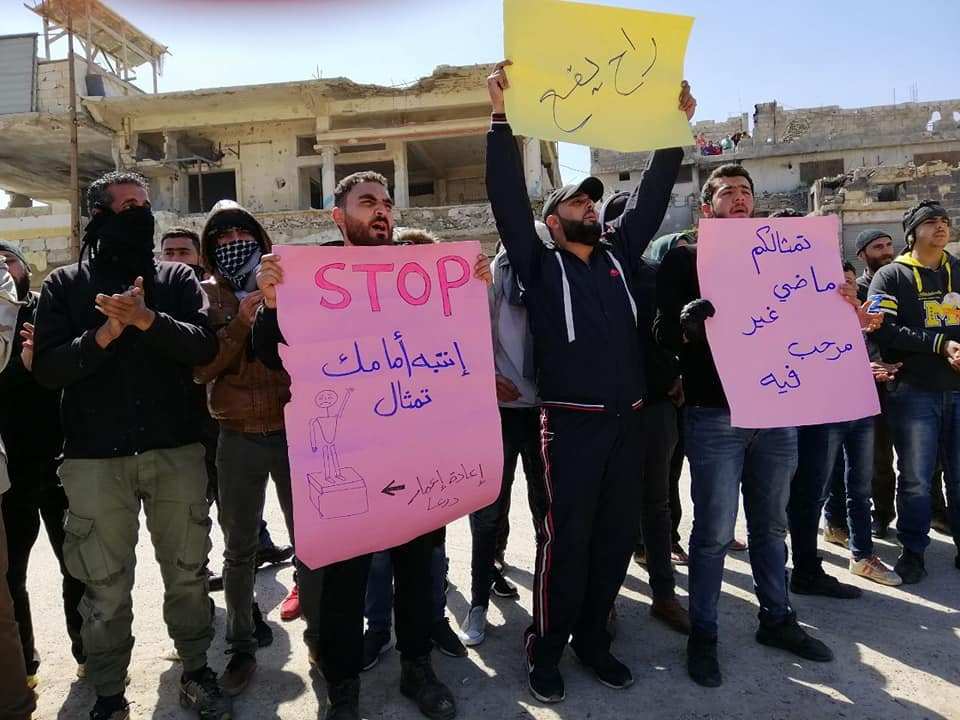 To date, progress in either regard has been limited, and it appears that the Government of Syria is struggling to balance the divergent strategies and geopolitics driving the actions of its Russian- and Iranian-affiliated militia and constituent intelligence agencies. In the past week alone, a reconciled 4th Armoured Division commander was arrested when travelling to Damascus, members of the Russian-linked 5th Corps attacked checkpoints managed by the Iran-linked Air Force Intelligence in Bisr Elharir, Sahwa, and Mseifra, and there have been a raft of other unattributed attacks, assassination attempts, and arrests targeting members of both Russian- and Iranian-linked Government of Syria security actors.
These incidents exacerbate a rising trend of instability in the south which began with the emergence of the enigmatic Popular Resistance in October 2018, and which in February 2019 triggered the extraordinary intervention of the Government of Syria's National Security Bureau (NSB). Although the NSB was expected to pursue any practicable means to bring the south to heel, it has been frustrated by Russian and Iranian efforts to infiltrate the Syrian security establishment in support of their own objectives. This is evident in apparent Russian-led moves to restructure elements of the Syrian military and security apparatus, through which it has variously dissolved and merged Government of Syria-aligned militia, replaced and transferred military and intelligence officers, and issued dubious lawsuits against problematic figures for abuses of power and for cooperating with terrorist groups. For its part, the Iranian government is  similarly rumored to have ordered the transfer of staff within state institutions, most notably in the case of its reported role in the 'promotion' of former Head of Military Intelligence, Mohamed Mahala, to an advisory position within the presidential palace.
The challenge for the NSB therefore lies in balancing the divergent strategies driving continued Iranian and Russian intervention, both in the south, and across Syria. On one hand, it appears the Government of Russia intends to develop a less sectarian Syrian security establishment, and is supporting Government of Syria-affiliated organizations to ensure that Iranian and Iranian-linked groups do not problematize buy-in for Russian efforts to reach a political settlement to the Syrian conflict. On the other hand, the Iranian government seeks to expand its reach into Syria in support of its economic and political objectives in ways which threaten to destabilize southern Syria's toxic post-reconciliation context even further, particularly given the proximity of Israel and recent developments regarding the Golan Heights. How the Government of Syria reconciles these two agendas with its own objectives is a question that is likely to dominate the south for the foreseeable future. Indeed, the Government of Syria's management of differences between Russian and Iranian policy in Syria is swiftly becoming one of the dominant frameworks for understanding Syrian conflict dynamics more broadly.
Whole of Syria Review

1. Northwestern Syria Update
Idleb and Hama governorates, northwestern Syria: On April 5, Government of Syria forces targeted Kafr Nobol with three cluster bombs. Thirteen civilians were killed and a further 40 were injured. Local sources report the bombing was undertaken in retaliation for an attack launched by unknown actors  reportedly based in Kafr Nobol, and which resulted in the death of 5 Tiger Forces combatants in Sahel Al Ghab. Also on April 5, Government of Russia airstrikes struck Khan Sheykhun, one day after the town commemorated the second anniversary of the chemical attack on the town in April 2017. More generally, the past week has witnessed the intensification of the Government of Syria's bombardment of northwestern Syria, particularly in Saraqeb, Ma'arrat An Nu'man, and Kafr Nobol in Idleb governorate, and Latmana, Kafr Zeita, Murak, and Tamanaah in northern Hama governorate. On April 8, Russian Battleships positioned in Lattakia targeted Jisr Ash-Shughur with long-range missiles; several civilians were injured.
Analysis: It is likely that continued Government of Syria shelling on areas within the disarmament zone intends to cause mass displacement from communities along the M4 and M5 highways. This strategy appears to have been effective; according to an April 1 statement by the spokesperson for the Secretary General of the UN, Stephen Dugrick, 90,000 people have fled communities in the disarmament zone in the past two months, many of whom have left heavily targeted locations in the vicinity of the M4 and M5 highways. Where there has been Russian involvement in these attacks, the Turkish government has likely been notified in advance. Indeed, the April 8 meeting between Presidents Putin and Erdogan reiterated continued cooperation between the two parties on northwestern Syria, indicating increased military pressure on Hay'at Tahrir Al-Sham to withdraw from positions near key access routes. Of note, the next round of Astana talks is scheduled for April 25-26.
2. Rumored U.S. Plan to Link SDC to Opposition
Al-Hasakeh Governorate, Syria: On April 5, sources linked to the U.S.-led coalition told media that the coalition is exploring the possibility of linking the Syrian Democratic Council (SDC) with the "political opposition" [i.e. the High Negotiations Committee (HNC)] for the purposes of the Geneva and Astana processes. It has been rumored that similar efforts are being made by the Saudi government. To date however, the HNC has denied any such talks are underway. Meanwhile, on April 9, the General Commander of the Syrian Democratic Forces (SDF), Mathloum A'bdi, stated that the SDF is prepared to negotiate with the Government of Turkey on two conditions: first, that it commands the withdrawal of Turkish forces from Afrin; and second, that it stops threatening Turkish military action against the Kurdish-controlled northeast.
Analysis: Despite threats from the Commander of the U.S.-led coalition, Lieutenant General Paul LaCamera, that the U.S. would halt its support to the SDF if it engaged in substantive talks with the Syrian government, it remains more likely that the Kurdish authorities will be compelled to do so on their own terms rather than via the HNC. Rumors of the coalition plan suggest the U.S. and its partners intend to deter the Kurdish authorities from gravitating towards the Government of Syria on matters pertaining to the future control of northeastern Syria, but ignore the fact that the HNC is a diverse body comprising several Turkish-backed groups. Indeed, it is clear from the red lines established by the Commander of the SDF that the Kurdish authorities will not engage Turkey unless the Turkish government meets its demands, but persistent differences between the two parties on these issues suggest meaningful talks are highly unlikely. Moreover, Turkey has shown limited interest in prior efforts to reach a solution to the Kurdish question through negotiation, having been largely indifferent to an earlier proposal from the former head of the Syrian Opposition Coalition, Ahmad Jarba, to develop an Arab tribal force to monitor a theoretical Turkish safe zone along Syria's northeastern border.
3. Rukban Camp Update
Rukban Camp, Homs Governorate, Syria: Head of the Russian Reconciliation Center, Viktor Kupchishin, stated that 985 IDPs had left Rukban Camp via the 'Jleib' humanitarian corridor on April 4. Kupchishin added that the IDPs had been transported to Government of Syria-controlled Homs governorate and now reside in temporary shelters. An additional 400 IDPs travelled from Rukban to Homs on April 7. Of note, on March 22, the Deputy Governor of Homs governorate, Amir Khalil, stated that local authorities had rehabilitated more than 1,300 schools in Homs in preparation for the receipt of IDPs from Rukban camp. Relatedly, on April 7, Russian Foreign Minister, Sergey Lavrov, and Jordanian Foreign Minister, Ayman Safadi, released a joint statement calling for the dismantlement of Rukban Camp. Lavrov expressed that "the most simple and effective solution" to the crisis at the camp "would be to end the illegitimate U.S. occupation" in the nearby Al-Tanf airbase and surrounding 55km deconfliction zone. For his part, Safadi stated that the only solution for Rukban is the return of IDPs to their areas of origin.
Analysis: Since March 24, approximately 1,700 IDPs have left Rukban Camp through the Russian-established 'Jleib' humanitarian corridor. Taken in tandem with the joint statement from the Russian and Jordanian Foreign Ministers, it is likely that the Syrian and Russian governments intend to resolve the status of Rukban without linking it to broader developments pertaining to the U.S. presence in Al-Tanf. Markedly increased return numbers have likely been triggered by the preparedness of local authorities to receive IDPs in temporary shelters, and it may be that this has provided an opportunity for many to return to their communities of origin and escape the deteriorating conditions in the camp. That said, it remains unclear where the returnees originate from or whether they have been provided with any protection guarantees upon arrival. Relatively small-scale returns are likely to continue, but it must be recalled that more than 50,000 people still remain in Rukban.
4. Returns to Northern Rural Homs
Northern rural Homs, Syria: On April 4, media sources reported that Adham Rajoub, a member of the Government of Syria Reconciliation Committee, is seeking to facilitate the return of evacuees from northern rural Homs to their communities of origin. Neither the number of returnees nor the date of their return has been decided; however, Rajoub is understood to have had a list of names approved by the Government of Syria for travel from northern Aleppo, and has identified that returnees will travel via Menbij. In 2017, Rajoub arranged the return of evacuees from northern Syria to Waer, in Homs governorate.
Analysis: Despite Russian guarantees, reconciled figures in northern rural Homs are subject to systematic targeting, kidnapping, and detention by Government of Syria security forces. IDPs returning to the area are likely to be subject to similar treatment, and efforts may be underway to obstruct the return process as means to prevent the potential influence of former opposition armed groups and entities. In this case however, Rajoub is known to be closely linked with Government of Syria intelligence services, and it is unlikely that such an initiative would be underway unless there were a realistic chance of success.
5. Road Rehabilitation in Northwestern Syria
Northwestern Syria, Syria: On April 3, the Bab El Hawa administration announced on its official website that it had initiated a road rehabilitation project in Idleb governorate. Project implementation will be undertaken in several stages, the first of which will focus on road networks in Sarmada, in northern rural Idleb governorate. Subsequently, on April 5, the Hay'at Tahrir Al-Sham-affiliated Salvation Government released a statement noting that it had conducted topographic surveys of the main roads linking Bab El Hawa to Murak, and the Aleppo-Saraqeb highway. Relatedly, local sources report that the Salvation Government has lowered the cost of car registration fees in northwestern Syria in an attempt to encourage more registrations. Local sources report this initiative has already yielded increased revenues. It is expected that funds will be used to partially finance the road rehabilitation project.
Analysis: After Hay'at Tahrir Al-Sham secured control over practically all communities in northwestern Syria in January 2018, the Salvation Government was installed as the dominant governance body in the area. Since this time, it has attempted to consolidate its influence, particularly in communities where the Turkish-supported National Liberation Front had previously been in control. It is therefore likely that the road rehabilitation project is at least partially linked to Salvation Government attempts to increase popular support in northwestern Syria. It must also be recalled that the restoration and reopening of the M5 and M4 highways was among the provisions of the September 2018 disarmament zone agreement between Russia and Turkey. At this stage however, it is unclear whether the current rehabilitation project is linked to this wider framework, or whether the Salvation Government is acting in the interests of parties to the disarmament zone arrangement, most likely the Government of Turkey.
6. IRGC Designated as Terrorist Group
Washington D.C., U.S.: On April 8, President Donald Trump announced that the U.S. had designated Iran's Islamic Revolutionary Guard Corps (IRGC) as a foreign terrorist organization. The decision will be effective as of April 15. Notably, this marks the first time the U.S. has designated units within the armed forces of another nation as a terrorist group. The move will lead to the imposition of economic and travel sanctions on both IRGC members and its affiliates. The Government of Iran responded in kind by designating the U.S. as a state sponsor of terrorism and U.S. soldiers as terrorists.
Analysis: The U.S. designation is unlikely to have significant operational consequences for dynamics within Syria and does not mean that confrontation between the two parties in Syria is any more likely.  Indeed, in the security domain, its repercussions are likely to be limited to providing an additional layer of justification for Israeli attacks on Iranian and Iranian-linked targets inside Syria. There has been some concern that U.S. troops and diplomats could be barred from contact with Iraqi or Lebanese authorities who interact with IRGC officials and its affiliates, but U.S. officials have been quick to assert that its diplomacy will be unaffected. Moreover, many IRGC members and affiliates are already subject to sanctions given they either fall under the Iranian government or are linked to blacklisted organizations like Lebanon's Hezbollah.
7. Nitrogen Plant Demonstrations
Homs city, Homs Governorate, Syria: On April 7, media sources reported that workers at a nitrogen plant in Homs demonstrated against the plant's Russian owners. Workers reportedly demanded fewer working hours and that their wages be paid in USD rather than SYP. Russian Military Police quashed the protests with force, detained protestors, and sent several to Hmeimim Airbase. Of note, in 2018, the Government of Syria signed a 40-year memorandum of understanding with the Russian fuel and gas company, Stroytransgaz, to rehabilitate the General Company for Fertilizers in Homs governorate. The General Company for Fertilizers's portfolio includes several factories in the area, of which the nitrogen plant in Homs city is the largest.
Analysis: The Government of Russia's economic role in Syria is buttressed by its military presence. However, the use of force to protect Russian economic interests and the entry of its business people into Syria's business class demonstrates that Russian enterprise prioritizes production and large-scale investment at the expense of worker's rights and interests. Inevitably, this raises the possibility that civilians will come to view Russian presence on the ground less favorably. Given the length of contracts signed between Russian companies and the Syrian state, this could represent a longstanding source of tension between local communities and Russian actors in a variety of domains in Syria, to include the social, political and cultural spheres.
8. Living Standards in GoS-controlled areas
Damascus governorate, Syria: Local sources report an increase in the price of staple foods in Damascus, particularly vegetables, and note that price reductions for other items are often too modest to fall within the reach of middle and low income families. Markets in the capital also reportedly suffer from a shortage of baby milk despite earlier promises from the Government of Syria that it could guarantee adequate market supply. Costs across all commodities have been exacerbated by high fuel prices and poor fuel availability in the city, which is having knock-on effects on the reliability of public services. This has reportedly prompted Prime Minister Imad Khamis to explore the possibility of removing fuel subsidies. The challenges of daily living in Syria were highlighted in February's National Report for Sustainable Development, which reflects upon findings elsewhere that the average cost of living for a family of 5 members in Damascus has increased by 5% in the past three months. The reports note that much of this increase has resulted from a drastic increase in food costs.
Analysis: Much of the humanitarian and development response has focused on opposition-held and formerly opposition-held areas, largely owing to higher needs and more challenging access restrictions. However, food shortages and price hikes in electricity, fuel, gasoline, and other staple goods have been a feature across Government of Syria-controlled areas for much of the conflict, and have in fact worsened in recent months. Having now made decisive territorial gains against the opposition, the Government of Syria's ability to restore services and increase production and employment has become increasingly strained however, including in the capital. This is variously the result of the toll of sanctions and restrictive measures, the destruction of economic hubs, damage to vital infrastructure, and the widespread displacement of the Syrian workforce. In this context, the economic outlook for civilians living in government-controlled areas therefore remains bleak, particularly given the expectation that future investment in the country is – at least in the first instance – likely to profit business elites aligned with the Assad regime over the general population.
The Wartime and Post-Conflict Syria project (WPCS) is funded by the European Union and implemented through a partnership between the European University Institute (Middle East Directions Programme) and the Center for Operational Analysis and Research (COAR). WPCS will provide operational and strategic analysis to policymakers and programmers concerning prospects, challenges, trends, and policy options with respect to a conflict and post-conflict Syria. WPCS also aims to stimulate new approaches and policy responses to the Syrian conflict through a regular dialogue between researchers, policymakers and donors, and implementers, as well as to build a new network of Syrian researchers that will contribute to research informing international policy and practice related to their country.
The content compiled and presented by COAR is by no means exhaustive and does not reflect COAR's formal position, political or otherwise, on the aforementioned topics. The information, assessments, and analysis provided by COAR are only to inform humanitarian and development programs and policy. While this publication was produced with the financial support of the European Union, its contents are the sole responsibility of COAR Global LTD, and do not necessarily reflect the views of the European Union.