Syria Update
13 January 2020

Download PDF Version


Table Of Contents


Putin Stands Triumphant in Damascus Visit
In Depth Analysis
In the days following the eruption of U.S.-Iran tensions throughout the region, Russian President Vladimir Putin traveled to Damascus and Istanbul on back-to-back visits that were choreographed to emphasize the status of Putin's Russia as an imperious victor in Syria, and the essential power broker in the region. On 7 January, Putin arrived in Damascus — his second visit to Syria as president, following a 2017 stop at Hmemim airbase. The brief visit consisted of a carefully staged military briefing attended by Syrian President Bashar Al-Assad, a closed-door meeting between the two presidents, and a number of set-piece tours of various religious sites in Damascus. The underlying aims of the trip were to broadcast Russia's backing of the Government of Syria, to demonstrate improving security conditions in Damascus, and most importantly to show that Russia is in firm command of the bilateral relationship and a growing portfolio of regional affairs. Only hours after his arrival in Syria, Putin left the country, bound for Istanbul, to promote Turkey and Russia's growing commercial alliance, exemplified by the inauguration of the TurkStream gas pipeline.
Putin on the prowl
Above all, Putin's visit should be seen as a reflection of Russia's triumphant attitude toward its perceived successes in Syria. Certainly, in assessing the visit, there is a danger of recapitulating the overbaked analyses of past generations of sovietologists. Nonetheless, the Russian president's visit to Syria can and should be scrutinized for its carefully orchestrated stagecraft as much as for its statecraft. The visit, thus analyzed, conveys several messages.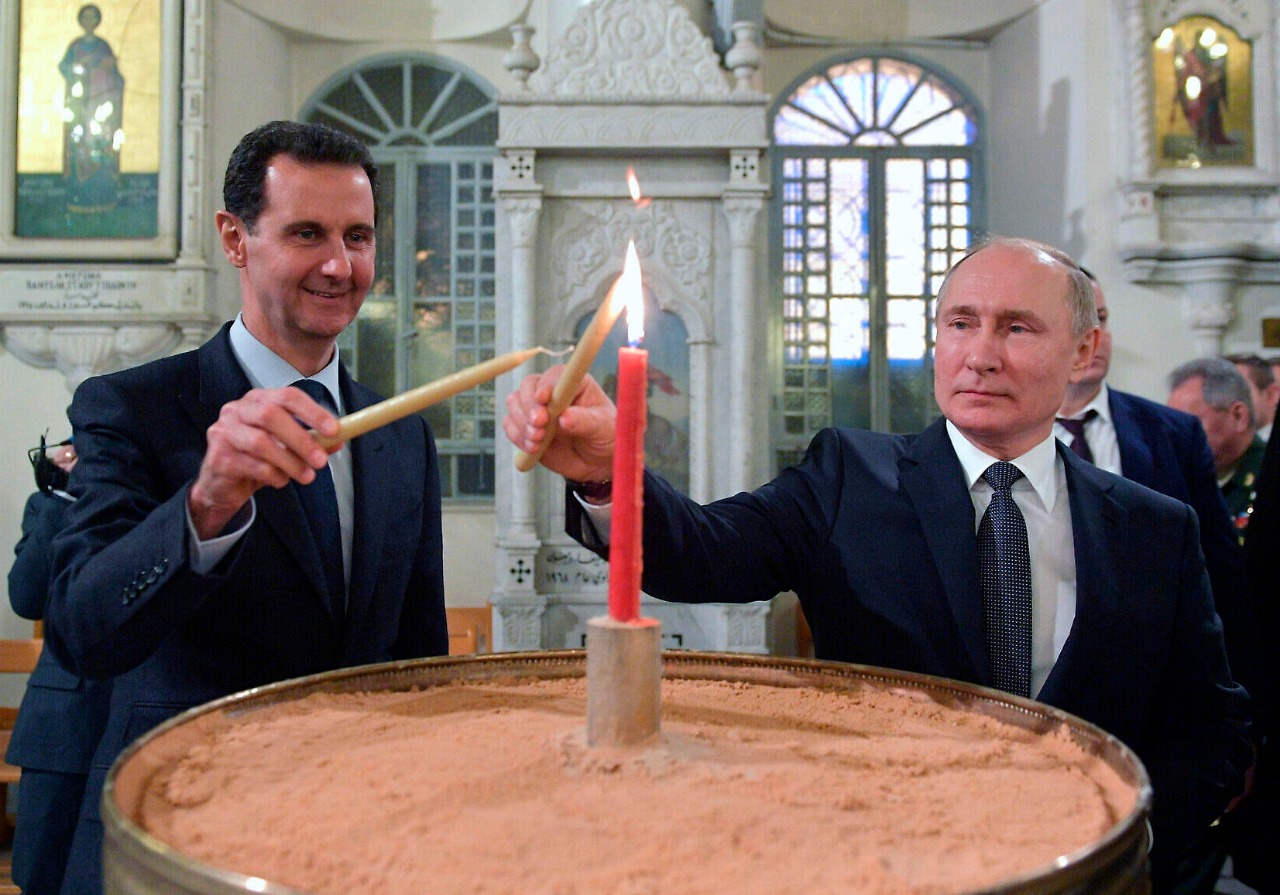 Russia runs the table in Syria
Chiefly, the visit was structured to demonstrate the extent of the Government of Syria's dependence on Russia. The centerpiece of the visit was a military briefing conducted by Russian officers at the Russian military headquarters in Damascus. By far the most noted aspect of the briefing was the fact that Syrian Defense Minister Ali Abdullah Ayoub, positioned directly beside Al-Assad in widely circulated images of the briefing, was seated on a noticeably short chair. Although the Syrian opposition has been overzealous in reading meaning into the snub, there is no doubt the move was a deliberate effort to belittle a top Syrian officer and to recapitulate the contours of the larger relationship. In effect, it emphasizes that Russia is in the driver's seat in terms of directing Syria's military priorities.
Russia above the fray
The visit follows closely after the killing of Iranian military commander Qasim Soleimani, a valued interlocutor of Russia, in a U.S. drone strike in Baghdad on 3 January. The visit took place despite the considerable potential for U.S.-Iran attacks and escalating retaliation; this timing suggests that Putin seeks to cast Russia as being unassailable by either the U.S. or Iran. Russia has been largely silent about Soleimani's killing, although there is little doubt that Moscow will seek to capitalize on Iran's distraction to enhance its own footing, as Iran seeks to maintain ground, both regionally and in Syria, following the loss of an invaluable commander.
Putin to Erdogan: Russia won the Syria war
The visit also contained an implicit message to Turkish President Recep Tayyip Erdogan. Among the religious sites visited by Putin in Damascus were the mausoleum of Saladin and the Umayyad mosque. Not only did the visits demonstrate the apparent safety of central Damascus, they also functioned as an overt challenge to Erdogan, who vowed in 2012 that "god willing," he would "soon" pray at numerous sites of significance to pan-Islamic and Ottoman history in Damascus, including those visited by Putin — in theory, following the ouster of Bashar Al-Assad by Syrian opposition forces supported vocally by Erdogan. Putin's imperious tour of Damascus establishes without question that he is the regional actor who controls access to Damascus — not Erdogan.
Sahlab summit
Putin's tour was not merely a dog and pony show; back-to-back visits to Damascus and Istanbul speak to Russia's success in propping up the Government of Syria — and to Putin's apparent aspiration to play the role of regional mediator, wielding both stick (security cooperation) and carrot (Russian gas). To that end, the Erdogan-Putin summit in Istanbul produced two calls for ceasefires, in Libya and northwest Syria — contexts in which Russia and Turkey provide military support to opposing factions. The outcome of these ceasefires will give some indication of the prospects of Putin's ambition in this respect: the Libya ceasefire was initially rejected, and then cautiously endorsed by the Russia-backed Libyan National Army; the northwest Syria ceasefire has coincided with reduced violence, but it is likely a prelude to wider Government of Syria attacks on opposition-backed territory. Russian mediation between Damascus and the Self Administration in northeast Syria may prove more fruitful. For the time being, compelling regional partners to implement Russia-backed policies is a power that may yet elude Putin, but there is no denying that, in terms of mediation regionally, Russia has a leg up over other international actors — and one of the only seats at the table.
Whole of Syria Review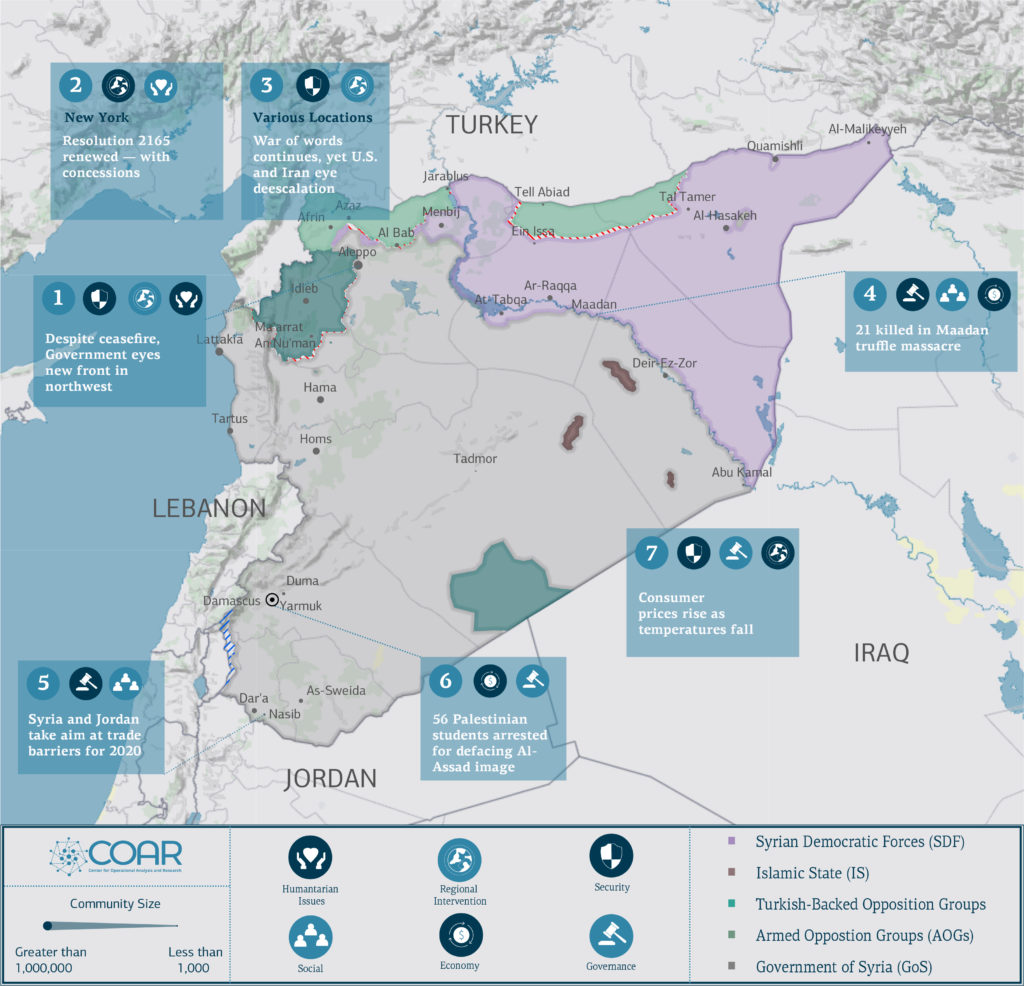 1. Despite ceasefire, Government eyes new front in northwest
Western Aleppo governorate: On 9 January, Russian Major General Yury Borenkov announced a ceasefire in Idleb in accordance with a Russian-Turkish agreement that resulted from a meeting between presidents Putin and Erdogan in Istanbul. Aerial bombardment in northwest Syria has since largely subsided; however, clashes between Government of Syria forces and opposition groups continue on frontlines in rural Ma'arrat An Nu'man, in eastern rural Idleb governorate. Media sources reported that opposition forces had advanced into several villages in the area but had not secured control, due to fierce resistance by Government forces. In parallel, local media sources reported that the Government of Syria has sent formidable military reinforcements to western rural Aleppo governorate. Local sources indicate that the deployed forces are from the 4th Division: shock units close to the Syrian regime and known for their participation in major military offensives throughout the conflict.
Biding time
The ceasefire should not be seen as a sign of progress towards de-escalation in the northwest; it is instead likely only a pause, allowing Government of Syria forces to recuperate and reposition ahead of future military offensives. In a joint statement, presidents Putin and Erdogan reiterated the necessity of implementing "all agreements on Idleb", a reference to the 17 September Sochi agreement, which stipulated, among other things, the creation of a demilitarized zone ringing the opposition-held portion of northwest Syria. Certainly, there are good reasons to view any ceasefire in Syria with cynicism. However, it is also important to bear in mind that, particularly in the northwest, both Russia and Turkey have been at pains to force their local partners (i.e., the Government of Syria and various opposition factions) to actually implement top-level political agreements, as evidenced by the diminishing relevance and effectiveness of the outcomes of the Nur-Sultan summits. 
In the medium term, all signs indicate that a Government of Syria ground assault is looming. Should Government forces advance along a new axis from western Aleppo, such an assault would compel opposition groups to stretch their forces thin to meet the widening challenge. Moreover, such an assault would entail grave humanitarian consequences for the large number of IDPs who have sought refuge in northeastern Idleb and western Aleppo. UN and local implementing partners estimate that 95,394 individuals have already displaced — largely from southeastern Idleb — to Aleppo since the beginning of December; many of these IDPs are now in the path of a looming offensive. Meanwhile, local sources indicate that IDPs are beginning to return to Idleb; tellingly, they too are liable to face further bombardment.
2. Resolution 2165 renewed — with concessions
New York: With a midnight deadline fast approaching, on 10 January, the UN Security Council renewed the cross-border mandate, Resolution 2165, with substantial modifications to reduce its scope (see: Syria Update 6 January 2020). Four members, each with veto power — the U.S., the U.K., Russia, and China — abstained from voting on the resolution. The vote extends the resolution's mandate for six months, rather than 12, and it allows cross-border aid convoys to enter Syria only through two crossings with Turkey, thus eliminating cross-border convoy access via Iraq and Jordan.
A shrinking response
For the Western bloc represented by the U.S. and the U.K., renewal of 2165 is both a concession to geopolitical rivals and an acknowledgement of a new reality in Syria. In the first sense, the renewal is a victory for the Russia-led bloc, which had opposed technical rollover (i.e., unmodified renewal) of 2165, a 12-month mandate, and the maintenance of the Yaaroubiyeh border crossing with Iraq. In the latter sense, it is an acknowledgement of the reality that the conflict in Syria has changed, and that the Ramtha crossing with Jordan was a holdover artifact of a different period of the conflict, when southern Syria was outside Government control, and was a natural focal point of the international cross-border response. This is no longer the case. Jettisoning low-traffic crossings is a painful concession, but it does preserve access where it is most needed: northwest Syria. For Russia and China, the vote is one further step toward the ultimate goal of ending the mandate altogether, nominally for the sake of the Government of Syria's sovereignty. By closing Yaaroubiyeh, it will also push the Self Administration into greater reliance on Damascus, particularly for medical and health aid. Currently, this aid comes predominantly through Yaaroubiyeh; now, the Self Administration will have to look to Damascus for this assistance.
3. War of words continues, yet U.S. and Iran eye de-escalation
Various Locations: On 8 January, Iran launched a missile attack targeting military bases in Iraq that host thousands of U.S. troops: Ain Al-Asad airbase, in Iraq's Anbar province, and a second airbase, in Erbil. No casualties were reported. Iran has hinted that the attack will, for now, constitute its sole military response to the lethal U.S. drone strike that killed Qasim Soleimani, the commander of the Islamic Revolutionary Guard Corps's Quds Force, on 3 January (see: Syria Update 6 January 2020). Iranian Foreign Minister Javad Zarif stated that the attack was a proportional response; he added, "We do not seek escalation or war, but will defend ourselves against any aggression." In public remarks delivered following the attack, U.S. President Donald Trump — though gloating — largely echoed Zarif's de-escalatory tone. Notably, Trump called for further economic sanctions against Iran and the suspension of the 2015 Joint Comprehensive Plan of Action, commonly known as the "nuclear deal." On 10 January, the U.S. Treasury imposed new sanctions on a multitude of Iranian actors and its metals industry.
To date, the limited scope of Iran's response to the killing of Soleimani has allayed fears over the explosive potential for regional escalation between the U.S. and Iran. The bloodless reprisal will be seen as an attempt at saving face, rather than testing limits. In the short term, that is surely good news. For the future, however, concerns will remain. Iran's wiliness to carry out a robust military response was no doubt blunted by its accidental downing of a Ukrainian passenger jet — which is rapidly becoming a driver of public outcry in Iran — but this does not mean that Iran's hawks or the throngs of mourners who poured into Iran's streets to commemorate Soleimani will be satisfied with the response thus far. As a result, further reprisals, to include cyberattacks and asymmetric attacks carried out by proxy groups, are increasingly likely. For its part, the U.S. faces the opposite challenge: few viable means of advancing its pressure campaign against Iran exist. As the latest sanctions demonstrate, very few corners of the Iranian economy have yet to be touched by punitive U.S. sanctions.
Tensions spill over into Syria 
Inside Syria, no significant military developments have taken place as a result of increasingly fraught U.S.-Iran tensions. As per local sources, Iran-backed militias are on high alert, and leadership figures in particular have significantly limited their movements in areas where U.S. or Israeli aerial attacks have been recurrent. On 6 January, local media reported that the IRGC had closed the Abu Kamal border crossing, with Iraq, halting commercial and civilian movement. In western Syria, media sources highlighted a small-scale repositioning of Hezbollah forces in Qalamoun's Sarghaya, along that Syria-Lebanon border; this movement is too small in itself to suggest a wider pattern of redeployment in preparation for a wider conflict.
Syria's tribes to respond?
The risk of further responses, however, is realistic. Local sources report that Syrian Arab tribal figures who visited Tehran on 28 December have received requests to counter the U.S. presence in Syria and to coordinate with Iranian militias, specifically those in Abu Kamal. In particular, Faysal Al A'zel, head of Al-Ma'amra tribe and one of the sheikhs who participated in the visit to Iran, is now calling locally for the creation of a new armed group that would conduct insurgent attacks on American forces and positions in eastern Syria. Details concerning the potential operations of such a military formation have circulated locally, but remain difficult to verify.
As a result of such activities, humanitarian actors have also been on high alert. Local sources have reported widespread evacuations of expatriate personnel from northeast Syria and Erbil, in Iraq. These sources also report that at least two U.S.-funded humanitarian programs in Ar-Raqqa and Deir-ez-Zor governorates have been suspended. Meanwhile, other actors are reportedly reassessing the feasibility of programming in light of the potential for further security risks following the killing of Soleimani.
4. 21 killed in Maadan truffle massacre
Maadan, Ar-Raqqa Governorate: Local media sources reported that on 5 January, 21 shepherds, three of whom were children, were found dead in Maadan, in Ar-Raqqa governorate. Reportedly, the shepherds had been shot and stabbed while searching for prized desert truffles and were found by locals, who shared evidence of the bloody killings on social media. At present, no actor has claimed responsibility for the killings.
A history of violence
The recurrence of deadly raids in rural northeast Syria is emblematic of the general lawlessness of the region, which is now deeply entrenched due to its fractured security environment. Seemingly arbitrary killings, thefts, and other crimes have become increasingly commonplace. In August, 19 individuals were killed in a dawn raid in Laweideh, southern Ar-Raqqa governorate, when a local pro-Government National Defense Forces (NDF) group carried out an attack and stole five vehicles, numerous sheep, and other valuables. In June 2019, similar incidents occurred in Hadij and Kenbaj (see: Syria Update 8-21 August 2019). Local sources indicate that crime has, in general, become increasingly common since the partial U.S. withdrawal in October.
The reason for the killings in Maadan remains unknown. Syrian state media pinned blame for the incident on ISIS, while activists and a variety of local media outlets claim that Iran-backed militias carried out the killings in retaliation for the U.S. assassination of Qasim Soleimani. However, local sources report that the killings were carried out by local NDF fighters and have no overt political or tribal motivation. Ultimately, such claims are not readily falsifiable; what is most important is that tribal identity be understood as a fundamental organizing principle in most Arab communities in northeast Syria; it is therefore possible that the massacre will inflame local and tribal tensions. Moving forward, as the Self Administration and the SDF gradually lose their monopoly on violence and authority in northeast Syria, security conditions in the region are likely to deteriorate further. In that sense, whether the latest killings were political or pecuniary in motive makes little real difference: eroding security conditions will make similar events more likely.
5. Syria and Jordan take aim at trade barriers for 2020
Nasib, Dar'a Governorate: On 6 January, local media sources, citing Syrian customs officials, reported that Syrian exports to Jordan via the Nasib crossing totaled 9 billion SYP (approximately $9.1 million) in 2019. Reportedly, 148 Syrian trucks passed through the Nasib crossing on average per day, 90 percent of which carried agricultural produce, predominantly citrus. Trade through the Nasib crossing is expected to increase throughout 2020, as Syria and Jordan explore measures to revitalize relations. Syrian Minister of Transportation Ali Hammoud has indicated that the Government of Syria is studying the elimination of additional fees it has imposed on Jordanian trucks entering via Nasib. Similar measures were also discussed in a workshop in Damascus during the final week of December, which included representatives of various Jordanian stakeholders and the Chamber of Industry of Damascus and Rural Damascus. Notably, the head of the Jordanian delegation indicated Jordan's willingness to re-activate the 2009 Syrian-Jordanian trade agreement, according to which commercial transit between the countries is to occur tariff-free.
Cross-border trade: no quick fix
Despite the apparent willingness of both Syria and Jordan to tear down barriers to trade, the existence of price supports and protectionist measures on both sides makes it difficult for either government to act first (see: Syria Update 9-15 October 2019). To date, Jordan continues to enforce an embargo on 194 categories of Syrian goods, including agricultural produce, which — given Syria's wholesale industrial collapse — is naturally a cornerstone of its export strategy. To date, cross-border trade through Nasib and Abu Kamal has disappointed the Government of Syria's expectations of commercial returns and normalization through trade. Myriad factors have contributed to this shortfall — security conditions, sanctions, and stubborn trade barriers among them. However, the most notable such factor is the hollowing-out of Syria's productive sectors, which has no quick or easy solution.
6. 56 Palestinian students arrested for defacing Al-Assad image
Yarmouk Camp: On 5 January, Government of Syria security forces arrested 56 Palestinian students between the ages of 10 and 16 for tearing down an image of President Bashar Al-Assad at the Al-Jarmaq Primary School in Yalda. Some of the students were arrested at the school, while others were taken into custody during raids conducted by security forces on their homes in Yarmouk camp. Camp officials and the children's families demanded the children's release; however, security forces refused to free the children, on the grounds that they are 'cubs of the caliphate' and pledged allegiance to ISIS during the period of its control over Yarmouk. To date, one student has reportedly been released, following heavy interrogations that focused on ISIS.
New year, same tactics
The en masse arrest of primary school students casts light on the popular dissent that continues to exist throughout Syria and the Government of Syria's willingness to deal with its opponents, including children, with surprising force. The arrest echoes the detention in February 2019 of 50 children between the ages of 13 and 16, for distributing leaflets in support of armed opposition groups in Al-Rastan, Homs governorate. In that case, child detainees were freed only after their families paid sizable ransoms to security forces. As for the Palestinian detainees, their arrest has raised fears of further reprisals and detentions based on testimony extracted under interrogration; hefty ransoms will likely be out of reach for many families in Yarmouk.
7. Consumer prices rise as temperatures fall
Damascus: On 8 January, local media sources reported that the average cost of living for a family of five in Damascus had increased by 25,000 SYP (approximately $25) in Q4 2019, bringing the price of a basket of basic consumer goods (consisting of food, housing, transportation, furniture, clothing, education, health, and communications expenses) to 385,000 SYP per month. For reference, a Government employee holding a doctorate earns a monthly salary of 57,495 SYP (approximately $58), whereas employees on the lowest rung of the public sector salary scale earn a mere 47,675 SYP per month (approximately $48). Meanwhile, media and local sources indicate that the prices of sugar, rice, and cooking oils have increased by approximately 30 percent in the past three months, due to the plummeting value of the Syrian pound and the rising cost of oil derivatives, which had already contributed to spikes in the cost of bread, manufactured goods, and the transportation of vegetables and other foodstuffs. Relatedly, on 13 January, unconfirmed media sources indicated that the Syrian Trade Cooperation confirmed the inclusion of food commodities, such as sugar and rice, on the Smart Card ration system, in response to market shortages and rising prices. How this will be implemented remains to be seen.
Ready or not, prices continue to rise 
While the basket of goods at issue in the title report is by no means standard, it does reflect a reality within Syria: prices are rapidly escalating beyond most Syrians' ability to keep pace, and the Government is hard-pressed to respond. Adding food commodities to the Smart Card system may stabilize some prices, but it is not clear that supply will keep pace with consumer demand. The long queues and shuttered fuel stations witnessed last winter attest to the fact that stabilized prices do not guarantee that fuel (or other commodities) will be available. Moreover, price controls will force the Government of Syria to stretch its already thin budget to cover newly introduced supports, or to require producers and importers to provide such goods at a loss — or both. Should such scenarios play out, vigorous black market activity is likely, while importers and producers will likely seek to squeeze profits elsewhere.
Key Readings
The Open Source Annex highlights key media reports, research, and primary documents that are not examined in the Syria Update. For a continuously updated collection of such records, searchable by geography, theme, and conflict actor, and curated to meet the needs of decision-makers, please see COAR's comprehensive online search platform, Alexandrina, at the link below.
Note: These records are solely the responsibility of their creators. COAR does not necessarily endorse — or confirm — the viewpoints expressed by these sources.
Russia advances 'roadmap' to mediation between Damascus and the Kurdish administration
What does it say? As 2019 drew to a close, Russia advanced a 10-point plan to guide the Self Administration's reintegration with Damascus, including political representation and Government control of the northeast Syrian border.
Reading between the lines:  The plan is the most concrete proposal to amalgamate the entities to date; however, it leaves considerable detail unaddressed, and the Self Administration is — for the time being — free from the need to make major concessions.
Source: Al-Sharq Al-Awsat
Language: Arabic
Date: 7 January 2019
How Russia is reading the killing of Qasim Soleimani
What does it say? Russia has remained quiet regarding the killing of Soleimani, who was both a valuable interlocutor and a rival power broker in Syria and throughout the region. 
Reading between the lines: Russia faces an acute challenge to neutralize, co-opt, or contain (likely a combination of all three, as needed) Iran-backed militias in Syria. These groups rival in number and power the Syrian Arab Army, and were formerly answerable to Soleimani directly.
Source: Al-Monitor
Language: English
Date: 3 January 2019
What does it say? The author argues that refugee camps serve three implicit functions: containing migration in third countries, facilitating licit wealth transfers to client states, and field-testing increasingly invasive surveillance tools.
Reading between the lines: As migration and refugee crises become larger in scale, real solutions will depend upon finding equitable solutions to migration triggers that are systemic and structural in nature.
Source: Current Affairs
Language: English
Date: 7 January 2019
Lawyers … a declaration of their status within two months
What does it say? The Syrian lawyers' syndicate has ordered that members who live abroad must reconcile their status and declare the details of their foreign travel history, nominally in the interest of updating the syndicate's member rolls.
Reading between the lines: The move is a troubling sign of 'sorting' on the part of a Government-supported professional syndicate, forcing members to sign on to the plan or give up their seat at the table — with unclear repercussions.
Source: Al-Watan
Language: Arabic
Date: 8 January 2019
Government hopes for agricultural sector 'revitalization' in 2020
What does it say? The Government of Syria has promised new price supports as part of a strategy to revitalize the Syrian agricultural sector in 2020.  
Reading between the lines: The Syrian conflict has ravaged agricultural production, which had already been weakened by a shift from Government support to small producers themselves to market-oriented price supports. The efficacy of any strategy conceived in the current climate is dubious.
Source: Al-Hal
Language: Arabic
Date: 6 January 2019
How Trump pushed the U.S. and Iran to the brink of war
What does it say? Based on numerous insider accounts, the article compiles the most detailed record to date of the lethal drone strike that killed Qasim Soleimani.
Reading between the lines: Among the most notable revelations in the article is the confirmation of widely expected involved by informants among Iraqi and Syrian military figures, as well as Hezbollah. The revelation will fuel already tense mutual suspicions among such actors.
Source: New York Times
Language: English
Date: 12 January 2019
State Department terrorist designation of Asa'ib Ahl al-Haq
What does it say? The U.S. State Department has designated the predominantly Shiite Iraqi Population Mobilization Forces member group Asa'ib Ahl Al-Haq a terrorist entity.
Reading between the lines: The group was long thought to be attempting to enter the political mainstream in Iraq, and its designation is likely calculated to put more pressure on Iran and its proxy forces in Iraq.
Source: U.S. State Department
Language: English
Date: 4 January 2019
Syrian consulates and embassies cease issuing recruitment documents
What does it say? Syria diplomatic posts abroad have ceased issuing documents related to military conscription, deferments, and reserve status to Syrians living abroad.
Reading between the lines: Issuance will reportedly begin following the release of new directives from central authorities, but the stop may indicate a coming change to these policies.
Source: Enab Baladi
Language: Arabic
Date: 9 January 2019
The Wartime and Post-Conflict Syria project (WPCS) is funded by the European Union and implemented through a partnership between the European University Institute (Middle East Directions Programme) and the Center for Operational Analysis and Research (COAR). WPCS will provide operational and strategic analysis to policymakers and programmers concerning prospects, challenges, trends, and policy options with respect to a conflict and post-conflict Syria. WPCS also aims to stimulate new approaches and policy responses to the Syrian conflict through a regular dialogue between researchers, policymakers and donors, and implementers, as well as to build a new network of Syrian researchers that will contribute to research informing international policy and practice related to their country.
The content compiled and presented by COAR is by no means exhaustive and does not reflect COAR's formal position, political or otherwise, on the aforementioned topics. The information, assessments, and analysis provided by COAR are only to inform humanitarian and development programs and policy. While this publication was produced with the financial support of the European Union, its contents are the sole responsibility of COAR Global LTD, and do not necessarily reflect the views of the European Union.