Syria Update
3 February 2020

Table Of Contents



Download PDF Version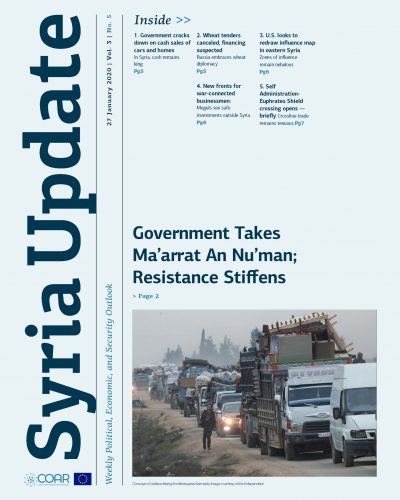 Government Takes Ma'arrat An Nu'man; Resistance Stiffens
In Depth Analysis
On 29 January, Government of Syria forces backed by Russia captured the strategically and symbolically significant community of Ma'arrat An Nu'man, which was almost entirely depopulated as civilians fled northward in massive convoys. According to the UN and implementing partners, since the beginning of December, 586,000 individuals have been displaced by the Government of Syria's military offensive, predominantly into northern Idleb governorate. In terms of immediate impact, the capture of Ma'arrat An Nu'man restores Government of Syria control over an important waypoint along the M5 highway; looking ahead, all signs now indicate that the Government's military offensive aims to continue along multiple axes, even as stiff resistance from Turkish forces and Turkish-backed armed opposition groups mounts. Two questions are now critical: What will become of individuals displaced by the offensive? And how far will the Government of Syria's military advance reach?
IDPs: residents and irreconcilables
Local sources indicate that nearly the entire civilian population of Ma'arrat An Nu'man was displaced by the Government's military offensive; in the face of intense bombardment, a majority of the populations of Ariha and Saraqeb have also displaced northwards toward Idleb, Maaret Tamsrin, Dana, and Atareb subdistricts. In general, the waves of IDPs now fleeing frontline communities fall into two camps, and will face differing problem sets concerning return and long-term displacement. These two groups are: local resident populations and the serially displaced who have evacuated to northwest Syria throughout the conflict.
A considerable proportion of local resident populations displaced by the ongoing offensive are likely to return to their home communities in Idleb — eventually. Throughout the conflict, displacement from communities captured by the Government of Syria (most notably in southern Syria) has frequently been elastic, defying the expectations of many analysts, who have consistently underestimated the scale of return to conflict-affected communities. In practical terms, the populations of communities such as Ma'arrat An Nu'man and Saraqeb have spent years actively resisting Hay'at Tahrir Al-Sham rule, yet this resistance does not necessarily mean that they will be unwilling to accept the reality of Government of Syria control. In such communities, return decisions will be shaped by local shelter conditions and destruction levels, as well as service provision, mobility, and the possibility of individual reconciliation. On balance, these conditions are daunting, but the alternatives are also grim: camps are overcrowded, and rental properties are scarce and overpriced.
For many others displaced by the offensive, however, return will likely remain impossible for the foreseeable future. Many of these IDPs evacuated to Idleb — forcibly or voluntarily — as a result of reconciliation negotiations elsewhere in Syria. As such, large numbers of these IDPs have already been refused reconciliation by the Government, and there is no clear path toward their return to Government-held communities. These conditions suggest that considerable portions of the IDP population in northwest Syria will be caught in limbo inside a shrinking pocket of opposition-controlled territory.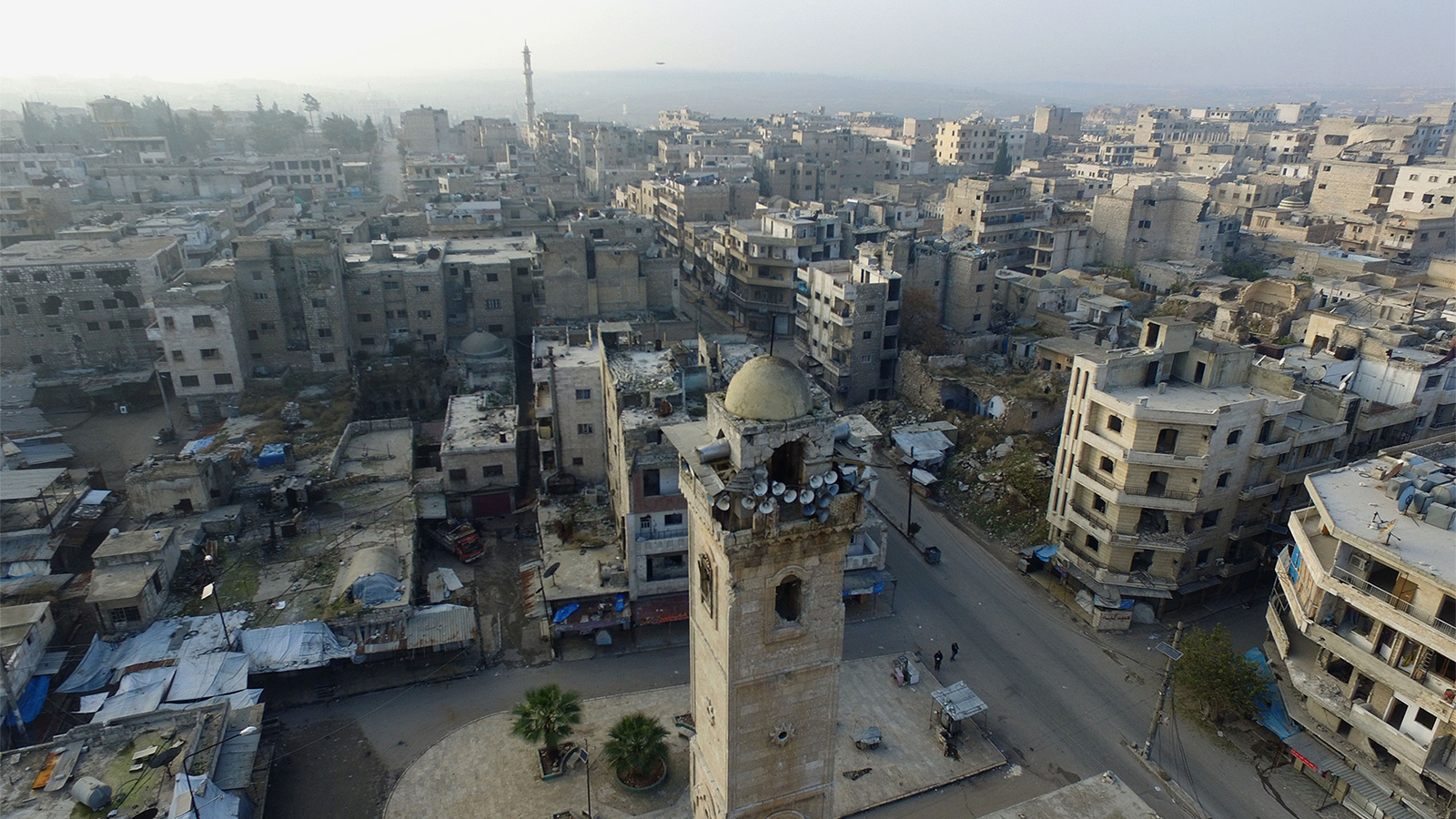 Next stop: Saraqeb
How the Government of Syria will deal with these 'irreconcilable' populations will, in part, dictate the course of the military offensive in Idleb. The writing is on the wall: the Government has prioritized efforts to retake control of the M4 and M5, with Saraqeb, Ahira, and western rural Aleppo standing as key focal points of these efforts. These vital transit corridors are the most important economic interest in northwest Syria; however, putting aside the Government's declared intention to restore control over all of Syria, for Damascus there is little near-term benefit to recapturing areas north of the M4 and M5. Doing so would force a reckoning with the many Syrians whom the Government has deemed 'irreconcilable'. No mechanism for re-integrating such individuals exists — or is likely to be created any time soon. Economically, recapturing northern Idleb is equally low-priority. The area has no major resources of interest to the Government of Syria in the near term, while the reintroduction of the large populations sheltering there would strain the Government's already overburdened service networks.
Whatever the limits of its objectives, for the Government, achieving these objectives will be no simple task. In the immediate term, armed opposition groups and Turkish forces have mounted increasingly stiff resistance to further advances by the Government of Syria. As of 3 February, media reports indicate that considerable Turkish military reinforcements have been deployed to frontlines, and four Turkish observation posts have reportedly been erected around Saraqeb, to repel further advances by Government forces. Early reports also indicate that multiple Turkish soldiers have been killed in rare direct exchanges between Turkish and Government of Syria forces. Moreover, local sources report that fighters belonging to armed opposition factions that were previously defeated, disbanded, or expelled to Euphrates Shield areas by Hay'at Tahrir Al-Sham are now returning to western rural Aleppo governorate, apparently in a bid to resist Government advances along the M4 (see: Syria Update 10-16 January 2019). In northwest Syria in particular, unified operations rooms and purpose-formed military alliances have repeatedly faltered, but there is a pervasive sense that armed opposition factions are now treating their efforts to prevent Government forces from clawing back control as a last stand.
Whole of Syria Review
1. Government cracks down on cash sales of cars and homes
Damascus: On 22 January, Syrian media sources close to the state reported that, beginning on 15 February, the Government of Syria will require that all real estate and automobile purchases be conducted through the formal banking sector — effectively outlawing cash sales. Homes and vehicles purchased outside the formal system will reportedly not be eligible for registration with authorities. The deputy governor of the Central Bank of Syria, Muhammad Hamra, stated that the objective of the decree is "to spread banking culture among citizens, and to encourage the opening of bank accounts in order to create the appropriate environment for the launch of the electronic payment project this year". Notably, the decree follows in the wake of Legislative Decree No. 3, which imposes substantial punishments for the use of foreign currency in commercial transactions (see: Syria Update 27 January).
Confidence in the economy is shot
This banking requirement is a further initiative to bring greater oversight of Syria's economy to central authorities who are looking to build confidence in Syria's wobbly financial sector and to slow the state's economic collapse. However, like a raft of recent Government initiatives to rein in inflation and control the money supply, the measure will fuel parallel markets. The Government's assurances that the measure will not trigger greater tax liabilities are dubious, and as a result, it remains probable that deals will continue to be paid out, at least in part, under the table. To date, many Syrians do not have bank accounts, and Syria's commercial banking sector is small and badly in need of reform, but the Government faces an uphill battle as it looks to build confidence amid the current collapse. Indeed, the Commercial Bank of Syria has been forced to apologize to would-be depositors over its inability to open new bank accounts, thus thwarting hopes of rapidly putting the decree into practice on a wide scale.
2. Wheat tenders canceled, financing suspected
Various Locations: On 29 January, media sources reported that Syria had cancelled two tenders for 350,000 tons of soft wheat from Russia, valued at a combined 1.9 million euros, because the Syrian Grain Establishment was unable to finance the imports. This is not the first such cancelation. In 2019, the Syrian Grain Establishment issued numerous wheat tenders to compensate for a shortage of local production, and several of these were cancelled and reissued. Notably, the majority of successful wheat contracts have allegedly been executed by high-profile businessmen with close ties to the Government of Syria, to include Samer Foz and Tarif Al-Akhras, who have relied on Russian wheat imported through companies based in Lebanon. Meanwhile, on 17 December, Russian Deputy Minister Tury Borisov announced that Moscow would supply 100,000 tons of wheat as humanitarian aid at the beginning of 2020, making no mention of the wheat tender.
Flour power 
Despite widespread hopes that an expected bumper wheat crop in 2019 would blunt Syria's need for imports, this need remains considerable. According to estimates from the Food and Agriculture Organization, local output falls 2.2 million tons short of meeting demand, due to low production levels and the spread of yellow rust disease. With 'wheat diplomacy' as one pillar of its strategy to build influence across the Middle East, Russia has been eager to fill the gap. Syria now lies at the center of this strategy; a $500 million rehabilitation and expansion is intended to make Tartous port the hub of this regional wheat network.
To date, no official statements have been issued to explain the cancelation of the wheat deal; however, a similar cancelation in November 2019 was attributed to mounting Western sanctions. As we have written about at length (see: Two Countries, One Crisis: The Impact of Lebanon's upheaval on Syria), Syria's economic woes have been aggravated by Lebanon's slowly unfolding economic crisis, which has — along with Syria's own foreign reserve shortage — prevented Syrian traders from financing imports. Already, the slumping value of the Syrian pound has driven inflation not only for imported goods, such as industrial gas, but necessities, such as wheat and flour. As a result, in various locations across northwest Syria, bread prices are now pegged to either the dollar or the Turkish lira — sparing bakers from the immediate effects of instability, but passing rising costs onto consumers (see: Syria Update 27 January 2020). Should Syria struggle to meet its wheat needs, the resulting shortages will push the prices of staples like bread even higher.
3. U.S. looks to redraw influence map in eastern Syria
Al-Hasakeh governorate: On 25 January, media sources reported details of two separate meetings conducted by U.S. President Donald Trump with Iraqi President Barham Salih and KRG President Nechirvan Barzani in Davos, Switzerland. At issue in both meetings was U.S.-Iraqi military partnership with impact on Syria — specifically, anti-ISIS efforts. Among the topics reportedly discussed were U.S.-Iraqi military cooperation along the Syria-Iraq border, in the vicinity of Syrian oil fields; the presence of international coalition forces in the region; and the U.S. military outpost at Al-Tanf, along the Damascus-Baghdad highway. Notably, these discussions reportedly included efforts to prevent Russian forces from accessing a long strip of the Syria-Iraq border extending from the Fish Khabour border crossing, in northeastern Al-Hasakeh governorate, to Abu Kamal, on the Euphrates River in southern Deir-ez-Zor governorate.
Lines in the sand 
With the prospect of a full U.S. military withdrawal from Syria now seemingly off the table, the U.S. is keen to redraw a more favorable map in eastern Syria. At core, this need is driven by continuing anti-ISIS operations and — on a larger scale — region-wide efforts to contain Iran's presence in Syria and curb its influence throughout the Levant and the wider Middle East.  Nonetheless, for U.S. forces, the most contentious issue at play in eastern Syria is the possibility of confrontations with Russia — not Iran. Low-level confrontations between U.S. and Russian forces have been recurrent in eastern Syria in recent months, at least in part due to the fluidity of security conditions and the nebulous state of zones of influence in the wake of Operation Peace Spring, which created the space for Russian forces to create a strong presence in eastern Syria. Local sources deny media reports that 'skirmishes' took place between Russian and U.S. forces on the outskirts of Tal Tamr in recent days; moreover, it is unclear if U.S. maneuvers to block access to Russian forces near Kharita, southeast of Tal Tamr, are related to Russian intentions to establish a new military outpost. Looking ahead, such low-level confrontations are likely to continue as zones of influence are negotiated.
4. New fronts for war-connected businessmen: Europe and Turkey
Various Locations: On 15 January, media sources reported that Mohieddine Al-Minfoush, a prominent businessman with close ties to the Syrian regime, had recently opened several businesses outside Syria, to include two trading companies in Hungary and Slovakia and a dairy processing plant in Turkey. Notably, the recent opening ceremony of Manfoush's dairy factory was reportedly attended by a member of the Turkish government, and as far back as early 2019, Turkish Minister of Agriculture and Forestry Bekir Pakdemirli voiced his hopes for Manfoush's diary factory on Twitter, stating that "the factory will contribute in supporting Turkey's economy."
Business beyond borders
Al-Minfoush is one of the most prominent war profiteers in the Syria conflict. By leveraging connections to elite businessmen Rami Makhlouf and Mohamed Hamsho, Al-Minfoush was able to gain a monopoly on crossline trade into besieged Eastern Ghouta. As a result, the businessman converted a modest fortune earned through his family's dairy business into a formidable commercial empire, which now encompasses rubble collection in Eastern Ghouta (see: Beyond Checkpoints: Local Economic Gaps and the Political ​Economy of Syria's Business Community​). The latest openings suggest the ways in which Syrian businessmen who rose to prominence through networks of influence and outright war profiteering will reach beyond Syria's borders.
Notably, these opportunities will not be limited to elite businessmen. Local sources indicate that a former commander of Jaysh Al-Islam has also recently opened two malls (in Instanbul and Antakya) and a shawarma shop (in Fatih) in Turkey. Like the Syrian fighters who are now finding their way to north Africa to support Turkey's regional military and economic aspirations (see: Syria Update 20 January), the influence of Syria's war-time businessmen will not be limited to Syria alone.
5. Self Administration-Euphrates Shield crossing opens — briefly
Menbij, Aleppo governorat: On 28 January, media sources reported that the Um Jaloud crossing, west of Menbij city, which links nominally SDF-controlled northeast Syria to Euphrates Shield areas, had opened. However, local sources indicate that the Menbij Military Council shuttered the crossing the following day. Among local sources, various explanations for the opening (and closure) are circulating. Some sources suggest that the crossing was opened specifically to allow tanker trucks carrying refined oil products to cross into SDF-held territory, thus alleviating crossline transit issues that have persisted since the onset of Operation Peace of Spring. Other local sources suggest that disputes over tariffs between the SDF and Turkey-backed armed groups led to the closure of the crossing to commercial traffic.
Local markets feel impact of Peace Spring 
Commercially, northeast Syria continues to feel the lasting impact of Operation Peace Spring. Key crossings with Euphrates Shield areas — to include Um Jaloud and Al-Aoun — remain intermittently closed. Given eastern Syria's reliance on Turkish manufactures, these closures have wide-reaching impact on local markets. Looking ahead, SDF-controlled areas will remain reliant upon Turkish imports; in the long term — so long as security conditions remain favorable and zones of control are static — the trade barriers between Euphrates Shield areas and eastern Syria are likely to fall, albeit with the continuing possibility of intermittent and repeated closures as disputes flare up.
Nonetheless, a further factor reshaping the flow of goods in eastern Syria is less amenable to negotiated resolution: the presence of Government of Syria troops. Local sources report that commercial transporters are now resorting to alternate routes to avoid traveling along the M4 highway, thus bypassing checkpoints — and associated fees — manned by Government of Syria forces, who crossed the Euphrates River and established a solid presence in eastern Syria following the 22 October military agreement between the SDF and Damascus. Unlike crossline trade with Euphrates Shield areas, the Self Administration has little real leverage over such Government forces, whose presence is now unlikely to be rolled back.
Key Readings
The Open Source Annex highlights key media reports, research, and primary documents that are not examined in the Syria Update. For a continuously updated collection of such records, searchable by geography, theme, and conflict actor, and curated to meet the needs of decision-makers, please see COAR's comprehensive online search platform, Alexandrina, at the link below.
Note: These records are solely the responsibility of their creators. COAR does not necessarily endorse — or confirm — the viewpoints expressed by these sources.
After Russia, China veto, UN says medical aid for Syria stuck in Iraq
What Does it Say? Medical convoys are now struck in Iraq following changes to the UN's cross-border resolution, 2165, which was modified in January to prevent agency convoys from entering Syria through Iraq.
Reading Between the Lines: To date, northeast Syria has been reliant on medical aid delivered from Iraq; the modifications to the cross-border resolution now leave the Self Administration with little choice but to turn to the Government of Syria for this aid.
Source: Asharq Al-Awsat
Language: English
Date: 29 January 2020
Khamis two years ago: Increasing teacher salaries is a priority … Teachers: Where is the increase?
What Does it Say? Teachers continue to wait for a salary increase of 25-30 percent, which was promised by the Teachers Syndicate "soon" — in August 2018.
Reading Between the Lines: With increasing inflation and the collapse of the Syrian pound, teachers' need for a pay bump grows, yet the likelihood the Government can fund such a pay raise continues to shrink.
Source: Snack Syrian
Language: Arabic
Date: 20 January 2020
Religious speech has a responsibility to push Syrian society towards rapprochement
What Does it Say? The writer argues that preachers should profess the similarities between religious sects and promote peaceful coexistence in Syria.
Reading Between the Lines: The Government of Syria has actively sought to co-opt preachers and promote a distinctly Syrian version of Sunni Islam that serves its own objectives by confronting the anti-Government bent of the nation's more conservative Sunni populations. Such efforts will likely intensify over time.
Source: North Press Agency
Language: Arabic
Date: 26 January 2020
Briefing to the Security Council on the humanitarian situation in Syria
What Does it Say? Mark Lowcock, the under secretary-general for humanitarian affairs and emergency relief coordinator, called for a ceasefire in northwest Syria. 
Reading Between the Lines: Such statements have little real impact, given the predominance of the Astana powers.
Source: UN-OCHA
Language: English
Date: 29 January 2020
Insights into Syrian refugees' perception on recent government decisions
What Does it Say? The majority of Syrian refugees in Lebanon are unaware of the state's decisions regarding refugees in the country. Large portions of the refugees surveyed lacked accurate information concerning deportations, legal procedures, and selection processes.
Reading Between the Lines: This knowledge gap exacerbates the vulnerability of Syrian refugees, increasing the likelihood that they will miss out on important entitlements and aid.
Source: Danish Refugee Council
Language: English
Date: 27 January 2020
A Syrian crime in five food items: Syrians are trapped by the circle of influence and narrow trade
What Does it Say? The prices of basic food commodities have risen exponentially due to the high cost of imports needed to sustain production. 
Reading Between the Lines: The collapse of the Syrian pound has fueled a rise in food prices, which has only been exaggerated by the Government's attempts to rein in inflation.
Source: Kassioun
Language: Arabic
Date: 20 January 2020
Russia's UN Envoy Blasts 'Deal of the Century' Map Which Shows Golan Heights as Part of Israel
What Does it Say? The Russian ambassador to the United Nations, Vaily Nebenzya, condemned the Israel-Palestine "Deal of the Century" proposed by the Trump administration. Notably, the plan included the annexation of the Golan Heights by Israel. Russia stated that the annexation of the Golan Heights is against international law and it rejects such a plan.
Reading Between the Lines: Russia's rejection of the annexation of the Golan Heights is remarkable, due to its own actions in Crimea, yet it is clear that the so-called "Deal of the Century" will have little immediate impact on the Syria conflict, for which the status of the Golan Heights is of middling significance.
Source: Sputnik International
Language: English
Date: 30 January 2020
Suleiman Shto: ENKS association with the Turkish state impedes unity
What Does it Say? Rapprochement between the PYD-dominated Self Administration and the minority Kurdish National Council have faltered, reportedly because the KNC has wavered over the arrangement.
Reading Between the Lines: Unity among Kurdish factions would strengthen their position overall, yet for the KNC, the gains offered by the proposition are not immediately clear: a union with the Self Administration would sacrifice the leverage gained through membership in the Turkey-backed opposition.
Source: Hawar News
Language: Arabic
Date: 31 January 2020
SDF commander says Kurds ready for dialogue if Ankara is sincere
What Does it Say? In a wide-ranging interview, Mazloum Kobane stated that Turkey will not be capable of making peace with Damascus due to Ankara's continued support for the opposition. 
Reading Between the Lines: There is little new or revealing in the Kobane's statements, yet it bears note that among conflict actors, the SDF and the Self Administration remain uniquely placed to negotiate a reintegration with the Government of Syria.
Source: Al-Monitor
Language: English
Date: 23 January 2020
The Wartime and Post-Conflict Syria project (WPCS) is funded by the European Union and implemented through a partnership between the European University Institute (Middle East Directions Programme) and the Center for Operational Analysis and Research (COAR). WPCS will provide operational and strategic analysis to policymakers and programmers concerning prospects, challenges, trends, and policy options with respect to a conflict and post-conflict Syria. WPCS also aims to stimulate new approaches and policy responses to the Syrian conflict through a regular dialogue between researchers, policymakers and donors, and implementers, as well as to build a new network of Syrian researchers that will contribute to research informing international policy and practice related to their country.