Syria Update
2 March 2020

Table Of Contents



Download PDF Version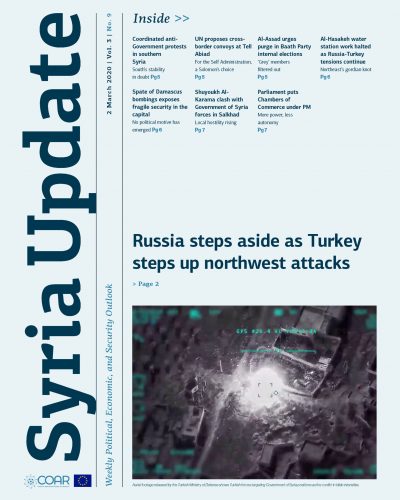 Russia steps aside as Turkey steps up northwest attacks
In Depth Analysis
Turkish President Recep Tayyip Erdogan's end-of-February deadline for Government of Syria forces to retreat from frontlines in Idleb has elapsed with a flurry of attacks that have brought Turkish forces and the Government of Syria into the most intense direct confrontations of the conflict. First, on 27 February, armed opposition factions supported by Turkey temporarily clawed back control of Saraqeb, a fiercely contested community located on the all-important M5 highway. In retaliation, overnight on 27 February, 33 Turkish soldiers were killed in an attack attributed, variously, to the Government of Syria or to Russia. In response, on 28 February, Turkey announced that it had no choice but to open its borders to Europe; according to the Turkish interior ministry, more than 76,000 refugees — including non-Syrians — have now exited Turkey toward Greece. Then, in the most escalatory action of the northwest battle thus far, on 1 March, Turkish jets downed at least two Government of Syria warplanes and destroyed three anti-aircraft installations, after the Government of Syria declared a no-fly zone in an attempt to limit the rapidly mounting casualties among its ground forces — and those of Iran-backed militias — from intensifying airstrikes and drone attacks by Turkey.
Idleb's immediate future now hinges primarily on negotiations between Turkey and Russia. A summit between the nations' leaders is reportedly scheduled for 5 March in Moscow, and  despite the long odds facing the parties, evidence that Russia and Turkey have succeeded in strategically compartmentalizing their regional relations raises the prospect that negotiators may succeed in winding down the violence in northwest Syria. Most notably, joint patrols in northeast Syria have reportedly resumed, despite the logjam in Idleb (see: Syria Update 24 February).
Moreover, Russia's apparent willingness to stand aside as Turkey carries out attacks on Government of Syria forces may well reflect a deliberate strategy. To that end, Turkish attacks on Government of Syria positions give Erdogan a necessary means of saving face in Idleb by flexing military muscle, and they may send a signal to Damascus that it remains reliant on Russia military support.
For now, Turkey is seemingly intent to continue to raise the cost of the Government of Syria's military ambitions. However, the risk of miscalculation grows as Turkey resorts to increasingly intense forms of retaliation. In parallel, what some have interpreted as a breach between Russia and Turkey has created an apparent opening for U.S. and NATO to step up in support of Turkey's northwest Syria gambit. No major developments to that end have yet materialized, but Turkey has requested that the U.S. provide Patriot missile batteries to ward off aerial threats to its troops. This would have potentially major ramifications for the militarization of the conflict, and it would likely ground Syrian aircraft.
Ultimately, the challenge facing Turkey and Russia is the need to craft a successor to the September 2018 Sochi agreement. Such an agreement may provide the only safety valve available to de-escalate northwest Syria and take pressure off the 948,000 Syrians who have been displaced by the military offensive. A deal is possible, but numerous sticking points concerning Idleb are likely to shape negotiations:
Where to freeze frontlines?
Turkey has been adamant that frontlines in northwest Syria must be reset to their status under the Sochi agreement. Given the considerable military advances in recent months, this is unlikely. However, by granting Turkey the right to position its forces 5 km inside Syrian borders, the Adana Agreement may furnish an existing framework for a buffer zone to meet Turkey's perceived national security interests, but it would require further territorial concessions on the part of Turkey-backed armed groups in Idleb, and the protocol can be activated only with the assent of Damascus.
How long can the parties delay?
Russia will be unlikely to support an agreement that lacks a sunset provision. The repeated failure to implement Sochi has been a source of universal frustration. As such, any new framework could well include a deadline, thus setting a countdown for resumed hostilities if the agreement's conditions go unmet.
Access to the M4 and M5
For the moment, armed groups backed by Turkey are holding Saraqeb as a card to play against the Government, by denying access to the M5 — arguably the most important near-term objective of the Government's military campaign. Turkey may seek to hold onto Saraqeb — potentially in coordination with Russia, as part of a more extensive network of monitoring and observation points — to ensure a continuing source of leverage over the Government of Syria.
'Extremists' (Hay'at Tahrir Al-Sham)
Ultimately, Turkey will once again be forced to confront its most vexing challenge and find a way to "identify the terrorists and separate them from the moderates." This has been the most consistent stumbling block in Idleb, and there are no clear signs that Turkey has made real progress in locating the means to achieve this.
Joint patrols
As we wrote in January 2019, joint patrols along the M4 and M5 may offer Russia and Turkey a means of cooperative de-escalation. A new framework may seek to emphasize collective monitoring on a wider basis, potentially with international buy-in. If that occurs, Western powers may seek to keep Iran out and the UN in. Such a strategy will face long odds, and would not be guaranteed to hold. Even successfully negotiated UN frameworks to de-escalate Syria have proved ineffective over the long term.
Whole of Syria Review
1. Coordinated anti-Government protests in southern Syria
As-Sanamayn, Dar'a governorate: On 1 March, a series of coordinated public demonstrations broke out in communities in western Dar'a governorate in response to the reported killing of four civilians earlier that day when the Government of Syria attempted to pacify As-Sanamayn. As we have written, progressively intensifying pressures in southern Syria have edged the region closer to the brink, likely leaving Damascus with few options to restore control in such communities — and across the wider region — apart from military action (see: Syria Update 24 February and Syria Update 20 January). NB: This is a late-breaking event, and COAR will continue to monitor and report on it as the situation evolves.
2. UN proposes cross-border convoys at Tell Abiad
New York City: On 21 February, UN Secretary-General Antonio Guterres stated in a report to the UN Security Council that the Syria-Turkey border community of Tell Abiad — now under the effective control of Turkey as a result of Operation Peace Spring — is "the most feasible alternative to the Yaaroubiyeh border crossing" from a "security and logistical perspective" for the resumption of cross-border humanitarian aid delivery to northeast Syria. Guterres' statement followed a UN Security Council request to provide alternatives to the border crossings used under the mandate of UNRES 2165 (2014), which was significantly limited in scope following vetoes by Russia and China (Syria Update 17 December 2019). According to Guterres, supplying northeast Syria via the Abu Kamal crossing (as suggested by the Government of Syria), carries logistical and security challenges, whereas both Fish Khabour and Yaaroubiyeh lack the capacity to sustain large-scale operations.
Humanitarian inaction
In terms of cross-border humanitarian aid delivery, the Self Administration and its Kurdish leadership are now caught between a rock and a hard place. At present, northeast Syria lacks a dependable source of medical aid after a political deadlock forced the Security Council to modify Resolution 2165, leading to the closure of the Yaaroubiyeh crossing. As a result, the Self Administration is now largely dependent upon Damascus for coordination to permit cross-line convoys. Such convoys have been a rarity under the best of circumstances; at present, the requisite coordination may be impossible, given that Damascus and the Self Administration are locked in negotiations over the amalgamation of the Self Administration and the Government of Syria.
Faced with the mounting need for aid — particularly medical aid — the Kurdish leadership has flatly rejected the proposal. Aldar Khalil, a ranking official in the Kurdish Democratic Society Movement (TEV-DEM), characterized the proposal as an attempt to whitewash Operation Peace Spring by placing it under a "humanitarian banner." Similarly, the Arab Joint Head of the Humanitarian Affairs Office in the Self Administration, Abdel Qader Muwahhid, stated that permitting cross-border convoys to transit through Tell Abiad would "legitimate" the military operation. Inaction based on a retreat to political principles may not be a viable solution for long. Medical needs remain high, and Ain Al Arab (Kobani), a priority area for the Kurdish political base, is increasingly isolated due to the disruption of crossline commercial transit that Peace Spring has brought on. Finally, it is crucial to note that the six-month extension for cross-border convoys into northwest Syria through Turkey is also running out of time. As such, the parties will be forced to come back to the negotiating table to hammer out an agreement to extend these conditions, or fight over modifications once more.
3. Al-Assad urges purge in Baath Party internal elections
Damascus, Syria: On 25 February, the new Baath Party Central Leadership came to power following a month-long process of internal party elections — the first to occur since the outbreak of the conflict. Notably, during the party elections in Rural Damascus, conducted on 3 February, Assistant Secretary General of the Baath Party Hilal Al-Hilal relayed a message to party members from the Secretary General of the Baath Party, Syrian President Bashar Al-Assad, urging them to purge "grey members" — a reference to members whose commitment to the party wavered during the conflict.
Electoral purity test 
With Syrian parliamentary elections set for April 2020, the Government of Syria and the Baath Party face intense pressure to launder their images vis-a-vis the Syrian public and the international community. Theoretically, Baath Party elections — the first since 2011 — provided a vehicle for the needed image maintenance. However, the bid to marginalize party members whose support of the Government of Syria wavered during the conflict hints at a competing interest: the need to circle the wagons, to snuff out internal dissent, and to bring party members into line behind leadership, including the party's nominal head, Bashar Al-Assad. To this end, the relationship between the Baath Party and the Syrian state is not necessarily straightforward. There is, however, no doubt that in spite of limited efforts to legislate Syria's administrative decentralization, the center of gravity in the country remains the Al-Assad regime. To that end, although a 2012 constitutional amendment officially ended the Baath Party's leadership role in the state apparatus, the Al-Assad regime continues to dominate Syria's electoral, economic, and political arenas. By filtering out Baathists whose loyalty is in question, its hold over the party will remain strong as well.
4. Al-Hasakeh water station work halted as Russia-Turkey tensions continue
Al-Hasakeh governorate: On 25 February, local sources indicated that Turkey-backed armed opposition groups halted activity at the Alok water station and forced its staff to evacuate, thus cutting off the water supply to Al Hasakeh city, Quamishli, Tal Tamer, Abu Rasin Haskeh, Shadadah, Hol, and other nearby areas. The sources indicate that the Government of Turkey has demanded that Ras Al Ain — now under Turkey's effective control as a result of Operation Peace Spring — be fed electricity from areas held by the Syrian Democratic Forces, as a condition to bringing the Alok water station back online. Relatedly, reports have circulated stipulating that the Self Administration intends to sink two wells, in Tal Tamer and Darbasiyah, to better secure the region's water needs.
Water weaponized
As zones of influence have been carved out in eastern Syria, a degree of coordination among erstwhile rivals has been required (Syria Update 3 December 2019). In the present case, however, no actors are likely to be satisfied by the quid pro quo Turkey has reportedly demanded. Turkey is unlikely to view long-term reliance upon the Self Administration's capitulation as a sustainable solution to its service needs. The Self Administration will also likely blanche at being asked to bow to Turkey's demands for services needed to sustain areas under Turkey's effective military control. Meanwhile, local sources indicate that the Syrian Arab Red Crescent has received security guarantees by Russia to repair and operate the Alok station and is waiting for equivalent approval from Turkey. Looking ahead, Russia is likely to play a key role mediating the tussle over water in northeast Syria. If the parties succeed in isolating those concerns from the tensions mounting in northwest Syria, a resolution may be within reach; however, the on-and-off status of joint Turkish-Russian military patrols at Tel Tamer stands as evidence that confrontations elsewhere retain the power to spoil such efforts.
5. Spate of Damascus bombings exposes fragile security in the capital
Damascus and Rural Damascus: On 26 February, one officer with the Palestine Liberation Army was injured in a VBIED detonation near a Baath party branch office in Qatana, approximately 20 km southwest of Damascus city. The attack followed twin VBIED blasts in Tishreen Stadium in Damascus on 25 February, which killed one and injured another. The events continue a string of attacks in Damascus, which has witnessed six VBIED attacks between 7 February and 25 February, according to media reports. To date, no actor has claimed responsibility for the incidents.
Damascus pivoting away from 'normalcy'?
The sudden spike in security incidents in Damascus and its environs follows a year of relative calm, and it challenges the collective wisdom that the long absence of attacks in the capital heralded a return to normalcy and a turn toward a post-conflict environment. Already, the bombings have prompted security forces to deploy ad-hoc temporary checkpoints, a notable return to securitization measures that were phased out in 2019. Less clear is the reason for the attacks. The absence of any claim of responsibility casts doubt on the possibility that those carrying them out have an overt political motive. At the same time, the targeting of security forces, intelligence actors, and military targets suggests that the events are by no means random. Competition among security actors — a major driver of tensions — cannot be ruled out, but is impossible to confirm at present. Already, the number of security incidents in Damascus in 2020 has surpassed the total from 2019, by some counts. For actors involved in the international Syria response who are weighing decisions about operational security in Damascus, this may be an ominous signal that Damascus is not yet open for business as usual.
6. Shuyoukh Al-Karama clash with Government of Syria forces in Salkhad
Salkhad, As-Sweida governorate: On 25 February, media sources reported an unidentified attack targeting a recently established Government of Syria checkpoint in Tal Elloz in southern rural As-Sweida governorate, in the vicinity of Salkhad. The attack comes as tensions have risen between the Government of Syria Political Security branch and Shuyoukh Al-Karama, a local anti-Government of Syria armed group. Clashes reportedly took place on 13 February after Shuyoukh Al-Karama accused Political Security of detaining one of its members, and in response, attacked a Political Security position and detained six of its combatants and two officers. Meanwhile, the Government of Syria has since doubled-down on its presence in the area, erecting several checkpoints on the Sweida-Salkhad road.
Deadlock sows disorder 
The relationship between the Government of Syria military and security forces and local armed factions in As-Sweida governorate is expected to remain tense. The Druze community remains hostile to the Government's military presence in the area, and dire economic conditions have aggravated these concerns, prompting over anti-Government demonstrations (see: Syria Update 20 January). The Government of Syria is unlikely to be able to assert its dominance and restore security in As-Sweida, especially as military operations intensify in the northwest and its forces prioritizes containing the unrest in neighboring Dar'a governorate. Attempts to reconcile armed factions in As-Sweida have seen limited success; future efforts will likely require the Government to permit more independence to meet the demands of the Druze religious and military leadership. In the long term, whether the Government of Syria will ultimately resort to a negotiated peace, or find the capacity to carry out a violent clampdown, is difficult to forecast. In either case, the security situation in Sweida governorate is likely to remain fluid, as the acutely worsening economic conditions are expected to fuel continued local criminal activity, kidnappings, robberies, and extractive war economy activities.
7. Parliament puts Chambers of Commerce under PM
Damascus: On 26 February, media sources reported that the Syrian parliament issued a decree granting Syrian Prime Minister Imad Khamis the sole authority to dissolve the boards of directors of Syrian chambers of commerce. The decree stipulates that a new board of directors must be elected and appointed within 90 days of any dissolution of a previous board. However, the decision leaves day-to-day oversight authority with the minister of internal trade.
An important step, but in what direction? 
Reshuffling central authority over the chambers of commerce can be seen as a potential step to realign Syria's business elite and check conflicts of interest. In terms of its immediate impact on the independence of chambers of commerce, the decree may cut both ways. In one sense, by granting the prime minister effective control over the formation of the chambers' leadership, the measure will likely reduce the entities' autonomy by drawing them closer to central authorities. At the same time, however, the move may also grant these entities the effective imprimatur of the prime minister's office, which may translate to greater power to carry out activities on the ground.
Holistically, the move may have important implications for Syrian civil society. While Damascus has tight control over chambers of commerce, they still represent the interests of their constituent businessmen, and have operated with a considerable level of independence that has allowed them to further the business interests of these constituents and, in some cases, their communities as a whole (see: Function Over Form: Rethinking Civil Society in Government-held Syria). The decree may give the Government greater purchase over the business environment, yet the decree's greatest impact may be its symbolic power. In practical terms, the decree does redirect decision-making closer to the top; in symbolic terms, however, it underlines that the wider business community will increasingly be on the Government of Syria's radar.
Key Readings
The Open Source Annex highlights key media reports, research, and primary documents that are not examined in the Syria Update. For a continuously updated collection of such records, searchable by geography, theme, and conflict actor, and curated to meet the needs of decision-makers, please see COAR's comprehensive online search platform, Alexandrina, at the link below.
Note: These records are solely the responsibility of their creators. COAR does not necessarily endorse — or confirm — the viewpoints expressed by these sources.
Nikolaos van Dam on Syria, Assad, the opposition, refugees, Kurds, terrorism, & the future of the Middle East
What Does It Say? The text provides a new introduction to Nikolaos van Dam's definitive primer on Syria, Destroying a Nation: The Civil War in Syria, which is now available in Arabic.
Reading Between the Lines: The book is an important study of historical conditions that have shaped the Syria conflict and will remain in play as the post-conflict conditions are sorted out.
Source: Syria Comment
Language: English
Date: 10 January 2020
Hosari: The daughter of a Syrian businessman close to the regime was involved in illicit financing in Russia
What Does It Say? Sandra Khoury — the daughter of Mudallal Khoury and an intermediary between the Government of Syria and Russia — announced the launch of a mobile pay app in Russia.
Reading Between the Lines: Mudallal Khoury is under U.S. sanction for supporting the Government of Syria; however, his daughter has apparently served as a conduit to continued business activity abroad, demonstrating both that back channels remain open to targeted sanctioned individuals, and that the Syria conflict will continue to produce economic, social, and security ramifications well beyond Syria's borders.
Source: Akhbar Alaan
Language: Arabic
Date: 26 February 2020
Syrian crossings reopen, freeing up flow of people, goods
What Does It Say? The Aoun al-Dadat and the Um Jalud crossings between SDF- and Turkey-controlled northern Syria have reopened. The crossings were closed in response to Turkey's Operation Peace Spring in October.
Reading Between the Lines: The crossings are vital commercial linkages between Aleppo and areas in northeast Syria that are under SDF control. The crossings have been opened and closed on multiple occasions since the Peace Spring actions, and are likely to be closed again as pressures fluctuate.
Source: Al Monitor
Language: English
Date: 23 February 2020
Smart cards for rationing: how the Syrian government is outsmarting accountability
What Does It Say? The report offers a deep-dive look at the Smart Card system in use as a rationing and market control tool across Syria.
Reading Between the Lines: By expanding the use of the Smart Card, the Government of Syria is attempting to kill two birds with one stone. The system regulates prices, and staves off the leakage of subsidized goods to the black market, while limiting the use of foreign currencies.
Source: Syria Direct
Language: English
Date: 17 February 2020
SDF avoids fight with Trump over budget cut
What Does It Say? Despite the Trump administration's request to cut allocations to the SDF by $100 million, the SDF has not publicly protested, likely in fear of angering Trump and edging him closer to his repeated determination to withdraw American forces from Syria.
Reading Between the Lines: Despite severe blows to the relationship, the SDF remains reliant upon U.S. support as it waits out the advent of conditions that are conducive to an agreement with Damascus.
Source: Al Monitor
Language: English
Date: 20 February 2020
What Does It Say? Turkish President Recep Tayyip Erdogan proposed that a summit between Russia, France, Germany, and Turkey be held in Istanbul to discuss the worsening situation in Idleb.
Reading Between the Lines: It's improbable a summit will deliver a solution that will fully satisfy all parties. Russia is intent on ridding the area of extremist fighters and restoring control of Idleb to the Government of Syria, which clashes with the near-term interests of Turkey. The summit may be an attempt by Turkey to use the 'refugee card' to pressure Russia into a more favorable solution.
Source: Carnegie
Language: English
Date: 25 February 2020
What are the most important stalled and declining public industries?
What Does It Say? Much of Syria's industrial production has stalled and now needs considerable rehabilitation.
Reading Between the Lines: A resurrection of Syria's domestic productive sectors will be necessary for any sort of post-conflict economic recovery to be sustainable. In the immediate term, increased production and a revitalization of industrial capacity and employment could help slow down the collapse of the Syrian currency.
Source: Kassioun
Language: Arabic
Date: 24 February 2020
The Wartime and Post-Conflict Syria project (WPCS) is funded by the European Union and implemented through a partnership between the European University Institute (Middle East Directions Programme) and the Center for Operational Analysis and Research (COAR). WPCS will provide operational and strategic analysis to policymakers and programmers concerning prospects, challenges, trends, and policy options with respect to a conflict and post-conflict Syria. WPCS also aims to stimulate new approaches and policy responses to the Syrian conflict through a regular dialogue between researchers, policymakers and donors, and implementers, as well as to build a new network of Syrian researchers that will contribute to research informing international policy and practice related to their country.