Information Ecosystems Paper 3:
Nothern Rakhine State
This paper is the third of a multi-part series examining the shifting sociocultural landscapes of minority and conflict-affected populations across Rakhine. The series uses three aspects of information ecosystems mapping – the role of influence, social trust, and information use – to explore the ways in which changes have contributed to community attitudes and impact the efficacy and sustainability of humanitarian interventions. The first paper in the series examined the changing sociocultural dynamics of Rohingya communities in Cox Bazar. The second paper looked at experiences of prolonged displacement and access to information among southern Rakhine State's minority Muslim communities. This paper considers continuity and evolution in leadership and information sharing in diverse communities in northern Rakhine State and parts of central Rakhine State, and how these dynamics have been influenced by the internet shutdown.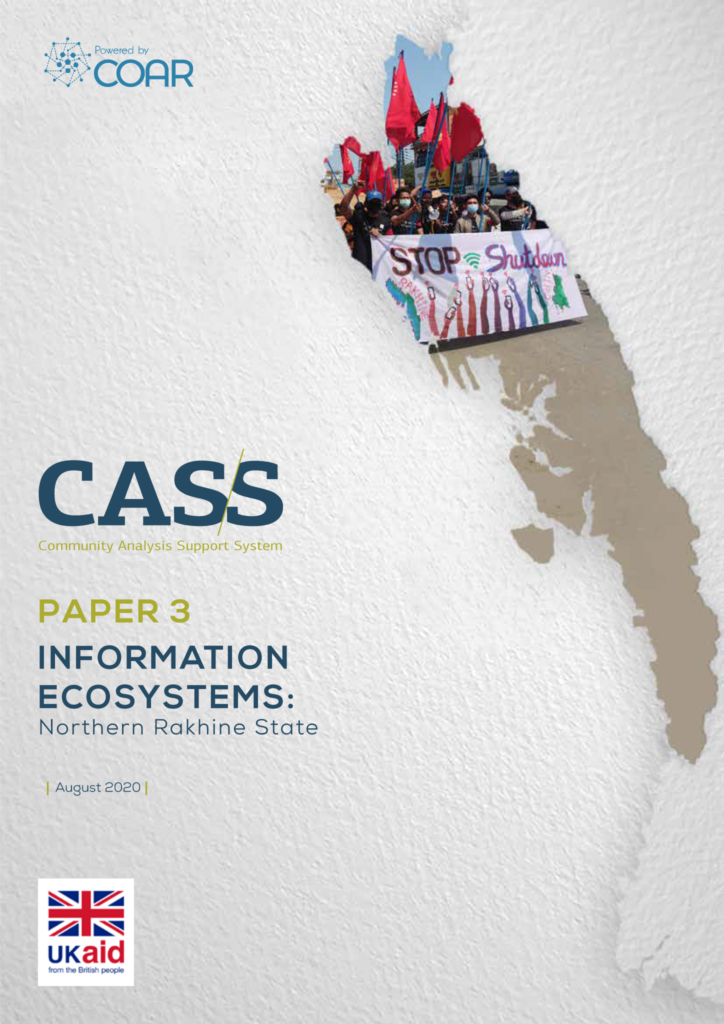 Waves of violence, displacement and ongoing marginalisation have placed considerable pressures on social trust and access to reliable information among diverse communities in western Myanmar's Rakhine and southern Chin states. A government-imposed internet shutdown since June 2019 has added additional limitations to information sources. Through a mapping of these information ecosystems, response actors can better understand circumstantial changes, such as troop movements and electoral rumours, affect not only the flow of information but also its perceived trustworthiness and eventual impact. Moreover, information ecosystem mapping can help to uncover the means through which influence is constituted and asserted, norms and power structures reinscribed, and transformed.
As such, this paper considers how conflict and an internet shutdown have impacted influence, social trust and information use in this context. Diverse ethnic and religious communities often access emergency support or information through different networks, yet consistencies across communities are also notable. Representing continuity, village administrators and religious leaders continue to hold influence across all communities. The roles of Buddhist religious leaders in particular have expanded during the local humanitarian response to armed conflict. Meanwhile, communities are increasingly recognizing the influence and networks of existing and newly-mobilised community support groups and civil society organisations. To help facilitate engagement, this paper also includes a how-to guide for working with religious actors. 
These patterns of influence, social trust and information use are consolidating and evolving. They influence displacement trajectories, security, political influence, intercommunal relations and even preparedness for health crises – including COVID-19. 
Key Findings and Recommendations for Response Actors
Village leaders and religious leaders remain the most influential and authoritative figures in all communities.
These figures are clearly entry points for sharing information and communicating with rural communities. Humanitarian actors should

establish strong relationships with village administrators at different levels

and share messages pertaining to access to services, COVID-19 and its prevention, and other relevant topics through these networks. This will, in part, overcome some of the negative impacts of the internet shutdown.

Up to date or rolling consultations with village and religious leaders will support remote needs assessments and better monitoring of displacement trajectories

.

There is an absence of women in decision making, in both displaced and non-displaced communities. Humanitarian response actors should

consider the different experiences of women in active conflict zones or displacement sites, and take initiatives to include women in planning responses

. 

During implementation,

engaging local influencers for 'train the trainer' implementation models will be more effective in communicating important messages

. For example, communities will be much more receptive to information regarding COVID-19 prevention if it comes from a local trusted source, rather than an agency staff member unfamiliar to the local community.

Recognise that some religious leaders, particularly among Muslim communities, may not wish to be engaged

. Among the Rohingya, religious leaders have avoided consultations with other ethnic groups purposefully as a result of historical threats made against these leaders.
In many locations and sectors, it is local organisations or informal groups who are leading effective humanitarian responses to displaced communities or those otherwise impacted by armed conflict. Civil society groups who have mobilised to respond to armed conflict have developed strong influence in communities and will likely play key roles in the future development of Rakhine State.
The needs of local responders should be supported by international actors.

 

In collaboration with local responders, a timeline for the development of coordination mechanisms should be designed. This should include the integration of CSOs into coordination mechanisms, a shift of resources, and greater support – both financial and capacity-wise – to local responders. 

Civil society groups should be encouraged to identify their own needs, rather than these being dictated by international partners

. 

This is also an opportunity to

connect local responders with their peers from other regions of Myanmar and abroad

, to raise awareness of other contexts and solutions for peace, and to support a sense of solidarity in the region. Workshops or sharing sessions with representatives from various regions of Myanmar or Southeast Asia may be held in a neutral location.

As affiliation with international agencies active in Rakhine State can inhibit local responders' abilities to secure travel permissions, partnering is more likely to be successful when coming directly from the donor organisation.

Donors should allocate a greater proportion of funding to civil society groups and ensure this funding is flexible and responsive

.
While different ethnic communities may follow the same religion, key cultural differences exist and may be amplified in certain conflict contexts. In displacement sites, groups of people sometimes choose to live separately, usually reflecting village of origin or ethnic community. Perceptions of unfair aid distribution have created tensions between different ethnic and religious communities in Rakhine State since displacement in 2012. Special attention should be paid to sub-identities within groups, such as Rakhine animists.
Humanitarian actors should ensure that all staff are aware of these sensitivities and design their response accordingly. Having

a diverse staff base will support stronger understandings of cultural differences and thereby stronger conflict sensitivity

. Diversity should encompass not only gender, ethnic and religious categories, but also ideological and experiential.

Responders should ensure that

any response should reach both displaced and non-displaced communities

; as well as to include all affected communities regardless of ethnic identity.

It cannot be assumed that influence with a subsection of an ethnic or religious community equates to influence with that community as a whole

. Effective consultations and communication with a wide range of stakeholders is required.
In addition to adding further barriers to access to incomes, basic information and services, the internet shutdown is deeply resented among communities. In the current context of COVID-19, the refusal among governments to reopen networks is seen as negligent and is driving deeper discontent with the central government among communities in Rakhine State.
Humanitarian actors should continue to raise concerns regarding the internet shutdown with authorities at the highest levels and advocate for the restoration of networks in all townships

.

Suggesting to stakeholders that the internet shutdown is weakening support for the central government in northern Rakhine State, and thereby encouraging communities to search for other actors to represent them, may be a useful approach to advocacy. Where possible and ensuring the least risk to communities, evidence-based advocacy on this topic is desperately needed. 
The limited set of information sources available and the history of violence and tensions provides an environment where misinformation can be difficult to combat. Communal issues between Rakhine and Rohingya communities have been de-escalated effectively under conflict conditions to date. However, the risk of manipulation of these tensions remains. 
Organisations with relevant skills, experience and familiarity with the context should

engage religious and village leaders from all communities to support stronger connections between communities

. 

Village leaders and religious leaders are already taking mediation and conflict mitigation roles in communities. These individuals should be supported in those skills.

Activities facilitating the sharing of conflict mitigation experiences will strengthen skills and create connections between influential village and religious leaders

. A prolonged relationship-building component should precede programmes of this nature.

Youth and women, both underrepresented in decision-making at the village level, should also be included in activities to strengthen mediation and conflict mitigation skills

so as to support these groups to take further leadership roles in the future.
"Information ecosystems are complex adaptive systems that include information infrastructure, tools, media, producers, consumers, curators, and sharers. They are complex organizations of dynamic social relationships through which information moves and transforms in flows. Through information ecosystems, information appears as a master resource, like energy, the lack of which makes everything more difficult."1Internews, 'Why Information matters: A foundation for resilience', 2015.
Information ecosystem mapping takes a Systems Theory approach to understanding the flow of information through lived environments. Accordingly, both human and non-human factors are studied in order to map the interrelated and interdependent dynamics that influence perceptions and practices. Information ecosystem mapping thus accounts for social relationships, cultural context, religious belief and practice, as well as the dynamic networks of control and influence constituted and contested by communities and their members. Information ecosystems thereby function as the scaffolding upon which individuals construct an understanding of the world around them and the conditions of possibility enabling or constraining their agency and action.
Information ecosystem mapping works at three levels:
Macro-level analysis (i.e. media landscape and political/regulatory environments); 
Granular observations (i.e. information availability, needs, and distribution), and; 
Human and social insights (i.e. identifying information disseminators and influencers).2
Response actors will be familiar with the ways in which mapping information needs, production, circulation, and access improves communications with beneficiary communities. What has been less well appreciated to date is the opportunity mapping exercises provide for programme forecasting. Indeed, information ecosystems mapping – particularly the role of influence, social trust, and the use of information – offers an especially helpful interpretive framework through which questions about the future can be examined in the present.
Of particular relevance to response actors working in Rakhine State, information ecosystems mapping can aid in anticipating how contextual changes may pressurise existing intercommunal tensions or shape responses to various government actors. Further, it can support in identifying the factors that most strongly determine a community's relative vulnerability to abuse in times of armed conflict.
This paper draws on in-depth interviews with a total of 43 respondents, including civil society, media, political, and religious leaders, and both displaced and non-displaced communities in central and northern Rakhine State, cited by code in footnotes. The analysis also draws from local media reports and builds upon academic knowledge and recent analysis from Rakhine State by CASS and other actors.
Communities in Northern Rakhine State
While the Rohingya and Rakhine ethnic groups make up the vast majority of central and northern Rakhine State's population, and are best known, other communities exist in this complex borderland. These communities are often not recognised or well understood, yet are frequently affected by conflict and crisis.3https://twitter.com/EdithMirante/status/974169060538658816
Historically and up to today, Rohingya Muslim and Rakhine Buddhist communities have traditionally lived in the lowlands and cultivated paddy. Smaller communities, such as the Mro, Khamee, Daingnet,4The Daingnet refer to themselves as Thaikhma, and are related to the Chakma people of Bangladesh's Chittagong Hill Tracts. and Thet have lived in the hills. Many of these people were said to have resided in what is now Rakhine State before the community known today as the Rakhine arrived. As Gutman notes;
The traditional histories of the country claim the origins of the Arakanese people in a remote past when the legendary hero-ancestor of the Arakanese, Marayu, founder of the first city, Dhanyawadi, is said to have married the daughter of a Mro chief and to have cleared the country of Bilus5Bilus are ogre-like demons and feature in Rakhine and Burmese mythology. Gutman, Pamela. Burma's Lost Kingdoms: Splendours of Arakan. Bangkok: Orchid Press, 2001.
Most of these communities are Buddhist, although there are significant Christian populations among the Mro and Khumi. Nonetheless, just as the myriad of non-Burman ethnic groups of Myanmar hold concerns of the 'Burmanisation' of their land, culture and language, so do the ethnic minorities of Rakhine State often wish to avoid the 'Arakanisation' of their ways of life.
Information from the Rakhine State government shows only the demographics of ethnic groups in Maungdaw District (encompassing Maungdaw and Buthidaung townships) and Rakhine State as a whole. These figures are dated July 2017, and as such include a large number of people who were subsequently forced by military operations into Bangladesh.  Of the approximately 740,000 people who fled to Bangladesh, the vast majority were Rohingya (listed as 'Muslim' in the Rakhine State government figures below) from Maungdaw District, with a smaller number from Rathedaung Township, Sittwe District. Independently verifying the accuracy of the figures presented below is a task outside the scope of this exercise. Notably, Kaman Muslim and Rakhine Muslim communities' own estimates of their populations contest these figures.8Those communities cite their population figures across the state as 90,000 and between 80,000 and 115,000 respectively. The category of 'Rakhine Muslim' is not one commonly accepted by the government. For more information see CASS paper Information Ecosystems: Southern Rakhine; available from https://cass-mm.org/information-ecosystems-paper-2-southern-rakhine/.
Maungdaw District and Rakhine State: Population Distribution 2017

9
 
Maungdaw District
Rakhine State
 
Number
Percentage
Number 
Percentage 

Rakhine

39,424

4.82

1,757,215

57.90

Daing-net

9,969

1.22

17,093

0.56

Thet

1,892

0.23

2,711

0.09

Mro

8,338

1.02

40,388

1.33

Maramagyi

316

0.04

8,776

0.29

Khamee

9,018

1.10

35,171

1.16

Chin

72

0.009

81,030

2.67

Kathae

276

0.03

276

0.01

Kaman

15

0.0018

14,359

0.47

Bamar

2,307

0.28

20,227

0.67

Karen

29

0.0035

429

0.01

Hindus

5,119

0.63

8,520

0.28

Muslim

74,0661

90.60

1,047,544

34.52

Others

50

0.0061

1,074

0.04

Total
81,486
100
3,034,813
100
Government policies in early 2018 incentivised Mro, Khumi, Thet, and Daingnet communities from the hills (along with Rakhine Buddhists) to settle on land abandoned by Rohingya fleeing from Tatmadaw atrocities in 2016 and 2017.14http://www.mizzima.com/news-domestic/new-homes-benefit-ethnic-mro-people-rakhine. See also https://www.statecounsellor.gov.mm/en/node/1576. As well as compounding barriers to the return of Rohingya from Bangladesh and destroying evidence of any previous Rohingya presence, these policies also served to bring remote hill communities – often outside the reach of the Naypyidaw state – under government control.15Similar policies have long been in place in neighbouring Bangladesh. Lowland Bengli communities have been incentivised to settle in the Chittagong Hill Tracts for decades, as part of a government policy to stabilize the region and establish better control over diverse hill communities. The demographic aims of the project are also clear. Since at least 2001, Myanmar's government has been settling Buddhist Mro, Thet, Daingnet and Rakhine from Bangladesh alongside Burmese Buddhists in northern Rakhine State. https://frontiermyanmar.net/en/features/welcome-migrants-from-bangladesh Human rights actors found evidence of forced relocations of remote Mro, Thet, and Khamee communities to low-lying areas as early as 2000.16https://www.fidh.org/IMG/pdf/arakbirm.pdf
Many among both Maramargyi and Daingnet communities – the majority of whom are Buddhist – speak a language similar to that spoken by the Rohingya. Fears of marginalisation or of being mistaken for Rohingya are a source of tensions for some communities. As a result, Maramargyi communities avoid unnecessary travel to unknown areas or after dark, aware that their language or appearance may make them targets. Some hardliners within Rakhine communities in recent years have similarly raised doubts about the loyalties of Daingnet communities given their linguistic abilities.17Peace and Development Initiative 2019, The Impacts of Language Barriers on Inter-communal Relations Among Rohingya, Kaman, Rakhine, Daingnet, and Maramargyi in Sittwe, Thandwe and Buthidaung. 
There remains limited outside knowledge about the cultures of the diverse communities in central and northern Rakhine State and the ways in which they communicate with and among themselves.18 A forthcoming paper from RAFT will look deeper at community perceptions on social cohesion in central Rakhine State. The following sections examine how influence and social trust are constructed – and how information is used – within Rakhine, Rohingya and other communities.
Influence cannot be understood as a fixed or immutable characteristic. As such, it is important to understand the composition of influence, for instance, which social or economic factors can be leveraged to build it, and how those factors evolve over time and in response to contextual changes. In doing so, it is easier to anticipate how influential actors will frame certain issues and what that means for the way communities make sense of new information and changes in their circumstances.
Presently, they [religious and lay camp leaders] are leading the community in the camps and villages to survive from this armed conflict and they were also leaders or influential persons before this conflict in each village. They never decide what happens in the community individually. But, they inform the community if they want to need to do something in the camps or villages right now. 19CA.Rel.STW.02
– Rakhine Buddhist Religious Leader, Sittwe, 1 April 2020
Village administrators20The term 'village administrators' here refers to the diversity of positions within the village administrations system – village tract administrators, heads of ten/hundred households or village representatives. and religious leaders hold a high level of influence in rural areas, across all ethnic and religious communities. The authority of village administrators is drawn in part from their place in the formal administration system of the General Administration Department and the access to networks and information made available through that system. However, village administrators also claim authority among communities in ways removed from their involvement in that formal administration system. Prior to 2012, village administrators were selected by the General Administration Department (then under military control), but have been popularly elected since.21The election of village administrators remains controversial. In particular, the 'one household one vote' system is criticised for its exclusion of women. Action Committee for Democracy Development & Progressive Voice, Grassroots Democracy: Analysis of the Ward or Village Tract Administration Law. As such, village leaders are almost without exception people who held influence and respect in the community prior to their election to an administrative position.
They [village administrators] have influence because of their work. Influence requires sacrifice, to work for a better village, community. The knowledge and work for their community. 22CA.Med.01
– Rakhine Buddhist Diaspora, 31 March 2020
In part, religious leaders' influence in Rakhine State stems from a traditional form of authority. In both Muslim and Buddhist communities, however, religious leaders assume more than simply a theological function. Previous research indicates that while Buddhist religious leaders are respected for their scholastic achievement, their influence comes from their community work.23Melyn McKay 2019, 'The Religious Landscape in Myanmar's Rakhine State,' Peaceworks: United States Institute for Peace, available from: https://www.usip.org/publications/2019/08/religious-landscape-myanmars-rakhine-state. Religious leaders often function as mediators, offer advice, and educate on theological and non-theological topics. Since the escalation of armed conflict in Rakhine State in late 2018, Buddhist monks have also taken increasingly active roles in managing IDP sites for people affected by armed conflict. The fact that religious leaders consult with communities and support or lead projects for communities underpins their influence. Religious leaders fill needs, often gaps left by the state. Put simply, being a religious leader alone is not enough to assume legitimate influence or trust.
Monks are leading the IDPs affairs rather than people because they are not afraid of Tatmadaw soldiers when there is a need to request or inform them to bring food items from other areas and help injured people to transfer to Sittwe hospital, and they dare to talk at checkpoints to Tatmadaw soldiers to get permission for traveling.24CA.Rel.STW.01
– Rakhine Buddhist religious leader, 31 March 2020
Buddhist monks have come to play new and particularly important roles as armed conflict has increasingly affected communities in Rakhine State. As highly respected figures in a Buddhist society, monks are able to gain entry to and navigate social spaces that village administrators and even elected parliamentarians cannot. Buddhist monks, for example, continue to facilitate humanitarian access to conflict locations, mediate with Tatmadaw troops to de-escalate tensions, and escort injured civilians to safety or medical care. Particularly influential Buddhist monks are sometimes requested by displaced or non-displaced communities to visit townships hours away from their monastic bases to mediate between civilians and/or armed groups.
Religious leaders are the most influential persons rather than other people in the community because they are working for the IDP issues and are always ready to help people among the communities. They are not afraid to face government authorities and always negotiate with them on the ground, especially with Tatmadaw soldiers, and they have a Parahita25'Parahita' is a Pali word used to describe religiously-inspired, organised volunteer, or community-based charitable work. It can include anything from free education and health care, to road works and infrastructure development. The religious connotations of parahita are not absolute. For more information see CASS paper Parahita: Ecosystems of Emergency Response and Non-State Welfare in Rakhine, available from https://cass-mm.org/parahita-ecosystems-of-emergency-response-and-non-state-welfare-in-rakhine-2/; and CASS paper COVID-19 Response and Parahita Groups, available from https://cass-mm.org/covid-19-response-parahita-groups/. mindset… Most of the community rely on their religious leaders and choose the monasteries as the safest shelter over other places.26CA.CSO.PNG.02
– Khami Buddhist civil society leader, Ponnagyun, 30 March 2020
The concentration of influence in village leaders and religious leaders functions to a large extent to the exclusion of women. Women remain massively underrepresented at all levels of elected administration in Myanmar (see box below), and influence among religious leaders is concentrated in men. With notable exceptions there are few women active among civil society leadership. However, women claim greater influence within certain spheres. At the household level, women are usually in charge of finances, for example. Women are also conferred influence in the health care sector. Previous research has found that midwives are perceived as reliable sources of information in both Rakhine and Rohingya communities, and may take a leadership role as a result.27Melyn McKay 2019, 'The Religious Landscape in Myanmar's Rakhine State,' Peaceworks: United States Institute for Peace, available from https://www.usip.org/publications/2019/08/religious-landscape-myanmars-rakhine-state.
Women's participation

in

local government in Myanmar28
In the 2017/2018 Ward and Village Tract Elections, only 0.6% (101 of the total 16,829) elected ward or village tract administrators were women29
This represented an increase from the 42 (0.25%) women administrators before the 2017/18 elections (out of a total of 16,785)
Women claim more representation at higher levels of administration. In the Union Parliament 13.7% of elected representatives are women. This equations to 10% of the parliament when unelected military representatives are considered
There are no women representatives in the Rakhine State parliament, and only 6 female village tract or ward administrators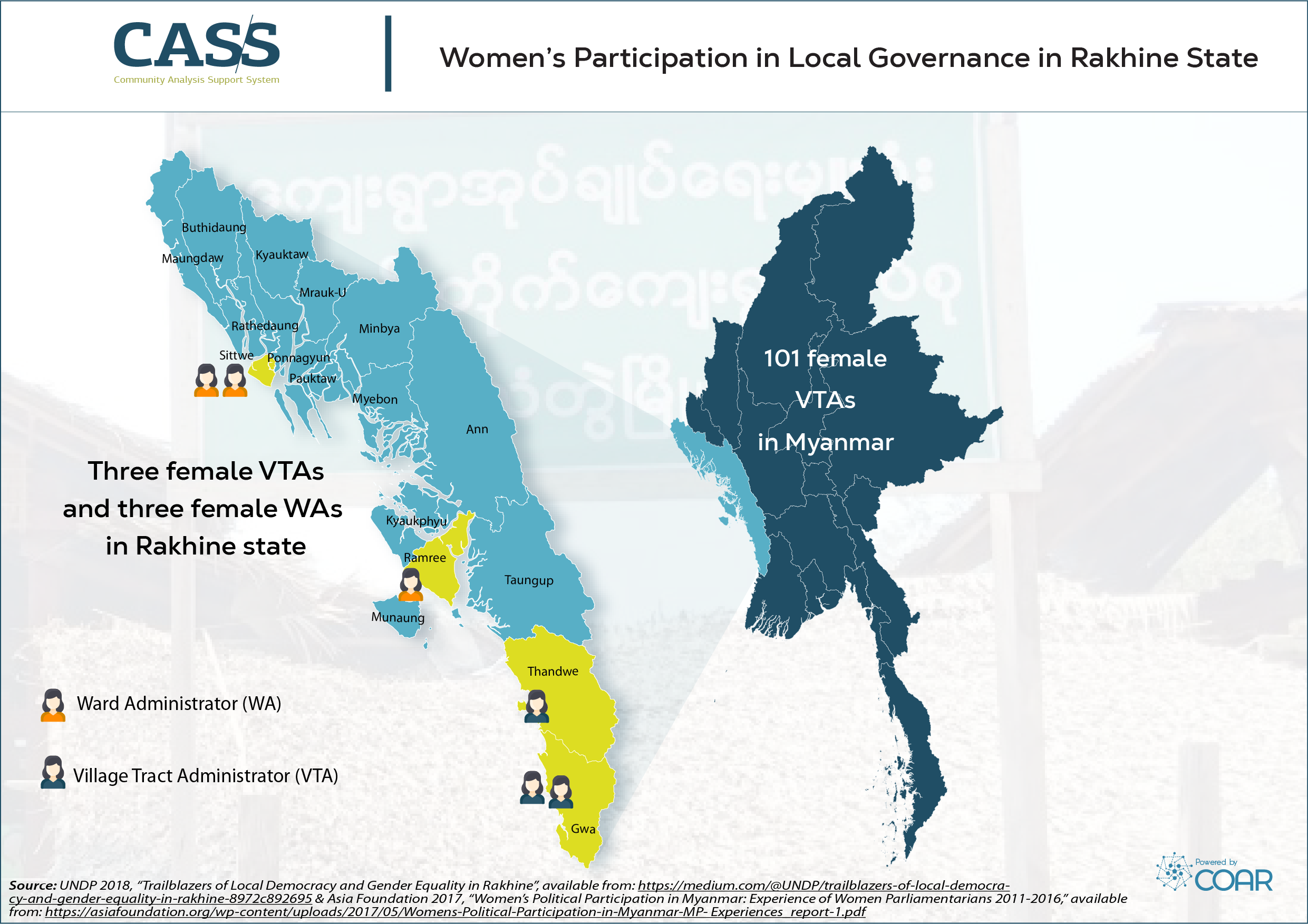 It should not be assumed that influence with one particular subsection of an ethnic or religious community (whether along locational or religious denominations) equates to influence with that larger ethnic or religious community. Muslim religious leaders who follow more austere teaching, for instance, will hold little sway with more moderate communities. Similarly, a Muslim religious leader from one ethnic community may get little buy in from other ethnic groups, regardless of denomination. Influence is also fluid and does not align to ethnic identity. In Mrauk U, for example, a Rakhine animist community had good relations with neighbouring Rakhine Buddhists until a Buddhist religious leader ostricised the spirit-worshipers. The Rakhine animist community now has closer social and economic relations with a nearby Muslim community.30Melyn McKay 2019, 'The Religious Landscape in Myanmar's Rakhine State,' Peaceworks: United States Institute for Peace, available from https://www.usip.org/publications/2019/08/religious-landscape-myanmars-rakhine-stateSimilar dynamics can be found among minorty Muslim communities, such as the Ahmadiyya Muslims in southern Rakhine State.31CASS, Information Ecosystems: Southern Rakhine; available from https://cass-mm.org/information-ecosystems-paper-2-southern-rakhine/.
Finally, the conflict and response in Rakhine and southern Chin State has also elevated the influence of local humanitarian responders amongst communities. Responders from CSOs or informal parahita groups are known to have strong information about the current context and the networks to facilitate emergency assistance, including food distributions or emergency transportation for civilians. Many of the organisations mobilising to provide emergency support existed prior to armed conflict, although others are more recently organised. Regardless, these groups have developed new networks for information sharing and resource distribution. They are increasingly playing important roles outside of the response to armed conflict,32For example, some civil society organisations who have organised to provide emergency support for conflict-affected communities now assist in managing quarantine accommodation for people returning to Rakhine State amid the COVID-19 crisis. and are likely to continue to be influential actors.
Engaging Buddhist Religious Leaders
Effective engagement of Buddhist religious leaders will support the localisation of the response, and relationship building will also improve communication with communities, and help to develop trusted relationships with local stakeholders. The below are some entry-level considerations for agencies considering the first steps of engaging religious actors.
Modalities and Program Cycles
Engagement may consist of one-off activities, or longer term programming. Shorter-term engagement for one-off activities may be a food distribution, an information sharing session, or support to host a particular event. Longer-term involvement may be based around education, livelihoods, health, protection or a variety of other sectors. Many monasteries are already involved in work around these issues in both urban and rural settings, and agencies are well placed to offer technical support.
In many cases, INGO staff members and CSO partners will have sufficient knowledge to identify monasteries and monastic leaders in the community who are engaged in the local humanitarian response or parahita activities. There are many monks with interests in literature and academia who have studied abroad in places such as Thailand and Sri Lanka and who are seeking greater engagement with international actors. Monks responding to displacement have also highlighted that they wish to have more collaboration with INGOs.
Where possible, response actors should gather additional information on monastic leaders' associational networks, as these may indicate political positions and willingness to work with minority communities. The geographic and ethnic backgrounds of monastic figures may also help with anticipating likely flows of displacement (Maramagyi communities may seek out Maramagyi monks, etc.).
With this information, humanitarian actors can begin consultations with monks to determine their interest in engaging and through which modalities. Relationship-building takes time in this context, and engagement of religious institutions will be no exception. Even the first steps of initiating a conversation can be expected to take weeks or months. International staff should rely on the advice of local staff members and remember that monastic leaders have different schedules from lay persons and multiple existing commitments. Gestures from international agencies will be very important. For example, communicating with monks requires differential body language and terminology. Demonstrations of reverence such as bowing or speaking with one's hands in a prayer position are appreciated, but may not be appropriate for local staff of different religious backgrounds.
Humanitarian actors should offer monasteries/monastic leaders an INGO or CSO staff member counterpart with whom to liaise. Ideally, Religious Leader Liaison staff members and CSO partners should have a pre-existing relationship with the monastery/monastic leader. This will support monks to more easily navigate the complex set of relations within and outside their monastic community. Agencies must take a comprehensive 'do no harm' approach to managing these complex institutions.
Relationships must also be developed with the lay persons involved in the affairs of the monastery – the Ka Pi Ya. International agencies should be sensitive to existing power dynamics between Ka Pi Ya, and any honorariums should be carefully distributed (if necessary at all). Engagement of GawBaGa committee which administer the affairs of larger monasteries or any associated pagodas/temples may also be necessary on a case-by-case basis. In short, each monastery will have a different dynamic.
In the case of one-off activities with monasteries, engagement with stakeholders external to the monastery are unlikely to be required – although agencies should follow the advice of monks and local staff. For longer term engagement, however, another set of stakeholders should be engaged to ensure transparency and buy-in. This includes the township leadership of the State Sangha Maha Nayaka Committee (Ma Ha Na), the government-appointed body of monks which regulate the Buddhist clergy. Ma Ha Na monks should be consulted and informed regularly during longer-term engagement. It is appropriate to keep members of parliaments involved since they have the authority to serve as intermediaries when needing to seek permission or support from government departments.
Monastic leaders may also ask agencies to consult with the monastic organisation Sii Htein, which takes an active interest in the international response. Sii Htein has previously acted as a spoiler to aid efforts and some members have deeply prejudiced views towards Rohingya communities. As such, managing these relationships may be challenging. However, there has been a softening of Sii Htein positions over the last year as the international community has responded to armed conflict in Rakhine State. Engagement presents an opportunity for dialogue and the further softening of hardline attitudes.
The functioning of a monastery is completely unlike that of an international humanitarian agency. Care must be taken to avoid the 'NGO-isation' of religious institutions. The goal should be the localisation of the response, not the internationalisation of the local response.
Engagement with religious actors will involve international agencies looking beyond the constraints of project logframes and existing structures. Monastic responses are driven by merit-making, rather than project cycles. Financial accountability is understood through avoiding the bad karma associated with misusing donated funds or items. Donations are similarly mobilised based on people's belief in doing good deeds for their own karma. This presents some difficulties for INGO's reporting requirements. These are not insurmountable, however. INGOs may partner with a local organisation to support monasteries' procurement needs. Some donor agencies have also indicated that they are open to flexibility around reporting.
Social trust is essential to communities as they navigate conflicting, biased, or untrustworthy information. As such, mapping information flows can help to highlight the networks that cohere ideas about governance and through which information about contextual changes and conflicts makes its way into communities.
Reflecting the findings of other recent research, there remains very little interest in elections among communities in central and northern Rakhine State despite the fact that nationwide elections are scheduled for November this year. 34The government has announced that elections will be held on 8 NovemberAside from the lack of interest, there is also a widespread expectation that polls will not go ahead in many areas of central and northern Rakhine State due to armed conflict.
In the 2015 election, they would be doing campaigns around this time of the year already. They would start preparations such as registration and social activities, etc. They should be starting these in November already but it's already March and we do not see any movements… In my personal view as a Chin person, it would be really hard here for election this year. People have to be afraid around this election as well. They could be targeted by the AA. I do not think there will be a lot of people campaigning. I think it will not be an easy election, it will be really hard. A candidate will have to negotiate with both sides. I don't think many Rakhine candidates will participate in the election.35CA.INGO.01
– INGO staff member, Paletwa, 6 March 2020
Safety concerns regarding the elections remain prevalent, and there is a perception that the elections will only go ahead with the blessing of the Arakan Army's top leadership. This sits alongside a widespread attitude that electoral politics has failed the people of Rakhine State. While ethnic Rakhine parties won a majority of elected seats in both the 2010 and 2015 elections, little power was effectively devolved to decision makers in the state.
I am not sure that the 2020 election will be held this year or not because of intensive fighting between the Tatmadaw and Arakan Army and I think the election will impact this armed conflict. Even if Rakhine representative parties win a landslide victory in the 2020 election, like 2015, I am not sure the central government will hand over power-sharing or not. I do not think they will share the power because of the 2008 constitution of Myanmar.36CA.Rel.STW.01
– Rakhine Buddhist religious leader, 31 March 2020
If there is no stability in the region, the election will not be as successful as we would wish for. The communities are also lacking trust in the election. People are more interested in the armed struggle. They do not rely on the Arakan National Party anymore. There is very little interest in party politics among the communities.37CA.CSO.02
– Civil society leader, Rakhine State, 9 March 2020
The immediate impact of armed conflict for civilians has also eclipsed interest in future elections. The threat of shelling, arbitrary arrests, and food shortages in displacement sites requires an immediate response and the allocation of resources from community groups who may otherwise be considering electoral issues. 
Most people are not interested in the 2020 election due to living in fear on the ground, worrying when they will die by artillery shell landing and airstrike in the current situation. Now, they are struggling to get food on a daily basis to survive. They sit in camps with gloomy and sad faces, they cannot care about the 2020 election rather than their lives.38CA.Rel.STW.02
– Rakhine Buddhist Religious Leader, Sittwe, 1 April 2020
The only respondents to interviews undertaken for this paper who emphasized the importance of elections were those from political parties. Yet it was clear that there had been no preparation made to date to allow for voting. The issues of voting sites for displaced persons will be particularly controversial if polls can take place.  At present, there remains no evidence of preparations to allow displaced persons to vote from displacement sites.
I do not know whether people are interested in the election or not but I think the election is imperative for our community. So, the 2020 election must take place in Rakhine State, especially northern Rakhine State. No matter how bad the situation is, how many difficulties we have and how many challenges we face in the current situation, we have to move forward to this election if we are heading to federal democracy. Likewise, if there is no election in Rakhine state, especially northern Rakhine State, the governance system by the current government will be changed to another system such as military governance. Now, we have not known yet how the election commission is planning for IDPs in northern Rakhine state to get a chance to vote in the 2020 election, where are they going to designate poll centres for IDPs?39CA.POL.MRU.03
– Youth political leader, Mrauk U, 10 April 2020
At the same time, Rohingya communities remain disenfranchised.40Rohingya votes were courted by the Union Solidarity and Development Party before the 2010 elections, in which they were allowed to vote as White-Card holders. The USDP's tactics with the Rohingya raised discontent among hardline Rakhine community leaders who saw the Rohingyas as illegal immigrants. White-cards were invalidated before the 2015 election, disenfranchising the Rohingya. Without citizenship documents, most will not vote in upcoming elections. Information about elections is scarce in Rohingya villages, especially those in townships under the internet shutdown. Some Rohingya report hearing from village administrators that an election is planned for later this year, but further information is rare.
Regarding the 2020 election, I think most people do not know about it and there is no information flowing in the community. People do not talk about the election. I know there is an election this year, but I don't know if I can vote in the election because I do not have a national registration card. There is not enough information for the community living in out of internet service areas regarding these topics, especially about COVID-19.41CA.IND.BTD.02
– Rohingya man, Buthidaung, 22 April 2020
On 21 June 2019 Myanmar's Ministry of Transport and Communications directed telecommunication operators to disable mobile internet lines in eight townships of central and northern Rakhine State and in Paletwa Township of southern Chin State. On 31 August 2019 lines were permitted to open in Maungdaw, Buthidaung, Rathedaung, Myebon, and Paletwa townships, but were disabled again on 3 February 2020. Lines were reconnected in Maungdaw Township alone on 2 May 2020.
After the internet shutdown, communication with people from other places such as Yangon, Sittwe and foreign countries has collapsed. There are some people from our village who live in foreign countries and it is very difficult to contact them now.42CA.IND.KTW.01
– Rohingya man, Kyauktaw, 30 March 2020
The internet shutdown has cut almost all information from diaspora networks and national, international, and local media from reaching affected townships. The internet blackout has reverted influence back into hands of village leaders and religious leaders. While these individuals always remained influential, communities had access to additional, diverse influences from diaspora and social media before the shutdown. The removal of these outside influences means that communities living in conflict zones under the internet shutdown are exposed only to information from very few sources on all topics; COVID, elections, conflict, education, health, and other service provision. Ironically, this may in part further entrench communities in conflict zones in the world of the AA and Tatmadaw. It also allows the AA to consolidate its control in areas where it is active, where the Tatmadaw can no longer operate or exert influence. Communities in that situation face very little outside influence. This is likely contrary to the objectives of the government's internet shutdown.
Diaspora networks offer alternative sources of information for communities. Diasporas represent information hubs which have access to novel networks, and are not bound by the restrictions or self-censorship needed to operate within the country. However, it is also clear that localised information is trusted much more than that from distant sources. For many people, local news agencies are considered reliable sources of information for two reasons: a) because journalists from these agencies were known and visible to the community; and b) because these news agencies always provided local testimony in their reports. The lack of local testimony was cited as justification not to trust other sources of information, including state media and information from armed actors. Communities living under the internet shutdown also cited a key information source to be radio news, including Burmese language programmes on Radio Free Asia, the BBC and Voice of America.43In the absence of a Rohingya-language radio station Burmese-speaking elites take a gate-keeping role of information, limiting access to information for marginalised sections of the community – particularly women. This dynamic will be considered further in a forthcoming CASS paper on resiliencies among Rohingya communities. Again, this was said to be because such agencies included local testimony.
I trust the information from local-based media and international media such as RFA, VOA, and BBC rather than state-owned media and Tatmadaw-owned media because experiences of the community from the ground are disappeared on state and Tatmadaw-own media. They never mention the community's experiences of how they are suffering in their daily lives.44CA.Rel.STW.02
– Rakhine Buddhist Religious Leader, Sittwe, 1 April 2020
This also reflects the fact that the internet shutdown has increased dependence on radio for information – representing a return to 'traditional' information sources prominent in the authoritarian era before Myanmar's period of political change opened in 2011.
Intercommunal Relationships
There is some evidence that the information deficit has incentivised individuals from diverse communities to seek out information from each other, creating links that were often damaged in the waves of violence since 2012.
I think social relationships are strengthened because there is an internet ban. Because people are forced to communicate through telephones and exchange information on the fighting.45CA.INGO.03
– INGO staff member, Sittwe, 9 March 2020
However, these links are often limited by linguistics – only Rohingya with Rakhine or Burmese language skills are able to communicate with Rakhine neighbours. One Rohingya man who has these language skills noted that his sources of information had changed after the internet shutdown, and that he was increasingly reaching out to Rakhine friends for information on armed conflict and on COVID-19.
After the internet was shut down, our sources of reliable information have been changed, more to phone calls to relatives in Sittwe and Yangon, some Rakhine friends from Kyauk Taw and other Rakhine villages to get some information about armed conflict and COVID-19 and listen to the radio.46CA.IND.KTW.01
– Rohingya man, central Rakhine State, 30 March 2020
However, while relationships may have shown some sign of improvement, the deep trauma, ongoing tension and manipulation of identities between many Rakhine and Rohingya communities continue to present a risk of incidents escalating into violence. After a Rohingya youth was found killed near Mrauk U Township's Paung Doke village earlier this year an angry crowd threatened nearby Rakhine villagers and assaulted one man badly. However, the situation was quickly de-escalated by village and religious leaders. The Arakan Army has also been blamed for a series of other abuses against Rohingya villagers, who are often trapped in conflict zones and pressured to support troops from both the Tatmadaw and Arakan Army as they pass by their villages. As noted by the Independent Rakhine Initiative (IRI),47Please see forthcoming IRI report regarding an analysis of the ongoing conflict in Rakhine State. there is also evidence that the Tatmadaw is attempting to create intercommunal division by offering protection or privileges to Rohingya over Rakhine in some areas.
A Chin Christian man in Paletwa township noted that the conflict will have a long term impact on social cohesion between Khumi Chin and Rakhine communities in southern Chin State. There, Khumi communities have faced a significant deterioration in living conditions as a result of armed conflict. Khumi communities have suffered displacement, a large number of civilian casualties, detentions by the Arakan Army, and a range of other abuses – fostering very poor relations between the Arakan Army and Khumi communities. There is evidence that this has also affected relations at the community level. 
The relationship between Rakhine ethnic groups in normal and even with Muslim people is fine, too. However, we just hear that Chin ethnic people do not like Arakan Army soldiers coming into the village, and they are losing their homes, leaving for other places to shelter, and have a difficult relationship between Rakhine and Chin ethnics due to this conflict in Paletwa.
– Thet woman in northern Rakhine State, March 2020
Reflecting discourse familiar to Rakhine-Rohingya relations, there are also suggestions that an 'invisible hand' is manipulating tensions between communities. 
I just heard the hate speech and intercommunal tensions between Rakhine and Chin ethnics on Facebook but I think that this kind of problem was created by some people and some groups who just want to take benefits from it. But, in Paletwa township the relationship between communities especially Rakhine and Chin ethnics is normal. There is no problem now, and there have not been any tensions or conflict between us.
– Christian Religious Leader, Sittwe, 1 April 2020
Buddhist Rakhine respondents were less likely to acknowledge these tensions. This in part can be attributed to the dynamics of 'Arakanisation' or of the privilege of majority communities, which supports a sense among Rakhine that there is a strong unity between the majority Rakhine and smaller non-Rakhine ethnic communities. Reflecting this, a number of Rakhine Buddhist respondents noted that the Arakan Army was a broad church, and represented an inclusive multi-ethnic and multi-religious version of 'Arakan', as opposed to the more exclusively defined conception of a mono-ethnic 'Rakhine' nation. There is little non-Rakhine representation in the leadership of the Arakan Army, however, and little is known about diversity among ground troops.48 While in July 2020 the AA posted a video to Youtube showing an ethnic Chin AA soldier addressing villagers in Paletwa Township, there is no indication that minority soldiers are widespread within the ranks. Nonetheless, some non-Rakhine Buddhist respondents noted enthusiastic support for the Arakan Army and its methods – although how much this is a function of social pressures is unknown.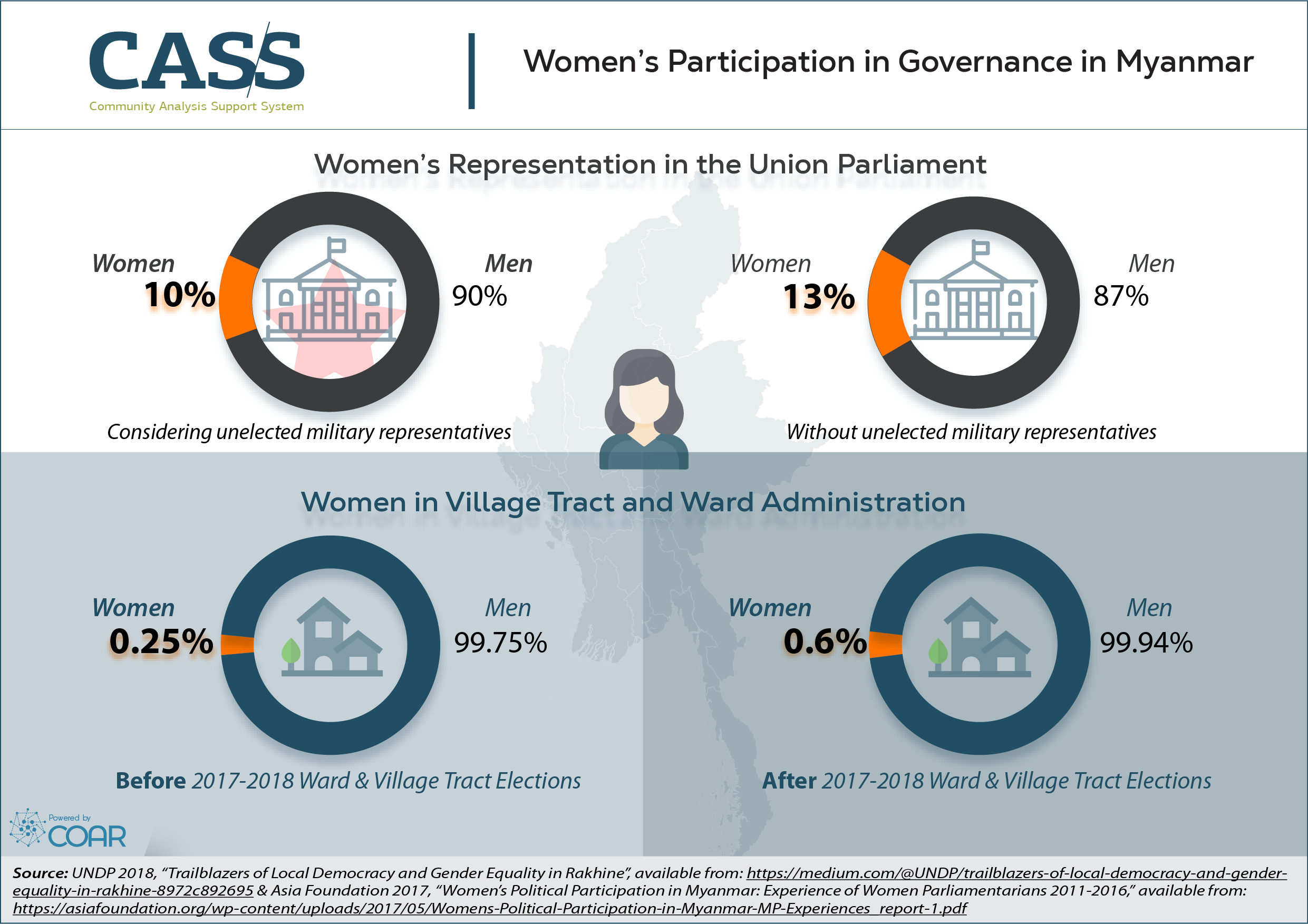 The ways in which information is used by communities and community leaders often reflects the networks of influence and trust outlined above in this paper. This section explores how communities are using existing information to manage challenges in this conflict context, and how communities are interacting with the humanitarian response.
We do not want to go to government IDP sites. We are running away because we are afraid of the government, why would we go there?49CA.Com.MU.01
– Rakhine man, Mrauk U, 10 March 2020
Waves of violence conflict, dispossession, and the marginalisation of ethnic minorities in central and northern Rakhine State has damaged trust between all communities and the state. Low levels of trust for the government are reflected in the reluctance of displaced communities to settle in government-constructed displacement sites. Trust concerns were manifest in respondents' anxieties around the ability to enter and exit government-constructed sites freely, safety and security in the sites, distance from farmlands and places of origin, and access to humanitarian aid.
In contrast, monasteries offer a level of protection for communities and are the preferred settlement options for many displaced persons. The status of Buddhist monks in Myanmar and Rakhine society means that armed actors must show deference to them. As such, monasteries offer security that government-constructed sites do not. Furthermore, monasteries are widespread across urban and rural locations and thereby are usually closer to places of origin and farmland. 
In some cases, displaced persons from different ethnic communities have chosen to stay separately. In Buthidaung, one respondent noted that this was due to different hygiene practices between Rakhine and Khami people.50CA.Com.BTD.01 In other displaced persons sites, differences in hygiene practices also caused some discontent between different communities.51CA.Com.KT.02
In cases of sudden displacement, there is often little coordination or decision making done by village leaders or religious leaders. However, in many cases villagers and village leaders do have time to make decisions and plan for expected displacement. Religious leaders and village administrators consult each other and communities about preferred displacement trajectories. The responsibilities for these decisions fall to these actors due to their authority and their access to information, as previously discussed in this paper. Village leaders and religious leaders often call ahead to neighbouring villages or nearby existing displacement sites to enquire about safety, space, facilities, and access to humanitarian support.
Sites favoured by communities include locations nearby, where farmland and property can continue to be accessed, and sites near relatives or at least people from the same ethnic group.52CA.Com.KT.04 It is not uncommon for villagers to report consulting or informing their village administrator if considering moving between displacement sites.53CA.Com.KT.01
The concentration of decision-making in the hands of men – as religious leaders and village administrators are almost exclusively men – means ineffective considerations of the specific needs and concerns that women have in displacement sites. Following the death of one pregnant woman in a displacement site with limited access to health care, a civil society group has been attempting to track pregnancies in displacement sites in order to offer better support to pregnant mothers. However, armed clashes and checkpoints on the roads have frustrated efforts. Another political leader also highlighted how women are impacted by a lack of hygiene facilities in displacement sites.
All people know that IDPs are sheltering in a small space and live under the tarpaulin sheet in this hot season, and there is no enough toilet in the camps, and men and women are in the same space, so it is very dangerous for women.54CA.Pol.MRU.03
– Youth political leader, Mrauk U, 10 April 2020
Understandably, many respondents are hesitant to speak openly about the level of influence that the Arakan Army holds in communities in the centre and north of Rakhine State. Security forces continue to arrest large numbers of people on suspicion of affiliation with the group, and have prosecuted numerous people simply for communicating with the Arakan Army after designating the armed group under the Counter-Terror and Unlawful Association acts on 23 March this year. As noted by the International Crisis Group, the use of the Counter-Terror act to prosecute individuals and journalists for communicating with the Arakan Army may be overreach designed to represent a policy of 'zero tolerance' towards the group.55Crisis Group 2020, An Avoidable War: Politics and Armed Conflict in Myanmar's Rakhine State, available from https://www.crisisgroup.org/asia/south-east-asia/myanmar/307-avoidable-war-politics-and-armed-conflict-myanmars-rakhine-state.
However, some respondents were more open about the control that the Arakan Army now has in rural areas. One respondent in Sittwe noted the level of influence that the Arakan Army and its supporters have in rural areas was unparalleled. 
Educated persons, village administrators, rich people, religious leaders – monks – and some active Arakan Army sympathizers have influence in public. Among them, the active Arakan Army sympathizers are the most influential persons on the ground.56CA.CSO.STW.01
– Civil society leader, Sittwe, 26 March 2020
Similarly, in Paletwa Township – where the Arakan Army has consolidated control in many rural areas – respondents were open about the fact that the Arakan Army was extremely active. Respondents familiar with the Paletwa context noted that local humanitarian responders had to negotiate with both the Tatmadaw and Arakan Army to distribute aid. Yet tensions between armed groups and communities in Paletwa were also clear. "Nobody in Paletwa trusts armed actors," noted one respondent.57CA.IND.PLW.01
While there are certainly individuals who may oppose armed revolution in Rakhine State, speaking out entails massive personal risks under the current political climate. In public discourse, the Arakan Army and its methods remain hugely popular. However, as the impact on civilians continues to increase, support for the AA and its tactics may fall among communities. As noted by IRI, however, this does not mean that support for the broader goals of the AA will similarly be affected.58Please see forthcoming IRI report regarding an analysis of the ongoing conflict in Rakhine State.
Before the internet shutdown, we got information about armed conflict and we could contact people from other places very quickly… Now, we do not know any information about armed conflict and COVID-19. Some people do not believe in COVID-19 when I talk to them because they have not received any information. I think it is directly connected with the internet shutdown. If we have the internet, they can receive and realize how COVID-19 is bad and [what is] needed to prevent infection.59CA.IND.KTW.01
– Rohingya man, central Rakhine State, 30 March 2020
Most respondents had little information about the situation of COVID-19 at the time of data collection.60For a more detailed analysis of the localised response to COVID-19 in Myanmar, please see the recent CASS paper COVID-19 Response and Parahita Groups, available from https://cass-mm.org/covid-19-response-parahita-groups/. Many were quick to note that this was due to the internet blackout and called upon the government to reinstate the connection to allow communities to access knowledge on prevention and risk. Communities had heard of the virus through radio, phone and through local responders – most coming from Sittwe where information is better accessible.
The current flow of information is not enough for the community, and we cannot prevent this virus with little information. We are living in a rural area and we do not have information, masks to prevent it. I hear that people living in urban areas are buying a lot of masks and foods. The government has to restore the internet services for people to get more information and they have to give awareness at the village level.61CA.CSO.MRU.02
– Thet civil society leader, Mrauk U, 27 March 2020
Some active people at the village level have sought to spread awareness of the virus, despite the difficulties in accessing information. In one Rohingya village, a youth with the language skills to study about COVID-19 on the radio and through networks has sought to educate others in his village. However, the lack of diverse information sources and little information about the virus has presented many difficulties. 
In this new age, even though we have the internet ban, we can share information about COVID by phone messages. Some INGOs and CBOs are sharing information in villages and in the camps. But very few people know about the virus. Especially in IDP camps and conflict areas. Water supplies are also low for cooking and drinking. The State Counsellor says it is spreading, but how can they wash hands like that?62CA.Med.01
– Rakhine Buddhist Diaspora, 31 March 2020